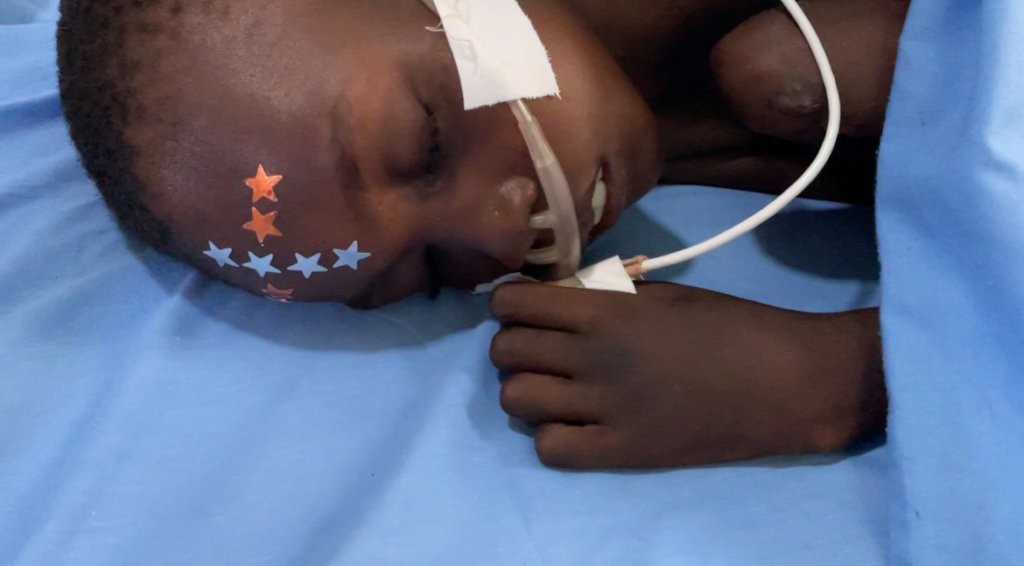 Hello our beloved friends,
We appreciate every day your help to our hospital.
Today I want to talk about the importance of our hospital.
It has become a place, where some of the worst conditions and symtomps of very sick children are treated.
She came about 2 months ago in a terrible agony and constant bleeding from her mouth and nose. She was given multiple blood transfusions and pain medication however the nose bleeding couldn't stop. Her platelets (a cells in a blood cells that create blood clots and help stop bleeding) range was dangerous 28 (normal range is around 100-300)
Specialists in Uganda are very rare and often do a private work for expensive international hospitals. There is an haematologist that helped our patients with low platelets before, however he works 100km away (Entebbe town), and his consultation is $14, and all necessary blood tests another around is $21. We don't have an ambulance, and since Suraiha was on oxygen and paid for the fuel and driver, we also met the bills of the hospital where Suhaira got treatment that was about $194.
On arrival to our hospital, she got better and her yellowing of her eyes got whiter, however not long after this she got terrible sepsis in her feet, her feet got swollen and she had enormous amount of pus. We used very good antibiotics but they didn't help until we got a blood culture (that was again paid by Whisper in other hospital ($17) and then we knew what antibiotics would help her sepsis, however it seemed to be too late, as sepsis attacked her bones.
She is also now oxygen dependant, and Whisper paid for several X-ray. Her pain of her body is unbearably. We discovered that her bones are constantly breaking. Imagine you gently touch any part of her limbs but it is slowly cracking and breaking. She cries and cries in complete agony. She is on morphine 4 hourly as she is receiving her care.
Her mother only contributed 90,000 UGX ($25) for all that care she is receiving in our emergency ward.
Seeing Suhaira is breaking our hearts. We need to be dressing her wounds on her legs and it is unbearable for our staff to do that. People just have to sit down, breath and get all their strengths together, and continue.
She is only 7 years old.
Sickle cell is a terrible disease that children are born with.
We need to do more for children like Suhaira, who are born to die in agony and pain and suffer.
We are already planning to open up our Sickle Cell Clinic Day, where we will be inviting all sickle cell children for preventative medical care. According to our calculation, each child on their appointment will be getting tables and vitamins they need and will be done a blood test to determine the level of haemoglobin or anaemia.
Each child who comes will cost us only $4 (£3) but this can be a life-saving for them and mean a life without agony.
Dear friends, this report wasn't as happy as I imagined, but I cannot bear the current situation around us here at Whisper. No child must be born to suffer this much.
Our hospital constantly provides tender loving care to all of our patients and their parents.
Thank you for your support forever
*Sickle Cell Disease; Symptoms: Anaemia. Sickle cells break apart easily and die, leaving you with too few red blood cells. ... Episodes of pain. Periodic episodes of pain, called pain crises, are a major symptom of sickle cell anaemia. ... Swelling of hands and feet. ... Frequent infections. ... Delayed growth or puberty. ... Vision problems.