Dear friends. We want to apologise for the delay. For more than a month the South-West Region of Cameroon has had an internet blackout, we can only write to you because we traveled to the nearby Litoral Region.
On Friday the 17th of February we had one of our follow-up meetings with new beneficiaries of the Keep a Girl alive Project in Tole. We talked with 18 girls about their ongoing business, how their bookkeeping is going and also if they are making progress or not. Some are doing impressive profits, some had some setbacks related to healthcare costs. But all are going ahead, and they are also keeping excellent records of their business, with 100% implementation of bookkeeping and only 10% of beneficiaries with clear difficulties in the practice.
Improvements from their first months of business are palpable.
While on Average, they made 37000 francs of profit this December(about 60 dollars, note they had been given 50 as capital and these are pure profits), they have moved up to 45000 this January, growing their businesses by more than 20% in one month! (And January is a way worse month of sales overall in Cameroon)
They know they are doing something to be proud of. Serve as an example Mary, who missed this followed-up session. She called our project manager directly on the phone and requested to meet us in our central office. We thought that maybe she had an urgent problem, but she just explained she is doing very well and wants to show us her progress, knowing she had missed us last time. We reassured her we are coming next week and there's no problem, we will be happy to check her records then. It's thrilling to work when the people you support have this kind of energy.
Get to know some of the Girls:
Remy sells clothes in the market. She started business with us this December, and she picked up quickly. She moved from a profit of 9500 francs (about 16 dollars) a month, to 23500 (40) by January! " I don't use all my capital, I prefer to buy smaller batches of clothes, they have better quality"
Blanche has grown in two months from a total capital of 80 dollars to 180! She has already calculated her next step "Now I wish to change to a cold store."
Christina sells plantain and fish. She knew all about the business, as her mother is an expert cook, but lacked capital and could only start it when she got your help. Her recipe is so good she has inspired other girls to copy her business. I can attest her fish is delicious, I've try to eat it every time I come to Tole.
Enjoh is a serial entrepreneur. Since December, she's tried 3 different business, each time making more money than before. She cooks food in the evening, this January she made more than 100$ in profit!
Thank you very much for everything you have done for them, we are preparing a video with the girls so they can thank you directly, follow closely our facebook page!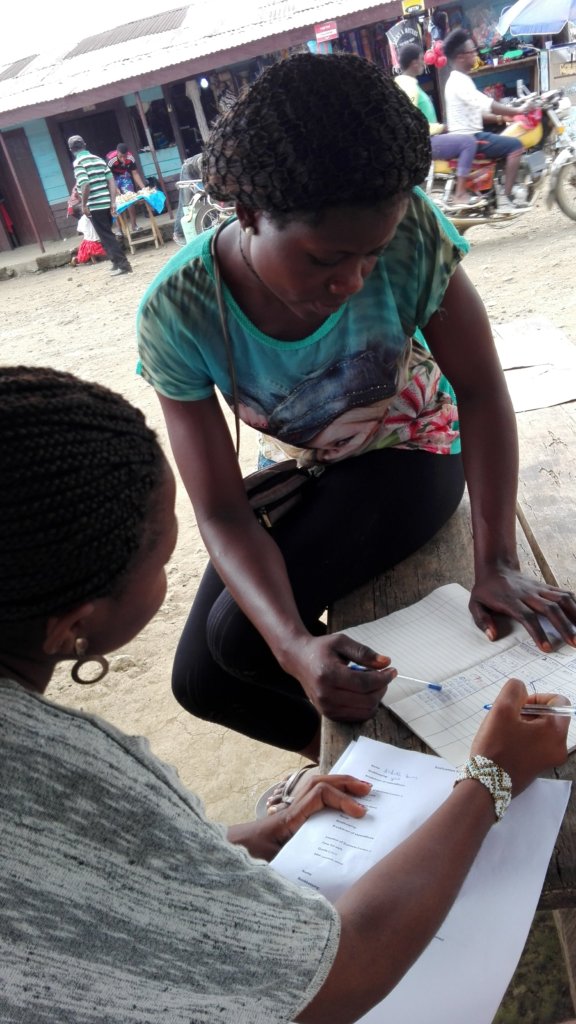 Links: