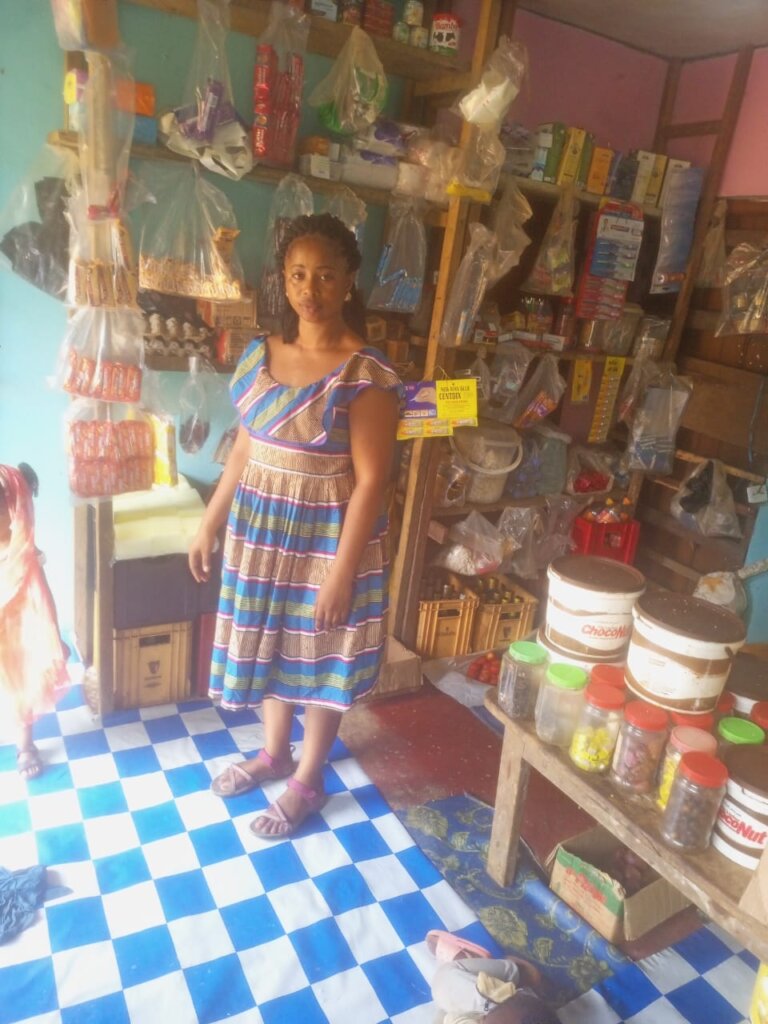 Useina is a 37 years old mother of 3 who was displaced from Matu Butu one of the most affected villages in the Konye Sub-division in the Meme division of the South West Region of Cameroon. Before the crisis, "I owned and managed a small restaurant in Matuh Butu" said Useina. When the crisis started in 2016, the business was still running but not as before the crisis. The frequent displacement (into the bushes to seek refuge) caused the business to have a slow turnover due to her frequent absence from the business site.
After spending over 8 months in the bush like many other villagers, her husband decided that it will be better for him to take the family out of the bush to Kumba where the children could access education and health care. In 2019, "my husband contacted a friend and pleaded with him if he could provide us with shelter and he accepted" said Useina. While in Kumba, life was harder than imagined because everything was costly. Useina left Matuh Butu with 6 children 3 of whom belong to her and 3 others from her friend who pleaded with her to take them along to Kumba for education purposes. In a 1 bedroom, Useina, the 6 children and her husband could barely feed. Though the room was a donation from the husband's friend, bills were to be paid by them, including food clothing and medication. "I sat one day in my room and cried and told my husband the bush was preferable". With no source of income, Useina resorted to doing menial jobs in town. "The children and I worked on people farms, did laundry for people and even housekeeping just so we don't go to bed hungry," said Useina. Education became a thing of the past to the children because Useina and her husband could not afford it for the children.
In July 2021, during a door-to-door identification, she was identified by Reach Out social worker. After introducing the NGO and its activities to her and the purpose of the Identification, Useina was registered. 2 days later she was revisited and the social worker conducted a social inquiry after which she presented a business plan. After undergoing entrepreneurship, business management, bookkeeping and savings training, a startup capital of $60 (30,000 FRS) was given to her. After 10 months of monitoring and evaluation, she progressively operated her business on an average monthly capital of $68 (54000 frs) with an average monthly profit of $60 (30,000frs). In March 2022, she was given a second expansion grant of $100 (50,000 FRS). The second grant allowed her to diversify in business. she invested in a provision store due to the constant blackout in Kumba her former business did have the desired turnover. She currently runs a business with an average monthly capital of $300 (150000) with an average monthly profit of $130 (65,000frs). Monthly, Useina saves $20 (10,000 FRS) after meeting up with her household expenses.
"One thing I am proud of myself for is that I could make it again after I had lost all hope, Reach Out came to my rescue". Today Useina and her family live in a 2 bedroom apartment, the proceeds from the business she fills in the financial gap in her children's education. The family is sure of 3 square meals a day and basic health care.
Thank you so much for the support you give to crisis-affected women in Cameroon. Useina is just 1 among the 30 women whom your support has been able to support economically through micro businesses in Kumba Meme Division of the South West region of Cameroon.