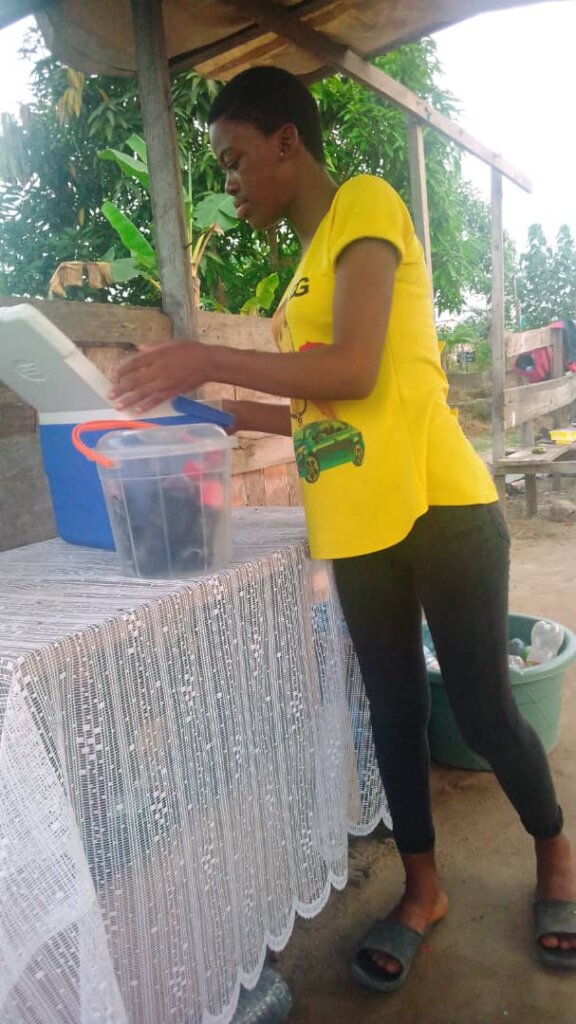 Blessing is on her way to becoming an Accountant.
Blessing is an 18 a year old internally Displaced girl from mile 90, Bamenda North West region Cameroon. Due to the ongoing crisis, she moved with her 06 siblings to Makepe, Douala in 2017. Again because of the high cost of living in Makepe, she moved to Bonabome, Douala in 2020 where she and family could have access to an affordable house, farmland for rents, and menial jobs such as house help, yard cleaners, or salesperson. While established in Bonabome, she and her sister started selling cold water with the assistance of a fridge donated to her by a lady with whom they came from Bamenda. Through the little income they made, she enrolled in secondary school but dropped out due to financial challenges.
In March 2021, Blessing was identified among other beneficiaries in Bonabome and based on the vulnerability criteria score sheet, was selected for Reach Out's economic empowerment program. Though underaged, the team gave her special considerations as she pleaded it was the only hope for her to go back to school. Her uncle and elder sister with whom she was living gave their written consent and also promised to follow her up for proper implementation and feedback to Reach Out.
After building her capacity on entrepreneurship, bookkeeping, savings and her sexual and reproductive health rights, Blessing received a first-level grant worth 40,000FCFA ($73) and started the sales of a locally made juice known as Folere (Red Juice made from Hibiscus sabdariffa). She took advantage of the fact that her sibling and uncle will pay the electricity bills and there was an available fridge. Though just 18 years old, Blessing keeps a clear record of her business. From her records, averagely she makes a daily income of 4,000 FRS ($7.3) and makes an average daily savings of 2,500 FRS ($4.6)
With an average monthly saving of 60,000 FCFA (109$), Blessings went back to school in September for the 2021/2022 academic year and was enrolled into Form 3. Few weeks into the 2021/2022 academic year, she was promoted from form 3 to form 4 (because of her intelligence and performance) and was offered a scholarship of 15,000 FCFA (27.3$) by the school.
"The business is helping me so much so that I cannot trade it for anything else (though my classmates laugh at me sometimes when I hawk in the market). It helps me pay for my transport to and from school, my feeding in school, my personal hygiene stuffs. The reason why I try so hard to manage business and school. I don't go to the market during weekdays but during the weekends I storm the market so as to meet up with my weekly expenses. My sister helps during the week to sell at home" says Blessing. Blessing is passionate about being an accountant in future as she says "I am doing commercials in school because I want to be an accountant in future and manage my own business".
With a current monthly working capital of 70,000 FCFA (127.3$), Blessing buys a bag of Folere, a cartoon of powdered sugar, and other business items. With the support of her elder sister and her uncle, Blessing plans to do poultry farming as a means of expansion when given her second-level grant, worth 50,000 FCFA ($90.9). This she has chosen because her current house has space and her sister will be of great help to her as she will always be around to cater for the birds. Also, they have good technical skills in poultry farming as this was their family business before the crisis. Reach Out has Blessing on her top list of beneficiaries for the second grant and the money will be disbursed in February 2022.
We sincerely appreciate your continuous sacrifices to ensure our beneficiaries have improved standards of living. Thank you for helping Blessing on the journey to realizing her dreams to become an accountant in future.