DISCLAIMER: This story contains sexual violence.
The beneficiary depicted in this story is NOT in the pictures. The pictures show 100 women who were trained and supported at the same time than her. Like her, some of them might have gone through such episodes, but not all.
Beatrice is an IDP from Konye, one of the areas most hard-hit by the conflict in Meme Division, South West Region of Cameroon. She is a mother of seven who lost her house and husband to the cold hands of the crisis.
Prior to the Anglophone crisis, Beatrice and her husband together with their children survived on subsistence farming. Though life was not really easy, insecurity was never one of their problems. When the Anglophone crisis started in 2016, with the frequent confrontation between the Military and armed groups, Konye became too insecure for people.
Every few days, everybody in the village is running to seek refuge in the bush and forest while the shooting and raids go on. Many villagers have built shelters in the bush. On a fateful day, the village was informed of the military coming. "My husband took the children and I. He kept us in our bush house and went back to town. After four days I heard nothing from my husband. I had heard some men and boys were shot in a house while hiding from the military. Little did I know that my husband was amongst those killed. For more than 5 days, nobody told me about my husband's death though the villagers kept discussing in their dialect which I could not understand. One day a lady came to my hut and was mourning and tried to console me for the loss. I was shocked and confused because I could not remember losing any person. Immediately she said so the other women called her and told her in Oroko dialect that she should not have done so. That I have not been told because I have a four months old baby and they don't think that I will be able to handle my reactions. That was when I realized there was something fishy about their behavior and I insisted they tell me what was wrong. The news of my husband's death stroked my heart like a blade. I looked at my children and the little baby I had at hand. The women kept consoling me and try to give me hope." Beatrice stayed in the bush for 2 months and took ill. Her friends in the bush carried her with her children to a roadside where she was carried to the hospital in Kumba and was admitted at the general hospital for four days. With nobody to cater for her in the hospital and her children, Beatrice called one of her friends who was in Konye and informed her of her decision to move Ekona to a relative of hers.
There in Ekona, life was not easy as the military kept on storming the area and they had to seek refuge in the bush. "Though there was food for us to eat, water was a problem and the distance we cover to hide from the military was really long coupled with the hills we climbed. Sometimes they come at night and we have to leave the house and go to the bush. "While people are running, I run with my 6 children, I have seen the two sides of life" said Beatrice (This is an idiom that means "I have suffered too much").
While in Ekona, she decided to go back to Konye in March 2019 and pick up the few of her belongings from the bush house and to know where her husband was buried. On her way to the farmhouse, she was taken by some unidentified men in a camp and she stayed there for over 4 days together with other women. She struggled and explained herself to one of the men who then helped her to escape from the camp. Upon her arrival, she did not tell anybody what happened because she was ashamed and heartbroken. She was also pregnant.
"An aunt of mine called me to come to Tole and stay with her and in March 2019 she went to Tole. While in Tole though life was not too difficult, we still had to run from the house and stayed in the bush for over a month." Beatrice started harvesting Tea from the Tole tea estate to make a living. She did other menial jobs as well. As time went on, Beatrice realized she was pregnant and was really traumatized.
in July 2019, Reach Out NGO partnering with Care International identified Beatrice as a pregnant woman (3-4months) while implementing a project to support survivors of Gender-Based Violence in Fako Division, South West Region. She opened up to us and attended her first antenatal visit in July 2019.
In November 2019, she was incorporated into the Keep a Girl Alive Program for Economic Empowerment. She was trained and given a business capital of 30,000CFA francs which she used to expand her popcorn business. Having worked with her for 11 months, Beatrice today owns a small provision store in Tole Camp. The business has been a great source of livelihood for her and her 7 children the last child is 4 months old). From the business, she was able to continue with her antenatal and prepare herself for delivery. The first child who is 21 years old lives with a friend of hers in Buea and attends University. Beatrice is able to pay for her child's school fees and meet up with other basic needs.
The graph below shows her capital and profit for the past 10months of her under the watchful eyes of Reach Out. Although profits are not consistently growing because she works in a very difficult context, she has been able to build a solid foundation with more and more capital, and she generates enough to live.
Thanks so much for your donations. This is how far you go to put smiles on women's faces around the world especially Cameroon's North and South West Regions which have been bedeviled by the Anglophone crisis since 2016 and women are feeling the greatest effects (especially economic) of the crisis.
Today, and for four more days, any donation between 10 and 50$ will be matched by GlobalGiving by 50%. Take this opportunity to help us find the next Beatrice.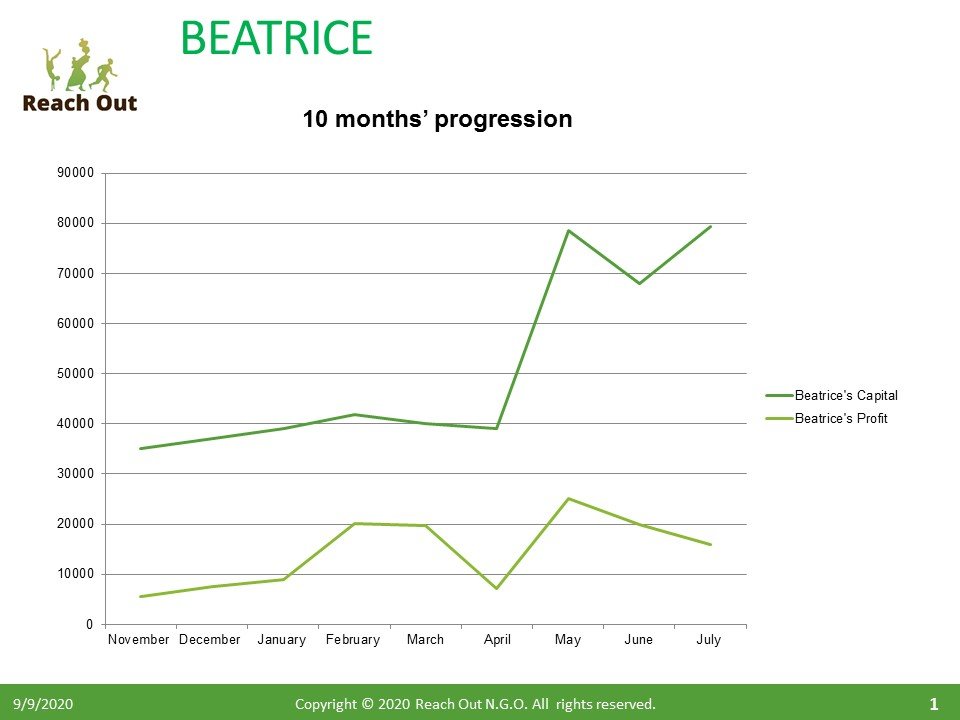 Links: