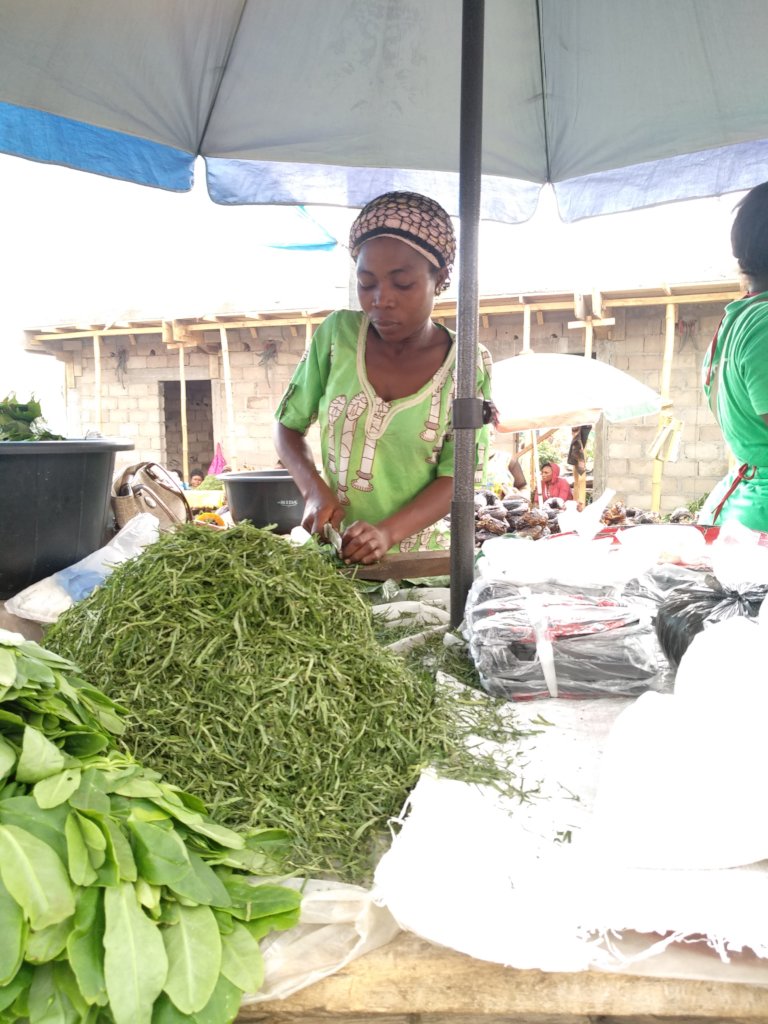 Blessing is a 20-year-old girl who dropped out from school due to financial constraints. She obtained her First School Leaving Certificate in 2013 and later enrolled into Government Secondary School Bakweri Town. In the year 2013/2014, she attended form one because she was duly registered and her fees was paid. After that year, her parents could not pay her fees. "Though I continued school, i was never given a report card" said Blessing. Since the whole class was always promoted, I just moved to the next class without knowing my grade nor my position in class. I continued like that till 2018 when the whole of form 4 was promoted to form 5. In form 5, she could not continue school without fees because she had to register for the General Certificate of Education. There was no money for that and she finally left school.
Coming from a family of 6 in a community in the Fako Division of the South West Region where 90% of its inhabitants rely on extensive agriculture (Tea harvesting and planting), life has not really been easy for a mother of 6 who rarely gets any financial support from her husband. Tole is a rural community that depends largely on the harvesting and planting of Tea on the estate. Depending on the workers strength, the monthly salary ranges between 15,000 ($30) to 20,000 ($40) frs. "My mother is old in age and can hardly go beyond 15,000 FRS a month. With my father doing nothing for a living, mum could barely feed all of us. Talkless of affording school fees for me".
Before becoming a beneficiary for the KGA program, Blessing finally dropped out from school in 2018, and started doing "water fufu" business in 2017. Water Fufu is a stapple food of the South-West, made out of Cassava. "When I finally realized that I could not steal and attend classes in form 5 because I had to register for the GCE, I focused on my fufu business. I started buying cassava for 7,000frs ($14) and gotsmall containers to ferment the cassava inside.
In July 2018, with our donors´ support, Blessing was identified and her skills on entrepreneurship were developed. She was also trained on Book keeping and savings after which she was given her first level grant of 30,000frs.($60) With the addition of her capital, she was able to afford bigger drums of 200 litters to ferment the cassava inside. She also increased her purchasing power of cassava from 7,000 to 10,000frs and her profits increased from 3,500 to 6,000 a week. So did her savings. "Every Saturday after I sell, I make sure I save 5,000frs in our Njangi(communal savings practice).
Growing up as a child, Blessing wished to become a banker , but due to financial constraints, she is no longer seeing her self-achieving that dream. But this has not completely shattered her hopes of becoming a game-changer in her family. In 2019, Blessing switched to learning welding in a technical workshop in Buea. Being the only female apprentice in a work place of 5 male colleagues, blessing has the vision of graduating after three years and going back to the Cameroon Opportunity Industrialization Centre (C.O.I.C) to obtain a certificate. "I believe with that certificate I can have a job anywhere in Cameroon since I don't think I will be able to afford my own workshop" said Blessing. When asked of when and how she had the passion for welding she replied;
"It's not like anybody in our family is a welder neither do I have somebody I admire doing the job. Since there is no school in Tole, a neighbor of ours sent his son to learn the trade. When he comes back from work and start talking about the welding stuff, the way he presented it was interesting. He told us in the quarter how soon he will be the one making doors and windows and everything that concerns Iron, I was surprised and interested. So I inquired from him if a girl can do this he said yes that's how I decided to register".
With her monthly savings of 20000frs Blessing started learning her trade in March 2019, and she pays an annual fee of 50,000 frs ($100). She has to learn this trade for 3 years. Blessing is still actively involved in her business like never before. She buys her cassava every week and her mother assists her in the processing while she goes to work. On market days she goes to the market and sells her fufu. From her monthly savings Blessing pays for her trade and supports her younger one who is in primary 6 in Government school Bokwango.
This is how far your donations have gone to make a young girl like Blessing, and many others like her, see a light at the end of the tunnel and to brave the odds of doing what many in her community see it as a man's job. Thanks for your donation.