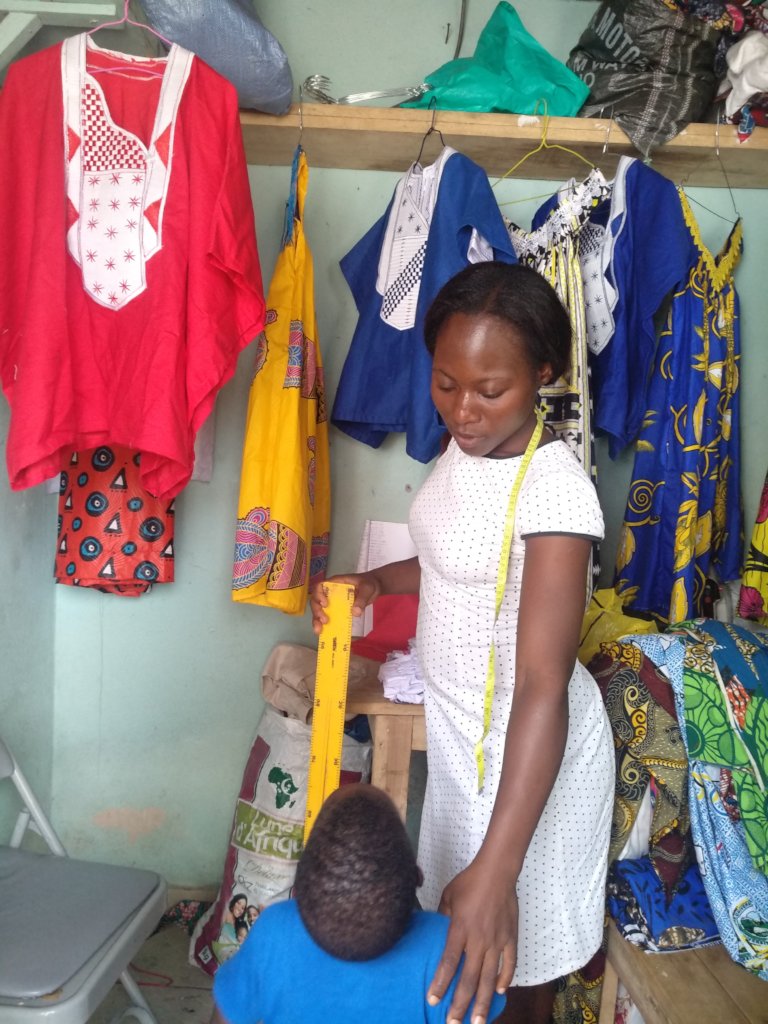 After the identification of 75 Internally Displaced women and girls in Limbe, Ekona and Buea through a door to door process using a Social Enquiry form, 63 women were finally targeted for our Keep a Girl Alive Program through Entrepreneurship based on their level of vulnerability and willingness to be engaged into business. 40 women were assisted in Buea, 12 in Ekona and 11 from Limbe. A detailed business plan was drawn by each of these women together with the Reach Out Team. Trainings took place in Buea, Limbe and Ekona on the 8th, 20th and the 27th of November 2019 respectively.
Two days after each training, the Reach Out team carried out business site visits. out of the 40 women in Buea, 35 were evidently seen doing business while 10 were seen but had not started due to some minor logistical challenges, like they are setting-up the supply of their goods from the farm to the towns. 5 women were not seen but were communicated with on phone.
Loretta who is an Internally Displaced Person from Mamfe started her own expansion the same day she received the grant. She lives with a family uncle of hers in Buea. "I came to Buea in February and stayed in the house without doing anything for three months. Life was not easy. We were 3 of us who ran from Mamfe living with my uncle with our babies. He struggled all alone to cater for us. The burden was too much on him until in July, he gave me 15.000 francs ($30) to start doing something so I could support myself and my baby. I could barely start anything apart from sewing. I bought all the necessary equipment like thread, needles, scissors just to name a few so I could sew some dresses. I bought materials to sew just for 10,000 frs and had to buy other things like the Zips, linings and others to sew.
I went to a tailoring shop already well-established and rented a machine there for two days which cost me 3,000 CFA ($6) for two days. I was able to sew seven good simple Cabas (traditional dress and hawk around to sell. I sold one for 3500 FRS ($7). Though the capital and the profit prevented me from doing more, I was just happy for the fact that I could leave the house and put my skills to use.
The day I received the grant from Reach Out, I saw myself in another dimension. I took that money that same 8th of November went to a place I had seen available for rents. Immediately I paid the landlord 13,000 frs ($26) rent for a month. I bought materials and my sewing equipment in bulk. I saw a second hand machine on sale so I took it and promised to pay in instalments. I have entered a daily Njangi (Savings group) in which I save 3,500 frs ($7) on a weekly basis. My son and I can now have three square meals a day. I have many customers now and the demand for my products have greatly improved am so happy to own and manage my own shop. I can now take full responsibility of my child and bring food in the house without my uncle giving me money.
By March 2020 I intend to rent my own room, bring my younger brother who is in Mamfe with my parents so that he can go to school here in Buea. I intend to be one of the biggest fashion designers in Buea and to also employ other young girls."
Thank you so much for helping girls like Loretta realize their dreams in dignity through your donations.