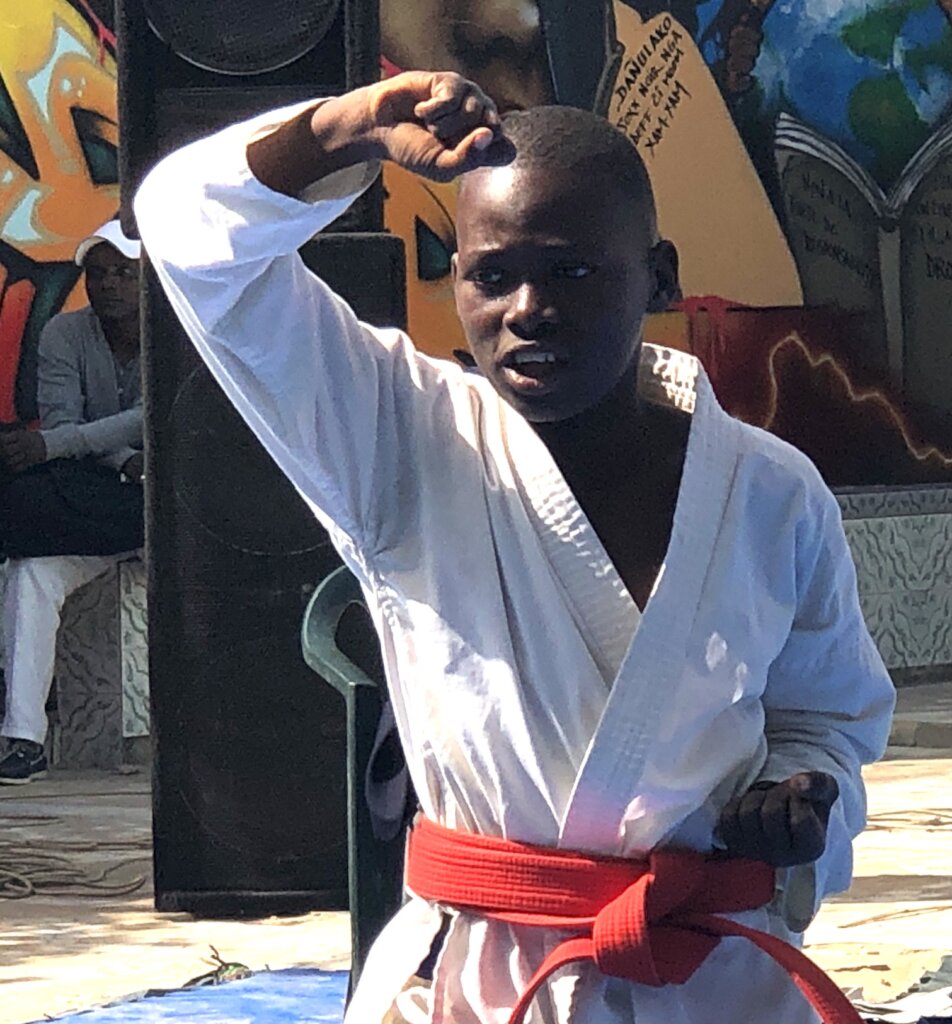 2021 has been such a difficult year for the talibés, forced begging street boys, of Saint Louis and the staff of Maison de la Gare who strive to make their lives better and help them find hope for a better future. Again.
Covid 19 initially closed the Maison de la Gare centre and dramatically affected the talibés ability to find enough even to eat. Eventually with the help of donors, Maison de la Gare was able to help feed the hungry boys during periods of lock-down. Later, the Center was able to reopen and talibé could return to spend a few hours a day playing, learning, seeking solace or health care, and just be children.
Best of all for the young martial artists of Maison de la Gare, karate could resume. the clean, white gi's came out of storage, white and coloured belts were wrapped around torsos once, the sand was raked and swept of shells, pebbles and twigs, and the karateka lined up under the African sun once more. Yoi. Ready in anticipation for the instruction of their Sensei.
This December, excitement about karate was heightened as a few of Maison de la Gare's long time karate students, Ahmadou and Adama, and the Center's instructor, Bouaro were invited to compete at a rare International Karate Tournament being hosted in Saint Louis on boxing Day, December 26. Ahmadou and Bouaro competed in kata divisions, while Adama competed in kumité. For any martial artist, a karate competition is an exciting opportunity. For talibés, it is an absolute life highlight. More than an opportunity to excel at their sport and test their skill, competition tests a karateka's perseverance, courage, determination, and offers incredible opportunity for personal growth. It is also an opportunity to shine on the mat. To be applauded as a hero, win or lose. For talibés who live most of their lives neglected, overlooked or pitied by much of society, the positive impact of applause and admiration, let opportunity to be in the spotlight can hardly be understood.
Bouaro, Adama, and Ahmadou enjoyed their glorious day of competition. Cheered on by Maison de la Gare supporters and their fellow karatekas, the day of competition will not soon be forgotten by the competitors. And it will be remembered by the spectators who watched these young people putting everything they had on the mat, demonstrating their skill with unusual passion and determination, inspiring other talibés that it is possible to rise out of the invisible crowd and shine, that glory is possible if one is willing to work for it.
There are over 30 of the talibés who are more advanced and particularly committed to elevating their karate skills, who are registered in the local dojo, Sor-Karate. They are anxious to renew their memberships at the dojo and be able to continuing to practice the martial art they have come to love, that offers them a sense of self worth, confidence, self respect, and belonging. January each year the karate licensing and dojo membership renewal fees are due. Continuation with the program depends on the generosity of international donors. A gift of $100 Canadian will renew a child's karate membership for a year, enabling them to test for higher belts, and participate in a supplementary food program while training. More kids who have been participating in the morning karate classes at the Maison de la Gare center are ready to join the dojo as well. Their hopes being fulfilled will depend upon the generosity of donors.
Thank you to our generous donors for helping to bring the opportunity that participation in martial arts offers, to the talibés of Maison de la Gare.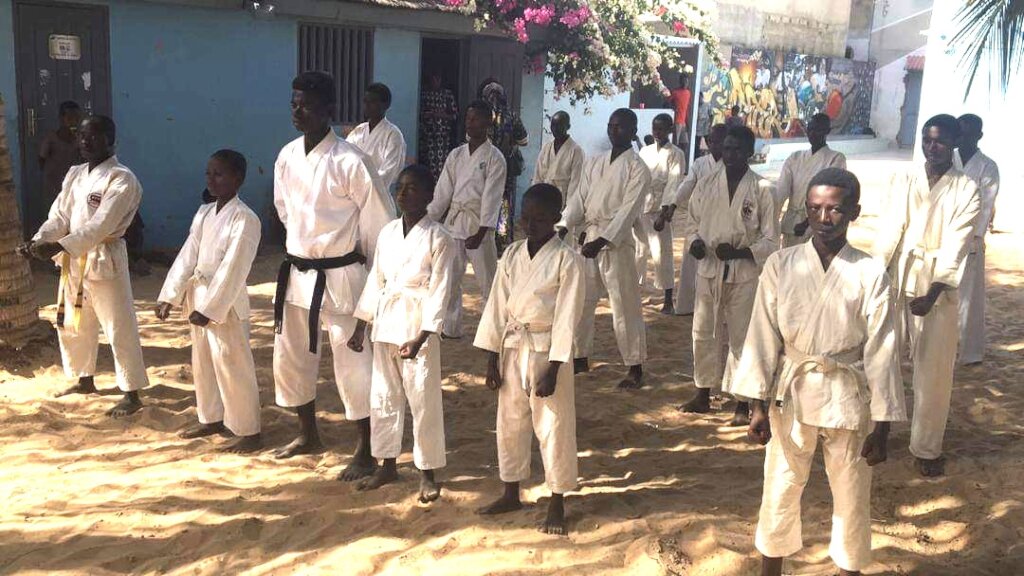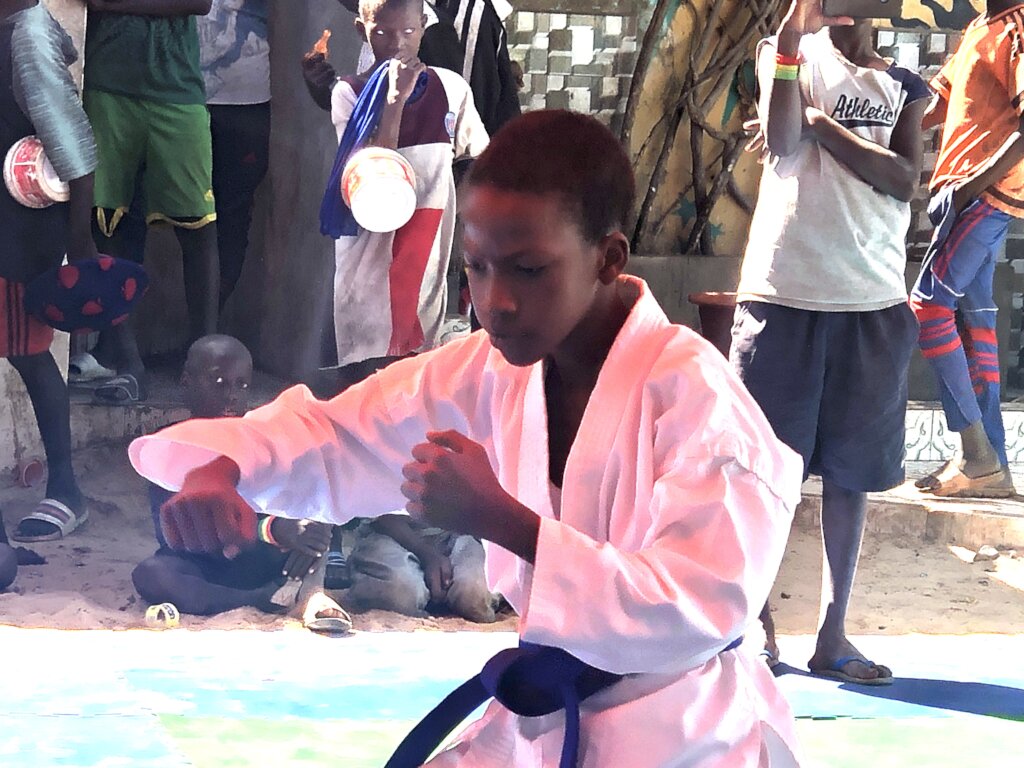 Links: