Sulayman has always been a quiet, positive boy with a gentle spirit and a smile. He began with the karate program early, not long after karate was first offered at Maison de la Gare. Sulayman earned his yellow belt at one of the first cérémonie de passage about three years ago. As he is originally from The Gambia, Sulayman speaks some English. Karate helped build up Sulayman's self confidence and discipline and he began to devote more effort to improving his English and learning math, allowing his thoughts to drift to a possible future, fuelled by education.
Sulayman remembers that when he was a young boy he lived happily with three brothers and two sisters and his mother and father in the Village of Welingarau in The Gambia, until the age of six.
Everything changed when his father died. Sulayman does not remember his father at all, just photos of him. Apparently Sulayman had once told his father when very young that he wanted to be a marabout. and his brother said he wanted to be a teacher. Sulayman has no memory of having said this, or of ever having wanted to be a marabout. But, Because it had been his father's wish that he become a marabout, upon his father's death his mother sent him to an Arabic school in a nearby Gambian village. His brother was sent to formal school in hopes of becoming a teacher. Sulaymane remained in the daara for nearly eight years.
Then, at the age of fourteen, Sulayman's mother wanted him to go to Saint Louis to be a talibé to better learn the Quran. So, he was sent by his Marabout to a daara in Saint Louis. Saint Louis has a reputation as a place to send one's sons to learn the Quran, among poorer villages, anyway. Perhaps many parents are unaware of the miserable conditions to which they are sending their children.
Sulayman noted that all of the younger children in his daara were forced to beg for daily quotas of money. A little bit older, he only needed to beg or work for his own food. None of the children, including himself were fed or offered any type of health care when needed. No one was sent to school. Sulayman did not like what he saw of how the younger children were treated. He was taught the Quran during the day, but there was no place for him to sleep at night at the daara. Sulayman spent the first three months sleeping on the street, in doorways of homes, getting little sleep as he needed to quickly move away when anyone entered or left the house in whose doorway he was sheltering. He learned to ask for food from door to door to feed himself. Sulayman arrived from The Gambia with good clothes, but everything except what he was wearing was soon stolen in the daara.
Not too long after arriving in Saint Louis, Sulayman heard about Maison de la Gare and he made his way there. He saw the Maison de la Gare classes in session and he realized education could be the key for him. He spent as much time as he could at the centre, as life was much better there than on the streets or in the daara. He joined the karate program, working at it diligently until he earned his yellow belt.
After his first three months in the daara his marabout left for Casamance in the south of Senegal and Sulayman was able to sleep in the daara now, with more than 50 other boys.
Sulayman was permitted to return to The Gambia to visit his family twice in 2015. After two and a half years living in the daara in Saint Louis Sulayman had had enough. He left, and from that time on has existed in Saint Louis by couch surfing with friends. Sometimes he would sleep at Maison de la Gare's emergency shelter. He spent as much of his time as he could improving his English and learning math, in Maison de la Gare's classes and in classes offered by other associations. His goal was to learn enough that he would be able to someday integrate into school back in The Gambia. He supported himself working in the market helping to make cooking pots, operating the grinder to finish them. Sulayman earns enough money working to buy food.
Since this summer Sulayman has been seriously considering the idea of returning to The Gambia to go to school. The lack of resources to pay school registration fees and the fear of the unknown has held him back. This week things changed when a fellow Gambian, Tijan arrived in Saint Louis. Tijan had been a talibé who had wanted nothing more than to become educated. About three years ago, after frequenting a Maison de la Gare for several years, Tijan confided to an international volunteer that he had been considering attempting to find a way to migrate to Europe, as he heard that minors who arrived there would be enrolled in school. Maison de la Gare figured out how he could instead return to The Gambia where he had the right to go to school, but no practical means to do so. That was three years ago. This summer Tijan graduated from high school and is now preparing to begin university, to study business and economics in 2020. This week he had come to Saint Louis to visit at Maison de la Gare before starting university.
Sulayman, seeing Tijan's successful example, made up his mind that perhaps the seemingly impossible may be possible after all. The school he thinks he could go to is near his cousin's house. He is hoping to be able to stay with his cousin, and hopefully eat two meals a day there. And, Tijan lives just 20 minutes away in case he needs help.
The ongoing school fees will be a challenge. And, he is not sure his plan for living arrangements will be workable. But, he is full of hope and optimism. Sulayman is determined that his time is now. Before Tijan and Sulayman left for The Gambia, Issa, the President of Maison de la Gare, spoke with the two boys, offering advice. Sulayman also received much appreciated life advice and encouragement from Abdou, the head teacher at Maison de la Gare.
Tijan and Sulayman left Maison de la Gare together, excited about the future and we said goodbye. Two days later they arrived "home" in The Gambia. Sulayman has had a meeting with the director of his school. He began high school this January, despite his age of 21 years. And, he has found a math study group to join to help catch up for years of lost education and prepare him for what lies ahead. The future is looking bright.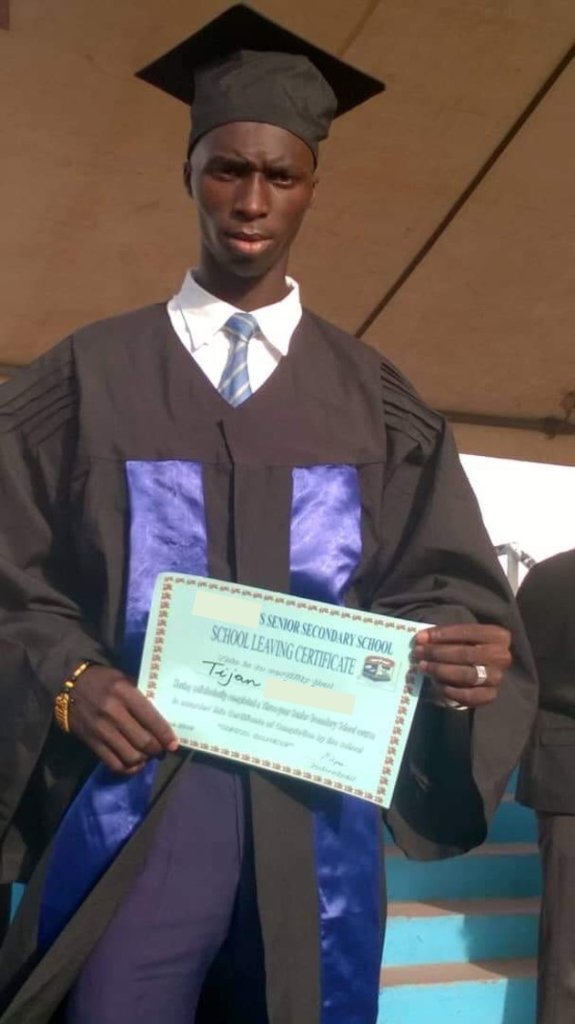 Links: