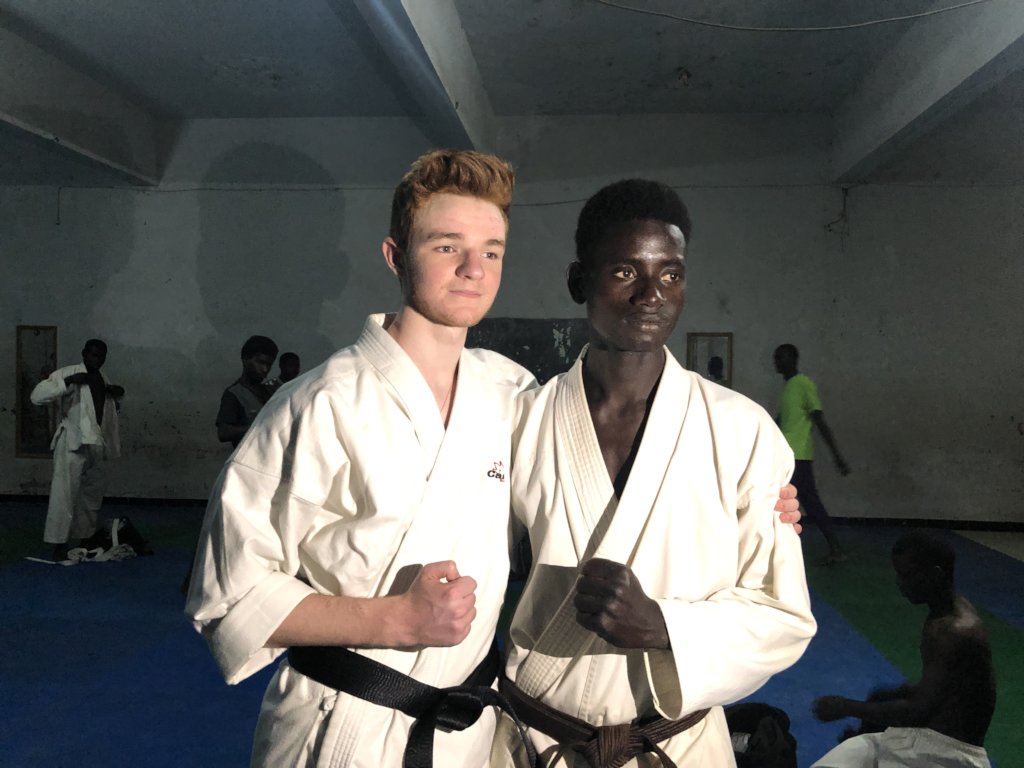 It is Thursday morning and he is one of the first to arrive at the centre. This early in the day most of the talibé boys are still out on the streets, begging for their daily quotas of money or a bite to eat for breakfast. But soon they will begin to trickle in to Maison de la Gare. So, Bouaro works fast, to sweep the sand of debris and pebbles that could hurt bare feet or trip up a martial artist focused on his kata.
As the sun rises higher in the West African sky children begin to tumble through the gates in ones and twos and threes. They greet Noel who tracks their attendance at the centre and assists Bouaro administer the karate program, and some of the boys entrust him with the money they have collected for their marabouts so far this day. Meanwhile, Bouaro sorts through the karate uniforms to determine if the gi's are in need of laundering yet, or if thy will last for another lesson. Talibés stop to greet Bouaro before skipping out onto the newly cleared sand to wrestle and play. Some stay to watch him, waiting for the signal that it is time to put on one of the white karate gi's and line up for class.
Bouaro was sent to Senegal from his home in Guinea Bissau to be a talibé at the age of seven when his mother died. His eight brothers and six sisters remained at home with his father. Bouaro did not see his family or home again until three just years ago. Now he is age 22. He misses his family very much. Although Bouaro cannot read it, he keeps his birth certificate with him, evidence of his full proper name, proof of a family far away. He prefers to be known as Bouaro.
Bouaro still lives in the daara. He says he will remain there as long as he must, until he is ready to move on. Despite having forgotten most of the Portuguese of his childhood, and hardly knowing his family anymore, Bouaro longs to some day return again to his home, this time for good.
Bouaro devotes his life to karate as much as he can. He discovered karate in Saint Louis even before it began to be offered at Maison de la Gare to talibés. He worked extra hard for years, raising enough money, not only to remit the required versement to his marabout, but also his monthly dojo membership fees so he could practice karate at night. Not long after karate began at Maison de la Gare, Bouro met young Canadian, Robbie Hughes, its founder, and became a recipient of the program sponsoring monthly dojo fees and became even more inspired to devote himself to karate. Before much longer, Bouaro's sensei sent him, as an advanced belt, to Maison de la Gare to assist with the morning classes. As a talibé himself, Bouaro could relate well to the boys, and they trusted him too. Under Bouaro's leadership, the Maison de la Gare karate program has continued to grow, regularly attracting new talibé students excited to unlock the mysteries of martial arts.
Recently Bouaro earned his black belt, an achievement celebrated by all of Maison de la Gare, as well as his sensei and dojo, and all the international supporters of the Maison de la Gare karate program.
Bouaro experiences a challenging language barrier with many people, as he does not speak French. But, when teaching and practicing karate, the universal language of karate brings down the communication wall. He hopes to have time to begin learning French soon in Maison de la Gare classes.
Since Bouaro has been given the responsibility for the karate program at Maison de la Gare as a talibé in transition, Bouro hopes to not only have the time to be able to begin learning French, he hopes to accelerate his study of the Quran with his marabout so that he will not have to remain at the daara too long. Bouaro is grateful to Maison de la Gare for giving him the opportunity to devote more of his time to karate training and sponsoring his participation in local, regional, and even national karate tournaments, moving him ever closer to his objective.
To Bouaro, karate is life. He has a dream, to progress and learn enough from his sensei and his experience with martial arts in Senegal to eventually merit returning home to Guinea Bissau to start his own dojo. Bouaro knows this road will be long. There is much to learn before he will be ready. But, it is a dream worth working and waiting for, to be able to make karate, the love of his life, part of his life forever.