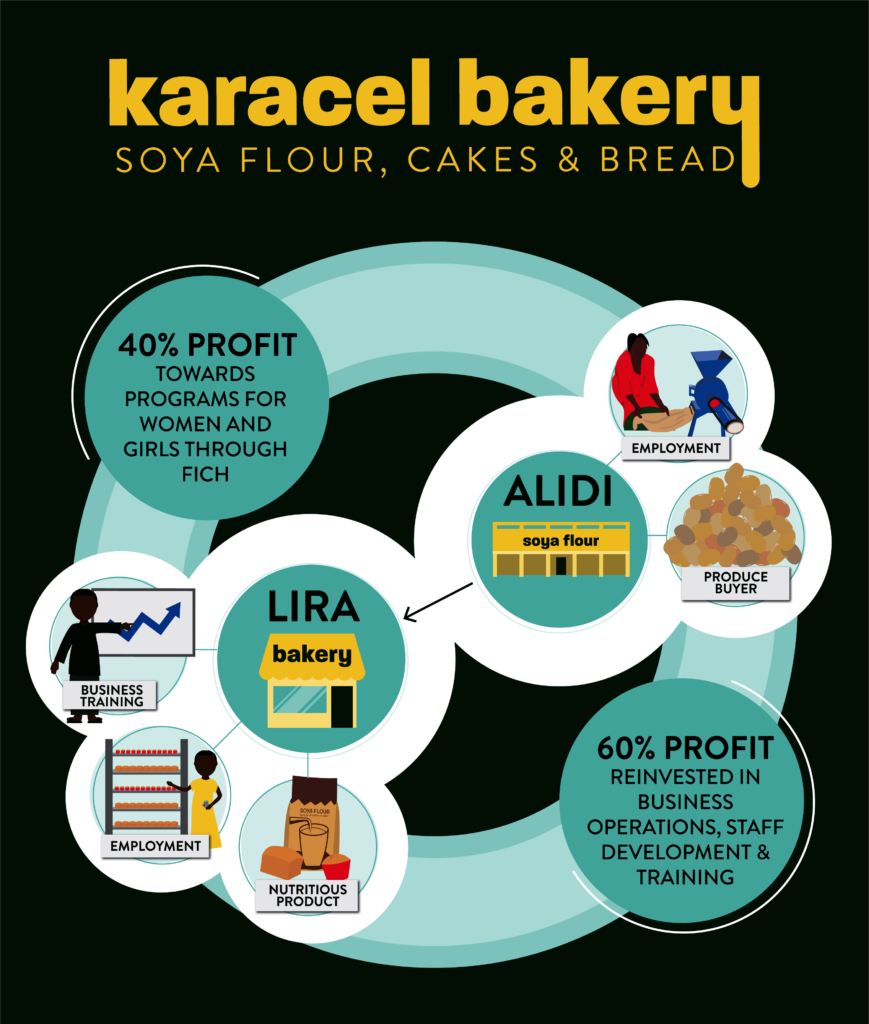 The past few months have been a time of transformation. The team has been evaluating the WEB Soya business strategy and talking to the WEB Soya women to uncover any gaps in the system. Through this process, we have learned that in order to grow and increase our impact, we must adapt. After much deliberation and many skype calls, we have finally finalized the new strategy that will carry us forward. I would like to introduce you to: Karacel Bakery.
Let's go over the key changes that were made:
1. Name: We have changed he name of the business from WEB Soya to Karacel Bakery. Karacel [kar-ah-chel] means "all together" or "to bring people together" in the local language (Lango). We chose this name because we feel that it embodies the soul of this social enterprise that we can all work together to make an impact on our community and the world.
2. Move bakery to large town: Previously, all of the soya flour and cake production was done in a small, rural community called Alidi. From our experience, we learned that our primary market is a larger town about 45 minutes away called Lira. Traveling to and from Lira was straining our sales team and affecting the quality of the cakes because many were damaged in transit. We have decided to move the bakery arm to Lira to overcome the challenges and boost our sales. However, we will keep the soya flour production in Alidi so that the local community does not lose any benefit from the business.
3. 40% profits to programs for women and girls: Previously, the business model allocated 40% of profits into a revolving loan fund for women. The loan fund was managed by a savings and credit cooperative (SACCO) so that the business did not have to hire a credit officer. However, we have realized that this strategy as inefficient because women had to pay upfront costs in order to simply join the SACCO. Furthermore, we lost control over the fund and were unable to accurately track where the money was going. In order to solve this issue, we have decided to put 40% of the profits from Karacel Bakery into programs for women and girls managed by FICH, specifically FICH's program for vulnerable secondary school girls. This method is more effiicient because FICH already has the capacity to carry out these programs and it makes the programs more self-sustainable rather than reliant on donationd or grants.
4. Business training: Due to the decision to more the bakery to Lira, the team decided this would a great opportunity to offer business training to local business owners using the bakery as a "role model business." Based on a survey of small business owners in Lira, 60% do not understand their financial records and many do not keep financial records at all. We believe that Karacel Bakery could mentor these business owners so that as the bakery succeeds, so does the local community.
We are very excited for all that is coming. We believe that these changes will help us to make a sustainable impact on women and the community. As always, thank you for your continued support!