A few weeks ago, I sat in a mud-walled hut in Mjini slum in Machakos, listening to Rose, the grandmother of one of our high school students talk about the hardships she's faced in trying to raise her grandchildren. The room was dimly lit by a small paraffin light – they don't have electricity or running water. Rose shares her small room with her two young grandsons, Ken and Ben. Rain pounded on the tin roof, but wasn't yet leaking through.
This frail little grandmother makes about $1-$2 per day selling vegetables, which she carries on her back through the streets of Machakos. She barely earns enough to cover rent and food for her family. Five of her six children have passed away, including the daughter who'd given birth to Ken, a student that Jitegemee has sponsored through high school.
It saddened me to hear the struggles that Rose and Ken have been through. But I also felt incredibly inspired by how hard they both were working toward a brighter and more sustainable future.
Ken, a tall, gentle young man, will graduate at the end of 2018 and has an excellent track record of academic success. He wants to study computer engineering at university and pursue a career in this field, which he says will allow him to support his grandmother and his younger brother, Ben. Jitegemee has "saved" him, he said. Now it's his turn to save them.
I can't begin to describe how proud I am of our students and all they've achieved. And I'm honored to lead our growing team that provides such vital support every day to these young people. A student like Ken might have given up hope for higher education after losing his mother in 2012. But our staff in Machakos helped him every step of the way, counseling him, tutoring him, and advocating for him, and finally purchasing the books, uniforms and other necessities that school requires. Our staff don't see their work as a job. They see it as a calling. They respond to the needs of students like Ken any time of day, nearly every day of the week.
Over the past year, we've worked hard to strengthen all the services we provide. We've expanded our feeding program to serve a healthy breakfast in addition to lunch. We've provided extra lessons to students who are struggling with their studies, using educational software donated by one of our Kenyan board members. We've organized sports and arts days during the school breaks, to ensure our students' education goes beyond the confines of the classroom. We've taken our students on field trips outside the town of Machakos, so they expand their horizons and understand that a whole world lies beyond.
In January, we were so excited to host Fulbright Specialist, Dr. Beverley Bell, a professor at Mt. Holyoke College in Massachusetts. With input from the Kenyan Ministry of Education and our teachers, Dr. Bell is helping us formalize and document our Rehabilitation Curriculum so that it can be formalized and shared with other programs like ours in Kenya.
We are also thrilled to welcome Jennifer Katiwa, a veteran educator who oversaw schools in Dadaab, one of the largest refugee camps in the world, as our new Kenyan Country Director. Jennifer will assume responsibility for much of the day-to-day operations in Machakos, freeing me up to turn my attention to strengthening our systems in the United States and implement a strategic plan for Jitegemee's long-term future.
We've also laid the groundwork for some exciting new initiatives. To give just one example, we're planning to open a "youth development hub" that will provide our students with job readiness skills, such as financial literacy and an understanding of how to use social media to promote their businesses. Our hub will also be a place for young entrepreneurs in Machakos to access new skills, the Internet and a co-working space.
Right now, we're in the middle of Kenya's rainy season. The rains have been heavy and some of the country has battled floods. We know, though, that these rains bring life and a harvest that will sustain the community during the dry season. Likewise, we know that the struggles that we experience every day alongside families like Rose and Ken will one day bear fruit in the lives of our children.
We are deeply grateful for the support so generously given by the Jitegemee family around the world. We could not do this work without you. If you have enough to eat in your own house, and something to spare, please consider donating to help children like Ken fulfill their dreams of education and a dignified, self-sustaining life. We currently support around 200 students in primary school, secondary school, vocational training and college, as well as offer vital services, including health care and income-generating skill building, to their guardians, all on a budget of $260,000. To learn more about our program, or view our 2017 annual report, please visit us at www.jitegemee.org.
Thank you, asante sana!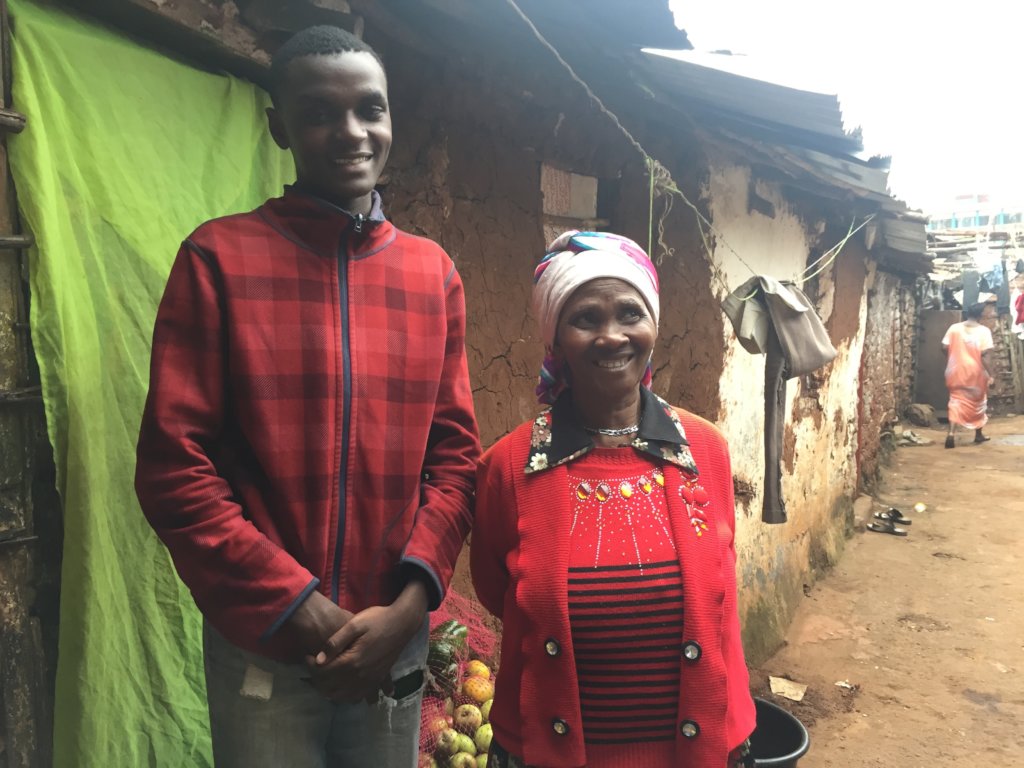 Links: