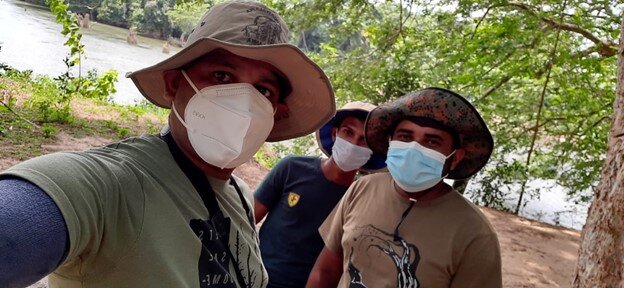 It's a new year and we sincerely hope it's better than the last! 2021 was plagued with island-wide lockdowns and regular shutdowns of Udawalawe National Park, which drastically hampered our projects and activities in that area. But we weren't idle - our field staff was busy raising and confronting multiple issues, as we've reported before.
In case you missed it, check out All About Asian Elephants - a new activity book for kids aged 4-8, available around the world from Amazon! Watch this space for more kid-centered initiatives.
The team are ready for a packed 2022, hoping to resume all our projects, research and community aid efforts. With your help, we'll continue speaking up for elephants, communities, and the land we all share!
Supplementary Crops Experiments - A Moonshot of an Experiment
We announced our Supplementary Crop project in the last report. Our Working Group on Socioecological Interventions, was launched last year and we're incredibly grateful that the US Fish and Wildlife Asian Elephant Conservation Grant has given us the green light to proceed with large-scale experiments together with partners in Thailand and Sri Lanka. They've called our project a "moonshot" for elephant conservation – one that could be a game changer if it succeeds!
The supplementary crop project will be conducted in areas with high human-elephant conflicts. Through this project, we hope to answer the question: If farmers can supplement their incomes from crops that are more resistant to elephants, would they be more willing to coexist? Our initial studies have shown that farmers in Sri Lanka may not ill-will towards the elephants as such, but it is their economic worries that present the main challenge. Our trials of alternative crops will give us a clearer picture as well as a cross-cultural perspective. If we succeed, it will be a win for both farmers and elephants.
But working with farmers is only half the story. We will also engage with their communities that are not part of the crop trials through other types of community-based projects, such as our pre-school sponsorship program. Because elephants present severe economic hardships to communities in and around their habitat, these programs are a means of fostering dialogue and goodwill.
Follow our updates on social media and stay tuned for more exciting news!
Back to the park and on the lookout!
The team is excited to be able to visit the park again and we bring joyful news. From the time we visited the park in Oct 2021 till now (February 2022), we have spotted a total of 21 new elephant calves, of which 14 are males and 7 are females. We are thrilled to spot these new babies and hopefully soon we'll be able to share some new candidates for adoption.
This Valentine's day show your love by adopting an elephant . Each kit is a virtual adoption of a real individual from our study population. Each year we release a new cohort of calves who can only be adopted for a limited time. You can now learn more about the elephants we all love so dearly or gift a kit for an elephant lover in your life!
New Transitions
As we shared earlier, our founder Dr. Shermin de Silva is preparing to join the University of British Columbia in Vancouver, Canada (profiled here).We're thrilled to announce that Dr. Lizzie Webber, will be taking the helm at Trunks & Leaves. With her expertise and guidance and with Dr. Shermin overseeing our projects, we are sure to reach greater heights in the near future. Like we said last time, bigger and better things are in store- we hope you will stay tuned.
In case you missed it, here are stories related to our work:
Follow us on Facebook, Twitter or Instagram @trunksnleaves