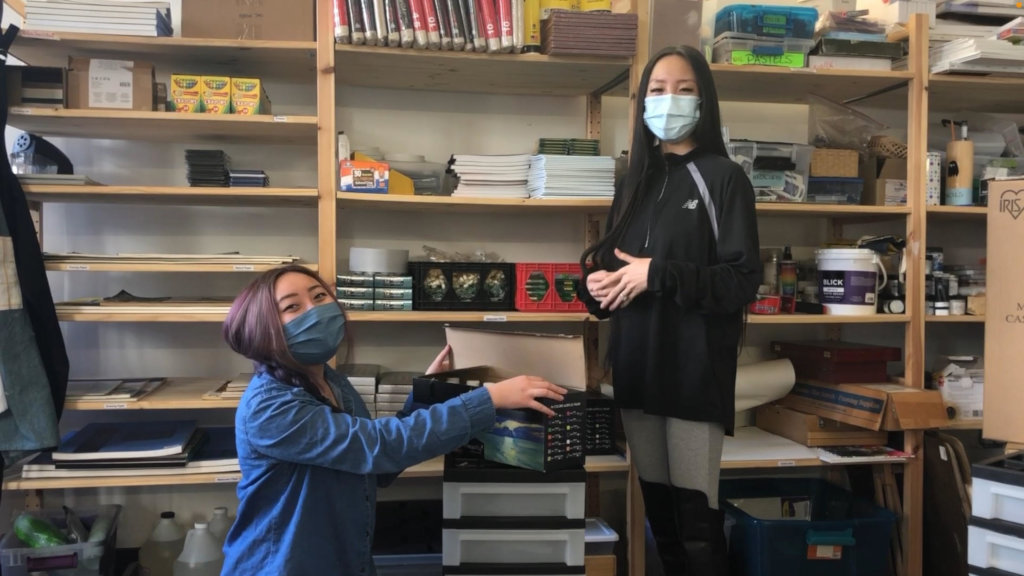 Dearest neighbors,
Change and taking detours isn't new to ArtForce Iowa, but we never would have guessed what kind of journey 2020 would take us on. Here's a monthly timeline of highlights for this incredibly wild year:
January: We packed up our 5000 sqft studio spaces and moved into our new 1300 sqft home located at the building formerly known as the Des Moines Social Club!
February: Our youth enjoyed their first month of workshops in the new space. Meal prepping and dinners together in the culinary loft kitchen was so fun!
March: We stopped all in-person programming because of COVID-19 and launched ArtFul Connections, a virtual art workshop for everyone to join us Monday to Friday over the lunch hour. We also launched the ArtForce at Home initiative to provide and deliver art supplies to marginalized youth in Iowa.
April: Our first month of ArtFul Connections and ArtForce at Home was a success. Young people were meeting us virtually to make art and to connect. Our family of artists was growing.
May: We cancelled our annual #KNOWJUSTICE art exhibit. WHO channel 13 news in Des Moines, Iowa featured the resiliency of ArtForce Iowa and our innovative work to continue transforming youth in need through art.
June: Over 75% of our youth and their families tested positive or were exposed to COVID-19. ArtForce Iowa continued to provide art supplies, supplemental food and PPE.
July: We launched our ArtForce Iowa Shop and ended ArtFul Connections. Over 24,000 people globally joined us to make art Monday through Friday between the months of March to July.
August: ArtForce Iowa took several trips to Cedar Rapids, Iowa to support families impacted by the Derecho storm. We provided over 100 art kits and delivered over 1000 gallons of drinking water along with portable hand sinks and necessary sanitizing supplies like hand sanitizers, cleaning wipes and masks.
September: We created partnerships with other community organizations in order to offer the youth and families they serve access to art. We even found the courage to work with the little ones! (Pre-pandemic, we only served youth ages 12-19.) Now we are virtually "everywhere" and striving to serve the whole family.
October: ArtForce Iowa increased workshops for youth who live away from home, in drug-rehabilitation programs, mental health facilities, group homes or juvenile detention. We know these are important places where we can advocate for positive youth development and healing-centered practices.
November: Our annual "Holiday Hustle" youth art sale event was 100% virtual. Youth artists made and sold their own art over the Black Friday weekend. Youth kept 75% of their sales, with 25% going to support mental health for immigrant and refugee youth in Iowa.

December: We finalized our stage set design for our YouTube channel and will be recording more artful videos. We also delivered another 50 art care packages.
This year was full of challenges, heartache and reminders of how short life is, as well as how much work still needs to be done. The fight for equity and justice will continue on into 2021, and we hope you will join us on this journey.
We wish you and your loved ones a safe, healthy and joyful 2021.