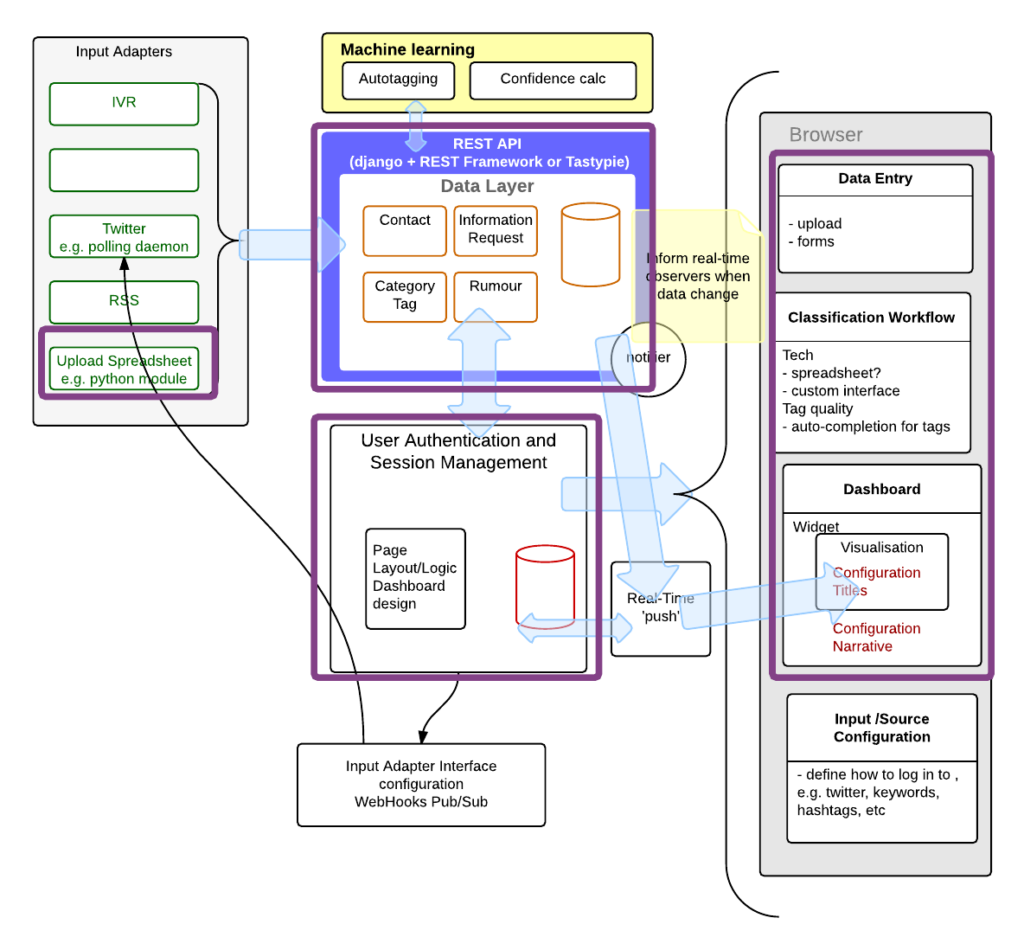 The last known Ebola victim in Guinea recovered last November, signaling the end of the Ebola crisis - not just in Guinea - but across the entire region. After waiting the recommended 42 day incubation period, Guinea has been declared "Ebola-free." Sierra Leone was declared Ebola-free on November 7th, and Liberia is on track to be Ebola-free on January 14. Health officials are hopeful that no new cases of this deadly virus will develop in the region. Your partnership helped us to get the news and information about the disease and how to prevent it, through traditional media channels, door-to-door outreach, SMS and more, while also enabling us to launch the "Humanitarian Information Dashboard" and the Rumor Tracker, which was critical in helping to quickly collect data about rumors and misinformation surrounding the disease and using the appropriate channels to dispel them. Now, Internews is focusing on helping communities recover.
Special Update: The Humanitarian Dashboard
The Humanitarian Dashboard is here! We're pleased to announce that the prototype for the Dashboard was completed a few months ago. The "Dashboard" prototype, designed for low bandwidth and with a responsive design interface, was created using funds from GlobalGiving to simplify and automate the flow of information in the context of the Ebola outbreak. (it works like a "Tweet Deck" for humanitarian information)
The prototype was tested in a country field office in Liberia during the Ebola outbreak. Here's an overview of what we created and learned in the process.
Model: The Humanitarian Information Dashboard
The Humanitarian Information Dashboard detects trending issues and conversations in targeted local communities, and identifies rumors, misinformation and information needs as they arise. The software is designed to work with outreach workers from partner organizations and other stakeholders, as well as local journalists, who are trained and mentored by Internews staff to report and respond to rumors and information gaps through various channels including SMS hotlines and information helpdesks.
Information entering the system is categorized and tagged against a variety of metrics including urgency, relevance and location. The Dashboard can also track relevant Facebook groups, hashtags on Twitter, news feeds and influential bloggers, including those from the diaspora, mapping these online conversations and triangulating with the information received from outreach workers, journalists and the community.
The information gathered and processed by the Dashboard is fed back to the humanitarian community in a weekly update that highlights trending issues by community or area, identifies the most prevalent rumors and concerns, provides insights into local and social media coverage, and provides recommendations for addressing the information needs and gaps identified. These updates are compiled and edited for distribution targeting both the local media and locally based humanitarian actors.
Internews will help translate the rumors into relevant story-ideas supporting local media to turn these rumors into appropriate media-outputs, while encouraging local media to become more inclusive and improve participation, to have them fully play their role as "mediators" between the affected community and the humanitarian actors (including local government). The Dashboard will facilitate direct two-way communication with communities, journalists and outreach workers who submit queries to the system. If a rumor or information request is submitted and categorized by the system and a verified response exists, a response via SMS or email is triggered to the user. Eventually the system should direct users to a detailed recorded response generated by journalists and other community leaders and made available to users through a mobile handset.
Experience teaches us that during a time of crisis, when information overload - including information campaigns set up by humanitarian partners - is combined with huge information gaps, presentation is a key-element to make sometimes dry and technical information accessible to large audience. That's why we aimed to make the Dashboard as easy-to-use, responsive and comprehensive as possible for those using the software.
Why the Dashboard is so valuable
During the development of the prototype, we learned a lot about what makes the Dashboard great and what we can do to improve its effectiveness during the next humanitarian emergency.
The Dashboard is more efficient
Reduced manual effort of day to day tasks around information flows and analysis (we used to create these reports manually and feed them back into the media and to humanitarian responders, and this simplifies and automates the process)
Improved team coordination opportunities
Improved usability and ease of system use contributing to increased productivity
The Dashboard is more effective
Increased analysis capability by field teams
Improved data or information validity through increased data handling, machine processing and improved accessibility to information
Improved information visibility within teams
Improved opportunities for communication of complex information issues tailored to core field partners and user groups
Improved information reliability and associated trust
The Dashboard is beneficial to the wider humanitarian emergency response sector
Data to support learning between disasters
Opportunities for learning through pattern matching and trend analysis from one disaster area to another
Improved information visibility and communication within and by Internews
An improved ability to identify and share learning, data and tools across the humanitarian emergency response sector in an open and transparent manner
Tools to support publication of data and lessons learned to support others working in the humanitarian emergency response sector
Next steps…
We also developed the architectural design and technical implementation of the REST API - a significant foundation for future developments of the Dashboard based on robust scale and connectivity infrastructure. The most important aspect of the Dashboard is that it can be quickly adapted and customized to respond to future humanitarian emergencies. The next step is to scale this to another location and humanitarian context. We're currently seeking funding to bring this valuable tool to serve our Humanitarian Information Service project for Mediterranean Refugees we're calling "News that Moves." The service provides a daily bulletin of key updates in Arabic, Farsi, English and Greek - of both macro (policy-related) information and hyper-local information about humanitarian services and local conditions, threats, border conditions in countries along the route. We are also tracking information needs and sharing it with the media and the wider humanitarian community. With the right partners, we're hoping the Dashboard will help simplify and automate this process, as well as detect rumor and misinformation that is often leading refugees astray or into the path of danger.
Thank you again for your support. We learned a lot during the testing of the dashboard, and we'd love to share them with you. Please reach out and contact us if you'd like to learn more or if you would be interested in partnering with us in the next phase of this project.
Amanda Frankel (afrankel@internews.org)