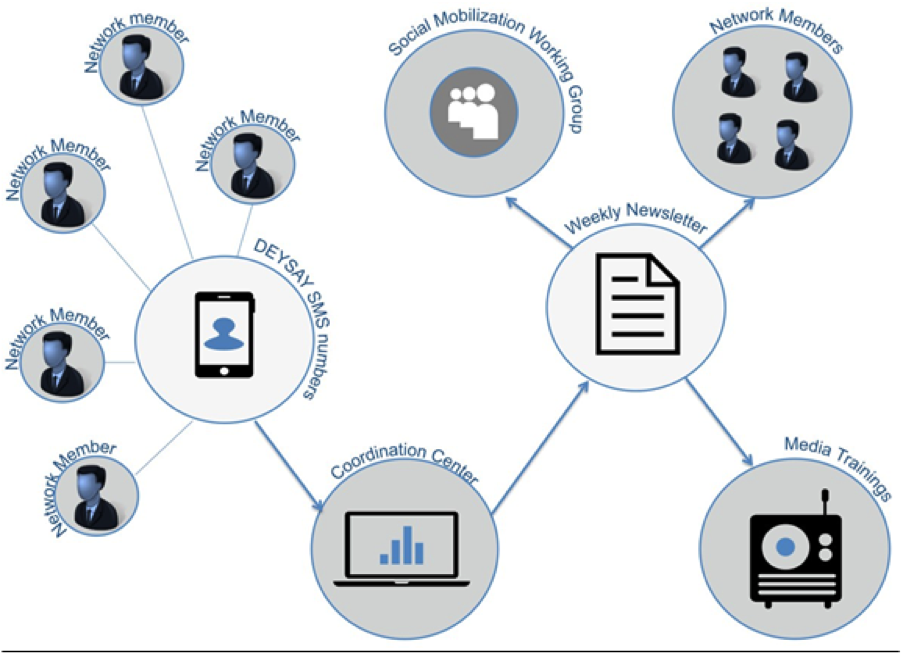 Thanks for your support! Here's an overview of our project since you helped us to launch it back in late 2014, from the ground in Liberia:
In late 2014 Internews established the "Information Saves Lives" program in Liberia. Its aims were to investigate and respond to public rumors about Ebola; to train and empower journalists to report accurately about health issues; and to stimulate the exchange of information in response to the urgent Ebola health crisis. Our project has worked to strengthen the flow of information between the public, humanitarian agencies, and the media in Liberia. In particular, through the publication of the newsletters, we have sought to strengthen the quality of communications about humanitarian activities to local media while building their capacity to gather, analyze, assess and report accurate and timely Ebola-related information. In this way Internews has ensured two-way communication and provided Ebola-related information to affected populations, with the support of donors like you.
"DeySay" SMS Rumor Tracker:
Through local media, and through messaging campaigns initiated by governments and international organizations, information on the containment, spread and treatment of Ebola is being provided, but Internews understands that in emergency environments like this one, it is not enough to simply deliver information – one must also listen and respond to the needs and concerns of the affected populations. We call this "two-way communication" and it gives community members a voice while also allowing local media, governments and humanitarians to have a better understanding of the information needs of the community. To be able to do this quickly Internews developed a solution through the "DeySay" SMS system which uses text messages to monitor, track and report on rumors relating to Ebola across different counties. Internews, with technological support from UNICEF, set up DeySay to provide a service to both the media and the social mobilization groups. We partnered with the Liberian Red Cross Society, Project Concern International, UNICEF, Women Campaign International, the UN Office of the High Commissioner for Human Rights and UNMIL/Human Rights and Protection Section (OHCHR-UNMIL/HRPS) and the Liberia Peacebuilding Office - Early Warning and Response Working Group to try to detect rumors in time and to address them as they arose. The SMS tracking tool sorted through the conversations and rumors being reported from communities by community health workers, and a weekly newsletter informed local media and humanitarians of the key information trends in their counties, with suggestions as to how to address misinformation and rumor. Many thanks to Reverend Sumo for his support of Internews and our work.
Training and mentoring journalists:
Another element of the "Information Saves Lives" project has been providing support to the most committed journalists through a series of small grants, training and mentoring opportunities. Selected individual journalists and local media houses located throughout the country were thereby given support to produce content aimed at responsible health reporting in the context of the current crisis. The training and mentoring that Internews implemented since the launch of this effort was aimed specifically at encouraging the production of more quality news, current affairs and documentary material in print, radio, and video related to the Ebola crisis. While some of the training and mentoring sessions were held at the participating media houses, others were hosted at the Internews offices in Monrovia. Humanitarian Journalism Trainers and guest presenters worked intensively with the selected journalists. In addition to improving basic journalism skills, these sessions focused on equipping the journalists with accurate and up-to-date information regarding the Ebola outbreak and related psychosocial health issues and helped them to connect with experts and other reliable sources to aid their reporting in future. As part of these training workshops, Internews collaborated regularly with members of the humanitarian and NGO communities who have been willing to address our participating journalists on issues related to the Ebola crisis.
Some of the issues that we have covered include: the re-opening of schools, the ongoing vaccine trials, the psychological impacts of Ebola, Ebola waste management, safe burials, reproductive health, issues of accountability relating to the Ebola response, as well as the recent reappearance of the virus and the admirable efforts to contain it. Internews has also developed and maintained excellent partnerships with various Liberian media civil society organizations. This includes a strong consultative relationship with the Press Union of Liberia, contributing to the judging of the Annual Press Union Awards and collaborating on a number of trainings and roundtable discussions. During our time in Liberia, Internews has also cochaired the Ministry of Information and Cultural Affairs and Tourism working group.
A strong, connected network of journalists fighting misinformation about Ebola
The Local Voices Liberia network is one of the most prominent achievements of these efforts. Despite the odds, these journalists have formed an inspiring, optimistic and enterprising network of media professionals that represent all the counties in Liberia, and who have bonded over their motivation to publish good Liberian journalism around the country into the future. While their efforts are entirely initiated within the group, Internews is pleased to endorse their aspirations and encourage you to visit localvoiceslliberia.org regularly, to see their publications.
The Humanitarian Information Dashboard:
We are getting so close to finalizing the prototype for the Humanitarian Information Dashboard, which will work like a "Tweet Deck" that monitors, tracks and reports out on information flows across all platforms and where all aid agencies, governments, local media groups can participate and benefit from. Our project in Liberia will be the testing ground for the development of the platform, and we hope that once the platform is ready this will become a standard tool that humanitarian organizations, digital volunteers, and local media will be able to use in a variety of situations.
The ability to be able to use and monitor different tools, like mobile phones, mobile apps and social media is becoming more and more important as the ability to collect information on the ground becomes more difficult due to insecurity, structural issues, geography and so on.
To respond to this, Internews is extremely proud to deploy an innovative solution through the creation of a Humanitarian Information Dashboard thanks to funding coming from Global Giving, Google and the Rubin Foundation.
Thank you again for your support. It's so important that we continue to remain vigilant against this disease, and allow journalists to do the work of informing and empowering communities with information vital to their health and livelihoods.
Links: