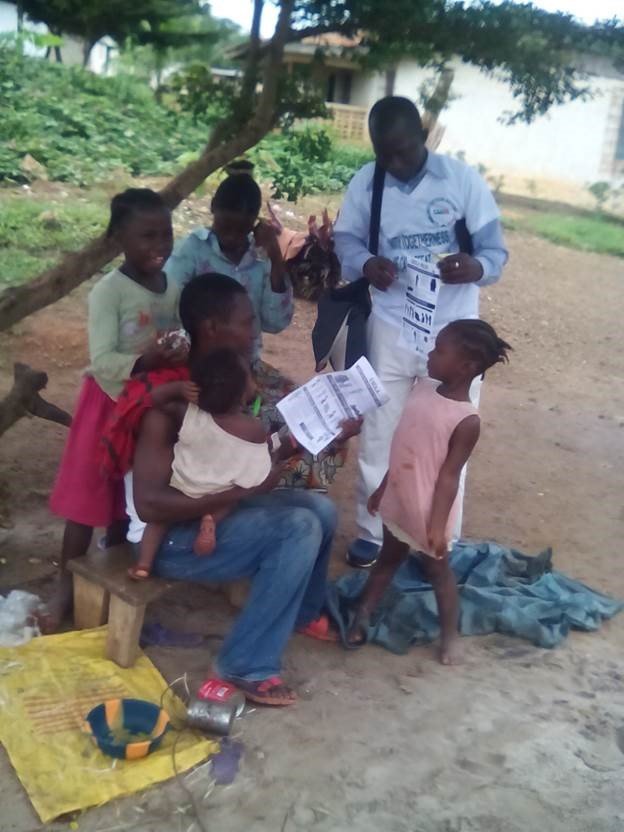 Thank you for your support of our project "Information Saves Lives" in West Africa. Without your funding, we could not continue this important work in Liberia and Guinea – ensuring that people, no matter who they are, or where they live, have access to quick, fast and reliable information about Ebola.
To date, the deadly Ebola outbreak has so far claimed more than 9,000 lives. In a public health emergency like this one, people need reliable, trustworthy, and actionable information about the disease and how to prevent it.
While rumor and misinformation are exacerbating outbreak, Internews is working with local media in West Africa to address the urgent information needs of the population, including how to identify early symptoms, prevent transmission, and where to seek treatment.
In Liberia we are on the ground supporting local media, ensuring two-way communication with the affected communities, and facilitating accurate Ebola-related information flows between local media, government and health agencies. A few weeks ago, a massive vaccination campaign began in Liberia. Scientists aimed to immunize 30,000 volunteers, including front-line health workers. We're anticipating this effort to generate a lot of rumors, also in the neighboring Ebola-effected communities. That's one of the reasons why our team in Liberia is focusing on the border-areas, since these are the places where there's a lot of movement, combined with lack of accurate information, which we know increases risks. There will be interesting links to be made with our Guinea-Team in Nzerekore, which is close to the Liberian border.
The Humanitarian Information Dashboard
One of the more exciting ways that funds from GlobalGiving are helping us ramp up our efforts in Liberia is through the launch of the "Humanitarian Information Dashboard" which acts like "Tweet deck" for Ebola-related information flows. The platform aims to manage information coming from social media, SMS and other channels such as radio and call-in hotlines. The end result will enable media, humanitarians, CSOs and governments to track and share information, community feedback, and new cases, as well as identify needs, and track trends over-time. We are just in the early phases of the development of this platform, and still are in great need of funding to make this project a reality.
This is where you come in. Please consider making a donation to Internews – if everyone receiving this email donates just $25, that would cover our general expenses for 6 months – making it possible to build and launch the platform and help build healthier, more resilient communities.
In Guinea, the "Information Saves Lives" project has deployed experienced humanitarian journalism trainers in Guinée Forestière, Conakry, and other cities to train media workers in the most effective ways of explaining the disease to local communities and engaging them in the fight against its spread. Our team is currently producing Ebola programs 5 times a week, with actionable "news you can use" that's keeping families safe by equipping them with the right information. Our approach focuses on using radio, local languages , and direct community interaction and engagement strategies. Our efforts have dramatically increased the amount of Ebola-related content on radio in the capital, in the South East and cross-border into Liberia.
Your donations have enabled us to educate thousands of people and provide life-saving information about Ebola in Nimba County, Liberia
Stemming from the belief that one of the best ways to address the public's fear of Ebola was education, Community Action Against Ebola (CAAEB) in Ganta, Liberia recently completed a 3-month Ebola outreach campaign, to stop the spread of rumors and misinformation and bring accurate information to their communities. CAAEB's team of 15 conducted door-to-door outreach in 25 communities in Nimba County during this time. The team estimates that they reached 3,743 households door-to-door, and an additional 3,120 individuals during their long distance outreach into more rural areas. Executive Director Aaron Debah has been producing radio shows on health issues for two years, and following the Ebola outbreak he began using his air time for Ebola-related programming and discussion. Hot FM 107.9 and Radio Kergeamahn 94.5, the two main radio stations he has broadcasted on, have a listenership of over 20,000 in Ganta and beyond. As a result, radio was an incredible opportunity for Ebola awareness to gain a wider reach. Over the course of the project, the call-in feature became quite popular with the public, and many called in to share their experiences and emphasize the important of continuing to practice Ebola safety measures in an open forum.
To complement the door-to-door outreach and radio activities, the team also flexed their creative muscles and experimented with other ways of building awareness and sensitization. In October, they screened a film about Ebola in the town of Weintein, where it turned out that many had not heard about Ebola. The open air screening drew a crowd of about 700 and the team reports it was a great experience. Another highlight for the team was visiting the Lao Chiefdom in November, a region of Nimba County that unfortunately was one of the most impacted by the outbreak. They brought together people from the three most affected towns of the chiefdom--Leegbala, Glelah and Mongbein--together for their outreach. The team held a live performance of a drama entitled"The Danger of Accepting Stranger in the Midst of the Ebola Virus," which portrayed how outbreaks can start unexpectely by welcoming strangers into the home. After the performance, the team moderated a Q&A session which allowed the 150 community members in attendance to voice their questions and concerns. The team brought these interactive approaches together in November in a primarily agricultural town called Gbendine. Using a town hall format, they used the film, drama performance, and Q&A session to bring awareness to approximately 750 eager listeners, and reported that the culmination of these activities were "indeed awesome." The townspeople conducted a tour of their rice farm to thank the team and requested that they continue to build on their relationship.
Upon completion of the project, Aaron noted that most people truly appreciate face to face engagement and find it easier to digest information when it is presented this way. As of today, the outbreak in Liberia overall has slowed down greatly, but the impacts of the disease remain, and Aaron reports that there is still a need to provide psychosocial outreach services to survivors, their families, and impacted communities as a whole.
Looking forward to the months ahead…
We are encouraged by the steady progress that has been made to combat this disease, and Internews understands the need for the global community to remain vigilant against Ebola until the goal of zero cases is achieved. The epidemic is far from over, and individuals and families continue to have information needs even after the peak of new infections has passed. People will continue to need information about how to manage other illnesses that affect the population, the fears and questions that may result when dealing with burials in the community, and how to address the fact that transport and travel between affected countries is likely to continue – meaning that unless the epidemic is controlled everywhere in the region, Liberia will remain at risk from those who travel. These are just a few examples of information needs – and we need your help to meet them.
By making a donation, you are making an immense impact on the people in Aaron's community – and those like it, all over Liberia and Guinea. It's incredible what we can achieve when we all contribute $50, $100, $1,000 – whatever we have, to make a difference, together.
Thank you again for your support.