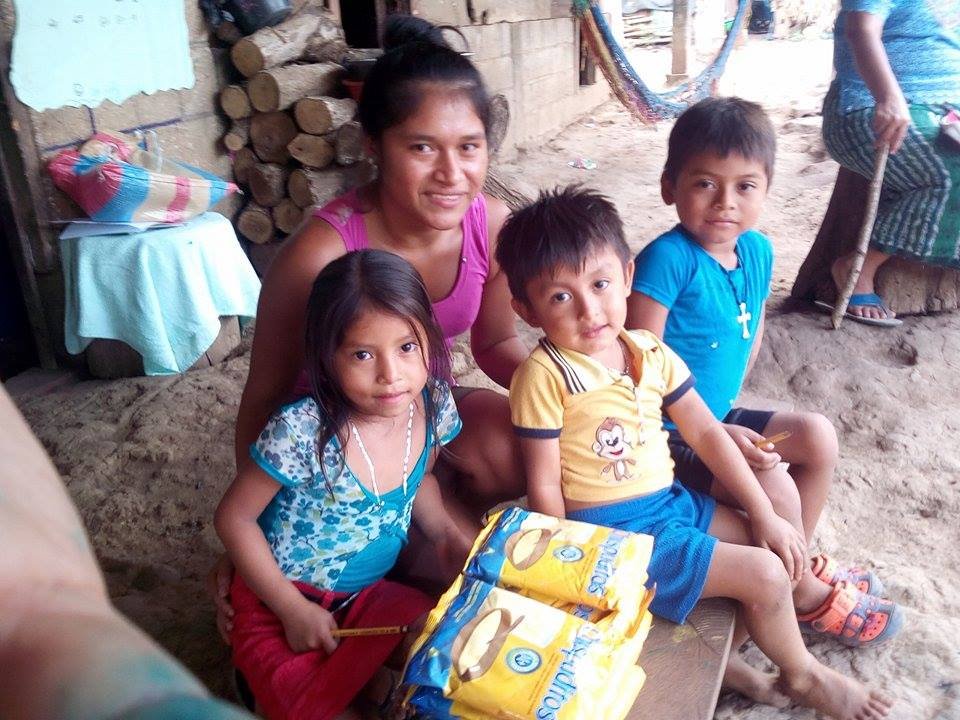 Dearest friends,
I want to share with you that in the past few weeks we were in Retalhuleu, in the communities of San Andrés Villa Seca, Bacajia, anexo 1 and Pajales in San Felipe, and los Ángeles.
The reason for our visit was to take hemoglobin and anthropometric measurements of all of our children and their younger siblings ages 0 to 6. We do this work to be able to support our children with our nutrition program, and we want to know how their initial health is to be able to measure the impact we will have in their lives. We have completed the first measurements and we will wait to conduct them again in October, at which time we hope to find better results.
We found the majority of the children to have many health problems: malnourishment, under weight, eye infections, skin infections, children with parasites, and children whose teeth are in very poor condition. It's very sad to see all of these issues in children so small, but it motivates us deeply to continue working with the hope that our program will make a significant change in them so their growth and development can be healthy and dignified.
The families are happy and grateful for the support that is offered, and now know that everything we do is only for the well-being of their children. All of the families that are in our program have very few resouces; their monthly incomes are minimal (approximately 700 Quetzales per month, for a family of 7 members) from cutting cane and working in the field, and with what little they have they buy necessities such as food and occasionally clothing.
We are proud of our families; we have groups of mothers organized to prepare chispuditos and the great support of our facilitators and local Community Coordinators to make our program successful.
We are working in conjunction with the Mathile Institute and their nutritional program Chispudito, and we are very grateful for them and their immense support and profesionalism.
In this trip two volunteers from the United States accompanied us: Julie, who is a nurse, and Evy who is a professor. Many thanks, Julie and Evy, for the support! Here is their story:
Volunteer Story: April 2017
I was invited to be a part of Aula Mágica as I am a Registered Nurse and I enjoy volunteering where what we do makes a difference. Without going into detail about the project (I'd love to go into detail for anyone who is interested), I'd just like to share my 3 day experience.
We got to Retalhuleau and parked our gear at our very primitive hotel before heading into the "boonies" to do our work. Over a 3 day period we served over 100 kids, ages 5 and below. We saw 6 of the Aula Magica classrooms. All were in spaces no larger than most American utility rooms and 5 of them had dirt floors with bricks and boards for seating, corrugated tin walls, if any walls at all, no blackboards, etc. But let me tell you, the walls in every single one were decorated with the work the kids are doing and the work is beautiful! There was art (yellow happened to be the color they were studying at the moment), there were pages of handwritten numbers and alphabet practice and collages of "family" and food, etc.[Text Wrapping Break]With the exception of size and a "real" classroom, Aula Magicia classrooms looked like any American classroom where it was obvious all the basics were being taught. The kids were enthusiastic and happy and thriving in the classroom.
On the flip side, as a nurse, I saw skin sores (I wanted to be a MD often as I witnessed conditions that needed to be medically treated), pink eye, obvious malnutrition, etc.
I'm very grateful to be a part of a program addressing the malnutrition as I believe many of the conditions I saw will clear up when the kids start taking the supplements our donations are providing.
These kids are smart. They are already working hard to excel in school. They shouldn't be dropped between the cracks and forgotten just because they are in remote villages where nutritious food is hard to come by.
The teachers are doing a fabulous job of teaching these kids. Their dedication is obvious. They are working hard to make a difference.
It only cost $1.60 a month per child to give them a daily dose of the supplement but these moms (mostly single teen moms) cannot afford it. It is my hope that ALL of my friends will donate a minimum of $19.20 (a years worth of the supplement) each so that every child has a chance for better health which in turn leads to better performance in school.
Sincerely,
Julie, RN