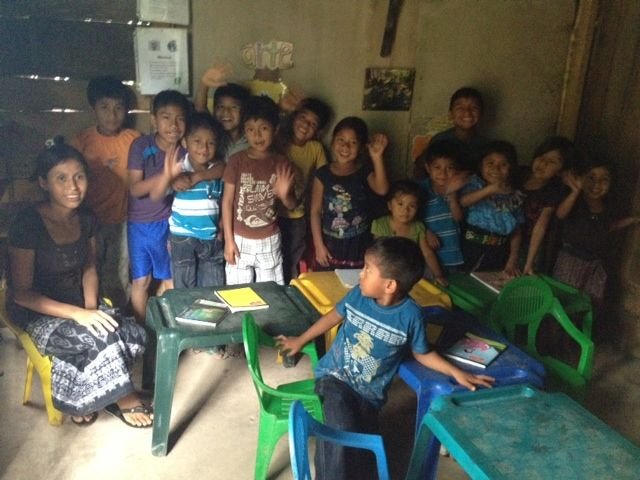 October 12,2013
I just returned from Guatemala after a trip to meet with Guatemalan associates to plan for next year. I am happy to report that we have finished the school year with our "traditional" Let's Be Ready Program and fulfilled all of the commitments we made when accepting donations from sponsors of our 29 classroom sessions and the promises we made when we accepted grants for our Nutrition Program. 425 kids have been fed and prepared daily for success in the first grade through our program with regular classrooms and trained teachers.
But how about the kids in the communities that are too far away for us, or the government, to reach with trained teachers?
The main purpose of the trip was to meet with an association of community radio stations in the Western Highlands of Guatemala, the center of the indigenous population and the poorest and most rural people in the country. I came seeking Guatemalan partners for the new Aula Magica Program to translate, record and to broadcast preschool curriculum to the most rural villages, not served by Let's Be Ready, nor the Guatemalan government and not likely to be served in this decade.
Over the past 18 months, a group of Guatemalan teachers in Antigua have been writing and recording Aula Magica programs in Spanish to be broadcast into homes or played on strong mp3 players in public spaces in just such rural areas.
As of agreements made on this trip, several rural radio stations in the Highlands have begun broadcasting the first 20 of these programs in Spanish. However the greatest payoff will come when the programs are recorded in the various indigenous languages and presented to groups of 10 to 15 children gathered in a home or public space. Think of it as a group of children listening to Sesame Street like programs and guided in planned activities by a facilitator trained in their use.
The teachers in Antigua are continuing to write and record more of the programs in Spanish, expecting to have at least 30 ready by January. Meanwhile, we are continuing to look for like-minded, bilingual people in the rural areas who are willing to translate and record them into one of the 22 indigenous languages, and for literate facilitators to train in the use the program with small groups of children in 2014.
This next phase, to translate and record 30 programs in one indigenous language, and to train and monitor 6 facilitators and one control group of children, will cost $4750.
Without the preschool program in the communities we now serve in rural areas, we would expect to see a 30% failure rate for the children arriving at the first grade classroom. Instead in our original classroom programs, they have a success rate of 87% .More info at www.let'sbeready.org
Do you or anyone you know want to help us expand the Aula Magica program to the indigenous people of Guatemala using their language and relevant to their culture?
Thank you for your support in 2013.
Links:
Attachments: