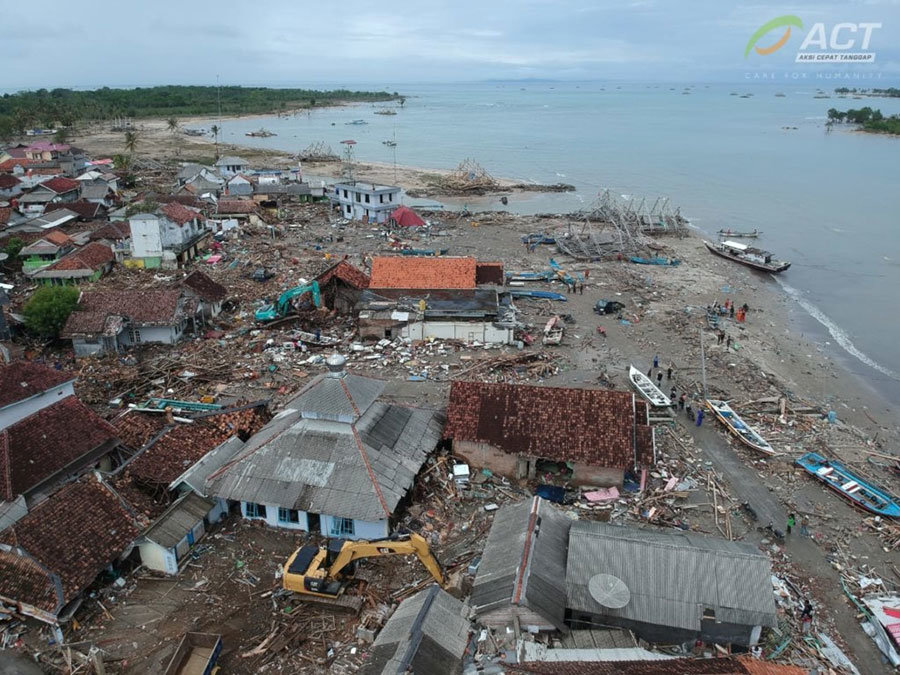 It's been three months since the Anak Krakatau volcano in Indonesia's Sunda Strait erupted, generating a devastating tsunami that battered the coastal regions of Banten and Lampung. The tsunami, which struck without any advanced warning, claimed 426 lives, injured 14,059 people, and destroyed or damaged thousands of homes. People in the affected communities have now begun the hard work of long-term disaster recovery.
We're thankful they've set out on that road to recovery with support from GlobalGivers like you. To date, 486 donors have raised more than $45,000 for our Indonesia Sunda Strait Tsunami Relief Fund. Your donation to this fund is supporting disaster relief and recovery work led by Aksi Cepat Tanggap (ACT) Foundation, a local GlobalGiving partner in Indonesia.
In the immediate aftermath of the tsunami, ACT Foundation was on the ground, performing search and rescue missions and delivering emergency supplies to survivors, including food, water, tents, blankets, and hygiene supplies. With the transition to long-term recovery work, ACT Foundation is partnering with local governments to rebuild schools, medical clinics, and other public facilities, repair tsunami-damaged toilets and wells, and improve communities' ability to better withstand future natural disasters.
Having disbursed all donations made to this fund, it will now be closing. We're grateful not just for your support, but the manner in which you decided to help. You made the smart decision to donate cash after a natural disaster, and your donation supported community-led relief and recovery efforts, which are chronically underfunded by institutional funders. To learn more about our unique approach to disaster response, visit the Disaster Recovery Network at GlobalGiving.
With gratitude,
Will + the GlobalGiving Team