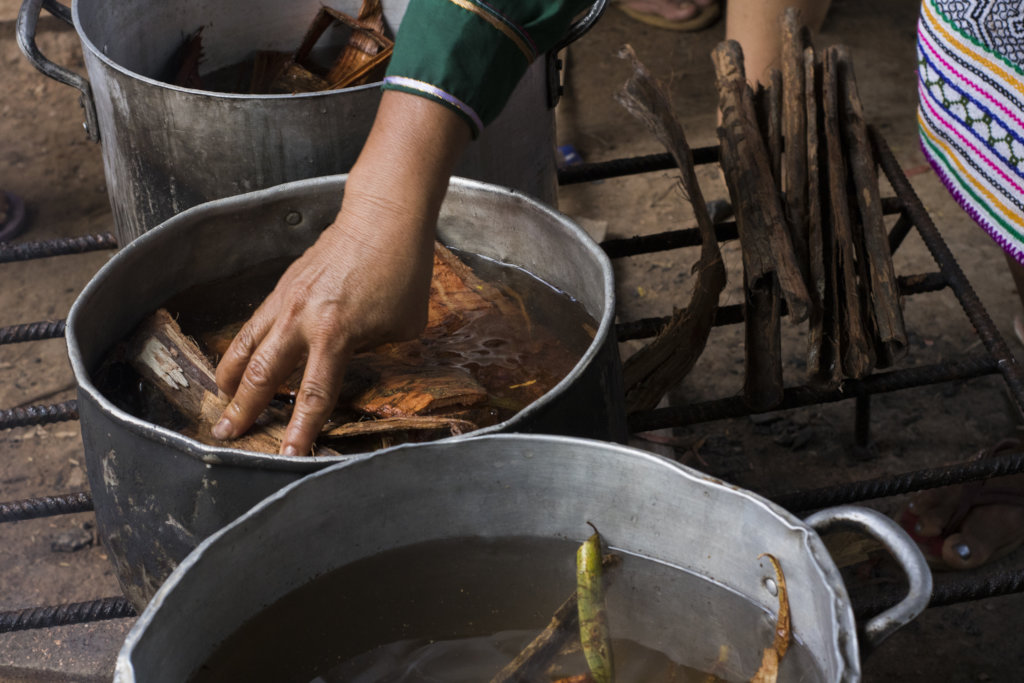 Ancestral medicine has been fundamental for the health and wellbeing of indigenous peoples the world over. In the Amazon rainforest alone, the many living testimonies, as well as prolific scientific research stating the effectiveness of plants for medicinal use illustrate the wider impact and support of this rich practice. The Shipibo-Konibo are one ethnic group in which this valuable tradition lives on, having been able to preserve some sense of practice, alongside great uncertainty about the future and despite the compelling challenges of the globalization. Although efforts are being made to maintain this cultural knowledge, the shipibo are suffering a process of its loss due to a lack of interest amongst the younger generation: the healers and the mothers who would usually transmit the knowledge having been teaching less and less and the youth are not looking to learn.
This complex situation is not a coincidence, but rather the result of the interaction between indigenous people and a society which is mostly dominated by western values and globalization. In this socio-economic structure, there are more opportunities for prosperity in city centers, leaving the outskirts and rural sectors in vulnerable conditions, with reduced access to basic services of the state. The system is built in such a way that the only way to really thrive economically is to move to the country´s capital city, away from people´s homes and land, leaving families and knowledge behind.
In an economic system built for producing and consuming without end, it is easy to see how some traditional practices lose their practical value. If you migrate to the city, you don´t own your own property and you can be working from anywhere between 8 to 12 hours per day. You might only have time for few additional activities and so your attention will be to focus on the most practical things. Buying medicine from the pharmacy instead of planting your own medicinal plants will be a far more efficient choice for you.
Shipibo people are oftentimes victims of employers who take advantage of their needs by offering them informal labour with low wages and lack of legal protection. One of the most famous strategies of neoliberalism is to destroy the legal and political defence of the workers. The reason why Shipibo people accept such conditions, is that they wish to give an education to their children, that they may go on to have a technical or professional career in order to secure their future. Therefore, these children, the current generation, aside from a small minority of youth activists who are fighting to preserve and give value to their traditions, no longer perceive traditional crafts, land use, or traditional medicinal knowledge as relevant and, most importantly, useful.
The landscape design of most urban spaces did not take into account green areas and this represents an additional obstacle for Shipibo people moving to the city. Even though it is not essential, the more space plants have, the more productive they will be. The only green spaces cities have are gardens and parks, mainly with grass and flowers, meaning that they have an ornamental purpose, not a productive one. This makes strengthening Shipibo culture, which value green space and medicinals, a complicated endeavour in urban environments.
This, however, is not an absolute scenario. In rural areas for instance, plant medicine traditions are still crucial and relied upon because the public health system is very unstable and under-resourced. During these times of the quarantine, many families have been using their plants to protect themselves from the virus, an example of which is the daily use of the Mocura. Still, despite the effectiveness of this knowledge, indigenous knowledge in general, including traditional crafts, family farming. and traditional medicine, is underappreciated and placed in peril, in the globalized world. Even when a minority group recognizes the value of these cultural activities that benefit so many rural families, the mode of production and the society of over consumption and unending economic growth will not recognize nor protect such traditions. The current neoliberal economic system suffocates these traditions and drives them to the extinction.
It is important therefore to highlight that there are amongst the shipibo community, many groups, such as an artisan collective of mothers providing for their families, female plant medicine healers, intercultural health promoters, creators and producers of traditional medicine, who are all working to promote and preserve this useful and efficient practice. We support Shipibo people by using what´s available to us: creating medicinals with our soil, rich in nutrients, a soil of the rainforest, which before being covered with cement and wood, was substratum, it was the plant.
The partial or complete entry of Shipibo families or communities into the socio-economic and cultural dynamics of globalization puts them in a position of vulnerability. This was the determinant variable which caused the progressive disuse of medicinal plants.
We have difficult yet important work to do to preserve Shipibo ancestral medicine due to its essential and central role in response to this difficult period of crisis. COVID-19 has shown us that self-sufficiency is an imperative. If you have some space available to you, why not use it for planting seeds, for cultivating plants for medicinal or food use. We need to create communities with unified districts, unified botanical gardens. Let's use roofs for urban green spaces, and reuse common recyclable household waste products such as milk cartons, yogurt bottles, egg boxes and such.
We have to fight for a public health system because it is a human right and keep in place local traditional systems in the event that the underfunded state system collapses beneath the weight of extraordinary events like the one we are currently experiencing. In such times, it is medicinal plants and multi-use botanical and urban gardens that will support us all, irrespective or race or class, to cope with hunger and illness.