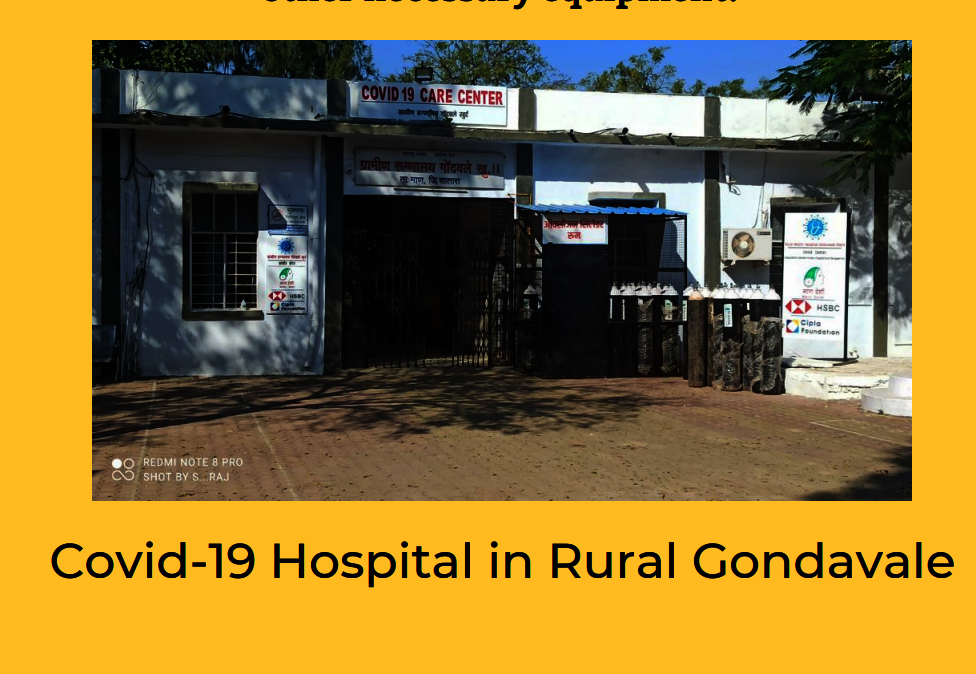 The COVID-19 pandemic hit rural India hard. While the first few months of the pandemic were felt mostly in cities, rural India was impacted most when the second wave hit. The state of Maharashtra has had the highest number of cases in the country, and the Satara district, where we work, remains among the most underserved and overlooked communities in health and education. At Mann Deshi, we have stayed true to our mission of empowering rural women and their communities. This has been our first foray into healthcare, initially as an emergency relief response, but now with a commitment to improving health outcomes for our women and their communities. This report presents Mann Deshi's grassroots health relief work from March 2020 to July 2021. We have provided rations to 25,000 families, refurbished, and are now running two rural hospitals in the Satara district, which have served 2,500 patients and continue to serve more each day. We provide nutritious meals to patients at isolation centers, run two cardiac advanced life support ambulances, ensure women and children can access tests and scans, and run an oxygen bank. We run two covid hospitals that have treated over 4000 patients. We have offered interest-free loans to help women pivot or restart their businesses. We have also invested in digitizing our Business School courses and Chambers of Commerce workshops. We have supported our women to make the most of the digital world by introducing them to apps and platforms for easy payments, networking, marketing, and accounting. Our bank has created new financial products to support women during this time. Introduction All this has been possible only because of generous partners and donors, for whom we remain ever grateful, who have given us the confidence and support to deliver equitable healthcare.
Through the support of all our funders, we were able to provide the following things in the pandemic and especially in the second wave.
Mann Deshi has provided over 200+ patients with Oxygen Concentrators; we provide each patient an O2 concentrator machine for seven days.
Mann Deshi is running two covid hospitals in a partnership with the government. We have treated over 4000 patients; we provide daily meals to these patients, medical equipment like ventilators, portable X-ray machines, pathological labs, oxygen cylinders, etc. As well as some of the advance doctors' payments.
Mann Deshi provides daily meals to over 500 covid patients, including two meals, fruits, and operation costs like transportation.
Mann Deshi has done the vaccination drive for 25,000 rural women. We provide the covishield vaccination free of cost and the set-up of the entire operation, including food, facility, and transportation.
Over 10,000 frontline workers are supported with safety equipment like N95 masks, PPE kits, and sanitizers.
Twenty thousand women received bi-weekly health camps through Mann Deshi's health doctors. In the health camp, our doctors provide information and check BP, Blood Sugar, anemia, and iron deficiency.
Mann Deshi is building a diagnostic center on a charitable basis where we will be having CT scans, a Pathology Lab, and a doctor consulting room for rural patients.
Mann Deshi Foundation has also been running two cardiac ambulances free of cost.
In the pandemic, Mann Deshi Foundation provided the cost for doctors approved CT scans for the covid patients, especially women and children under 18
Testimonials of the beneficiary
"We can approach the staff for help at any hour of the day. Once, a nurse came in to check on me at 1.30 am because she noticed I was having trouble sleeping - that's the kind of personal attention you get there. The hospital is also fully equipped with all the facilities we may need for our treatment, so unlike other places, we didn't need to run around for additional tests or medicines." - Teacher | Patient at Gondavle RH hospital run by Mann Deshi and the government.
"The hospital's transformation is phenomenal! I couldn't believe I was in the same hospital that I had last visited 5 years ago with a relative. As a community, we are fortunate that Mann Deshi is involved in the running of the hospital because this way we know we have a voice in its management." - Farmer | Patient at Gondavle RH hospital run by Mann Deshi and the government.