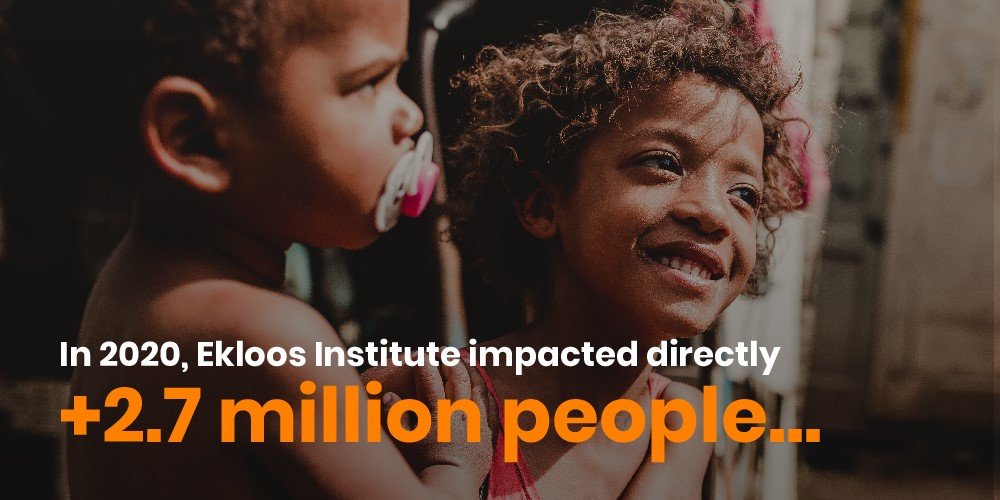 We prepared a short video to show you some numbers and results that make us proud and grateful of your donation! Open the link and enjoy: video
Last year, we innovated to adapt to a new reality and help those who needed it most through the donation of food basket, support independent artists and strengthen social initiatives.
We carried out 5 Social Acceleration Programs, boosting 28 CSOs and 15 Social Impact Businesses. Our mentorships seek to not only improve management processes and bring innovation to initiatives, but also to create networks and strengthen ties that enable even more transforming connections.
In addition to the Acceleration Programs, we think about the reality of the Cultural Sector in the country, which, due to the pandemic, was even more abandoned. That's why we did something unprecedented for the Ekloos Institute and also a lot of fun: a Cultural Festival, which in the end became the biggest online festival of independent artists in Latin America!
Even in the pandemic scenario, we needed to act on a very urgent problem: the growth of hungry people in the country. That's why, in March 2020, at the beginning of the pandemic in Brazil, we connected with partner organizations to bring food baskets and hygiene and cleaning materials to those who needed it most.
2020 was undoubtedly a challenging year, but we are proud to have reinvented ourselves and acted on so many fronts to transform many lives, even when it was necessary to keep our distance!
We want to thank you for believing in our work and for being part of this journey for a better world for everyone.
Links: