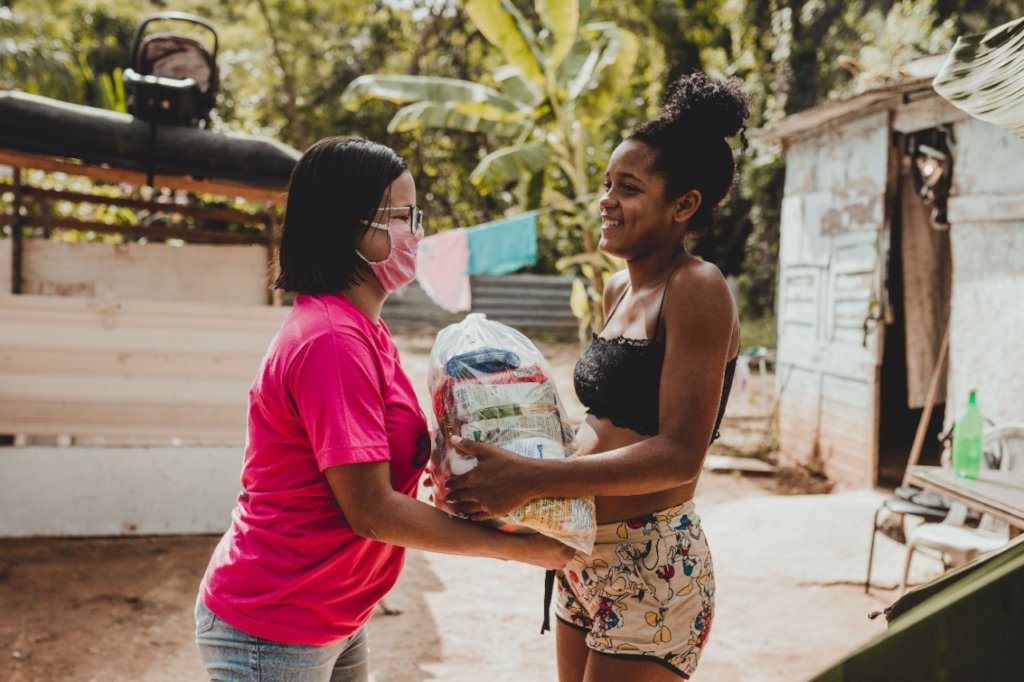 It is always a great pleasure to share with you our actions and how your collaboration helps us to impact more and more. Thank you for believing in our work!
After almost a year of living in the Covid-19 pandemic stage and feeling all its effects on health, the most vulnerable population also suffers from unemployment, increased inequality and hunger. As in some countries, the Brazilian government granted emergency financial assistance to the most fragile part of society for a certain period, however, with the resumption of some activities and the end of severe isolation, the government decided to suspend the aid, further aggravating plus the poverty scenario. Hunger has become a recurring reality for many families and we have a duty to continue distributing food baskets to the most needy. A hungry adult is unable to work. A hungry child cannot study. So far, we have already fed more than 1,6 million people and we will do our best to bring food and hope as long as we have the opportunity.
At the end of last year, we launched the Impact Leaders Development Program, in which 60 young black men and women from all over Brazil will be selected to receive mentoring, training and monthly allowances. At the end of the program, young people have the opportunity to participate in an investment board with the chance to raise funds for their project. Our goal is to bring management knowledge that potentiates the projects carried out by young people, inserting blacks in leadership positions, contributing more and more to an inclusive and powerful world!
Our Impactô acceleration and mentoring program, carried out with 16 organizations from RJ and SP, lasting 6 months and knowledge of management, was created to support organizations that were working to face the effects of covid-19 in their communities. After training and development meetings, organizations were invited to carry out a pitch to present their projects to a panel of evaluators. Eight organizations were directly awarded with financial resources to carry out the proposed activities, in addition to all having created a valuable and promising network of contacts that will allow for an ever greater expansion of social impact. We can mention one of the projects that were successful in investment banking, the Nagai Association, which teaches values of citizen construction through judo classes. 145 students are assisted throughout the year with physical and motor development classes that Judo provides, in addition to educational and cultural activities and the rescue of the family bond, obedience, respect for the opponent, knowing how to fall and rise ... With Nagai, children and young people learn to be champions in any area of human knowledge.