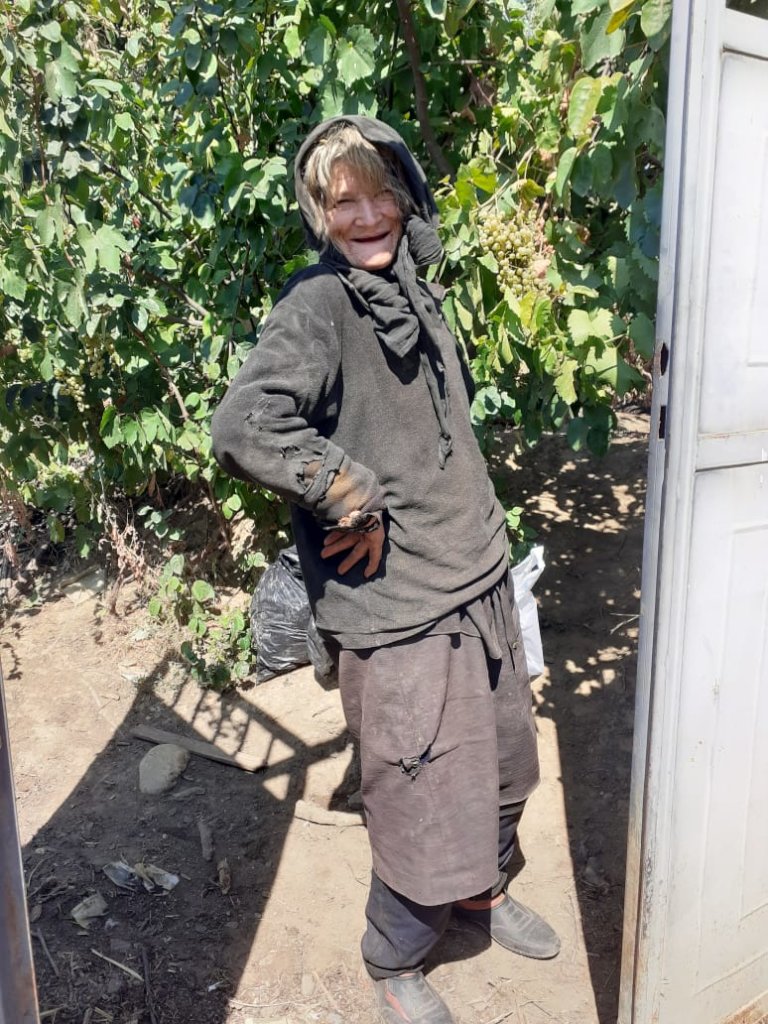 NG staff members Gian Paul and Andy Ardueser have been visting the villages around Pogradec with the humanitarian aid program for a while now. The villages keep getting harder to reach, as roads that were maintained under the communist regime are gradually reclaimed by the lush natural environment of southern Albania. NG's most rugged vehicles can't even reach some of them anymore, and staff must make appointments to meet aid recipients at accessible points on the road.
Recently, Andy recounts, the team was headed to a rendezvous point with an elderly woman NG has been helping for years. At the designated location, an old man was waiting. It isn't uncommon for aid recipients to enlist relatives to pick up their parcels, and his last name was quite similar to hers. Naturally, he was happy to receive the aid parcel. But then, a little farther down the road, the team met the elderly woman they had been looking for! They managed to put together another parcel for her, and she confirmed that the man who got her parcel was her neighbor, whose wife had left him and who was living with with eye problems. He really needed help, and would never have asked for it. And so the program grew that day.
Andy explains that a big reason this program is so important actually isn't because of the aid parcels themselves-- though the people who get the aid parcels do need them, very much. As Andy's husband, Gian Paul, puts it, "to someone from the US, or Germany, it would look like anybody in these villages is desperately poor. But some people need our help more than others-- people who are very old, or have a medical or mental condition, or have no family at all to help them out. And they are lonely as well as hungry and poor." The regular visits of Nehemiah Gateway staff, four times a year, year in and year out, are valuable because our staff takes time to see them, and listen to their stories. For us, these villagers are not invisible, and not forgotten-- although life in modern Albania may sometimes make them feel that way. By showing love and compassion, the team offers sustenance as important as food.
Andy was out with a stomach bug the last time the team went to the villages, so Gian Paul went in her place. One elderly woman, Mersya, who lives in a barn-like structure with an array of animals, demanded of Gian Paul where "the blonde German lady" was. "I miss Andy," she said, "she always asks me how I am, and hugs me, and takes care of me." But, she said, taking a long look at Gian Paul, "I think you are good enough for her. You'll do for now."
Thank you for your support of this program. Taking the time to go see people like Mersya where they live, and bringing them both food and compassion, is making life in the villages both kinder and more comfortable. Continue supporting this program here.
Gratefully yours,
Sarah Pita