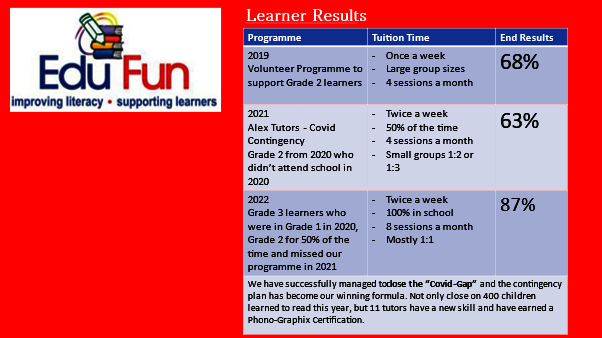 Edu Fun's mission is to improve English literacy. We teach learners in grades 2 & 3 at Diepsloot Combined School (DCS) in the informal settlement of Diepsloot, South Africa to read using the Phono-Graphix Reading Method.

The academic year has come to an end and the results of the reading and spelling assessments of all the Grade 2 and 3 learners at Diepsloot Combined confirm that our "Covid-Contingency" plan has become our winning formula.
2019 Overall result 68%
Volunteer Programme to support Grade 2 learners
- Once a week
- Large group sizes
- 4 sessions a month
2021 Overall result 63%
Alex Tutors - Covid Contingency
Grade 2 from 2020 who didn't attend school in 2020
- Twice a week – during two weeks of the month
- 50% of the time
- 4 sessions a month
- Small groups 1:2 or 1:3
2022 Overall result 87%
Local Diepsloot Tutors – Covid Contingency becomes the actual plan
Grade 3 learners who were in Grade 1 in 2020 and missed a year of school, were in Grade 2 for 50% of the time and missed our programme in 2021
- Twice a week, every week
- 100% in school
- 8 sessions a month
- Mostly 1:1
So the "Covid-Gap" has officially been closed and close to 400 children have learned to read this year and 11 tutors have a new skill and have earned a Phono-Graphix Certification.
The results are phenomenal, but in order to sustain this, we're going to require more funding than ever before. The key factor is being able to train local youth and pay them a small stipend in return for their many hours of volunteer work as they also need to be able live and pay for their and their families' basic needs.
There are 6 primary schools in Diepsloot and we have plans to start working with one new school on 2023. In order for the programme to work effectively, we need to employ a minimum of 10 tutors at each school.

The cost per tutor in terms of their training as well as their monthly stipend over 9 months is approximately R33 000 per tutor for the year. This is the equivalent $2200 per tutor, which works out to less than $200 dollars per tutor per month which includes all their training, materials and stipend as well as all the stationery and educational material for the 25 to 30 children that each tutor would be responsible for teaching one-on-one on a weekly basis.

We are grateful for the continued support that we get from the GlobalGiving platform. Any of your donations will go a long way to assist us in achieving our vision for 2023 as we continue to multiply our impact.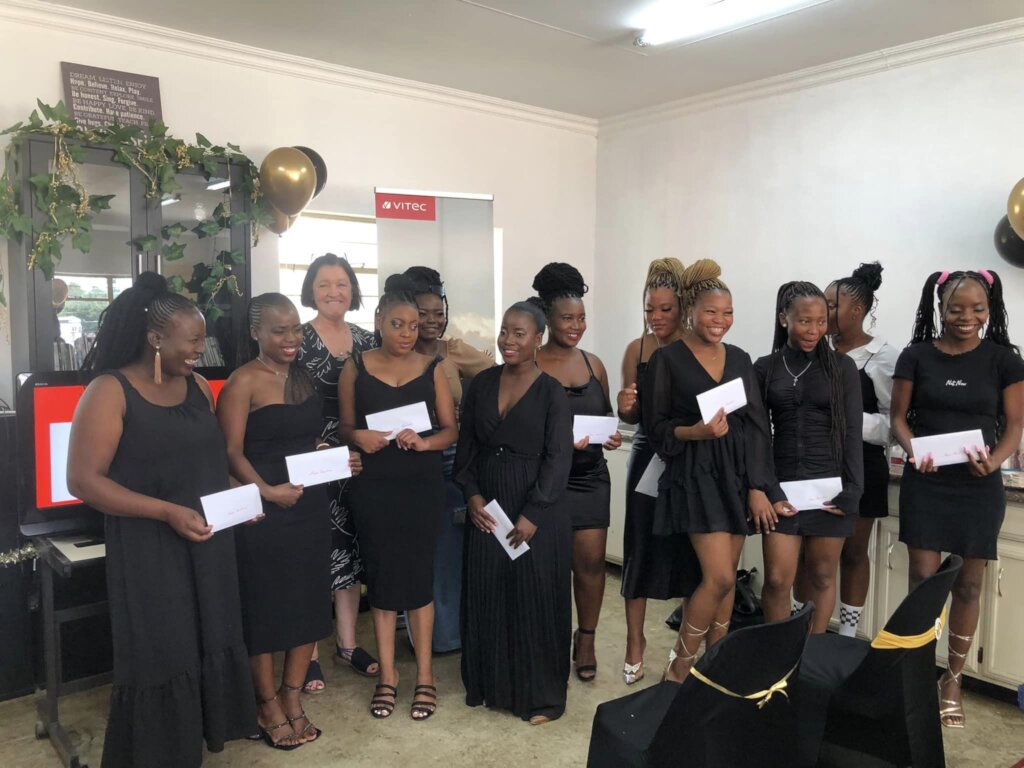 Links: