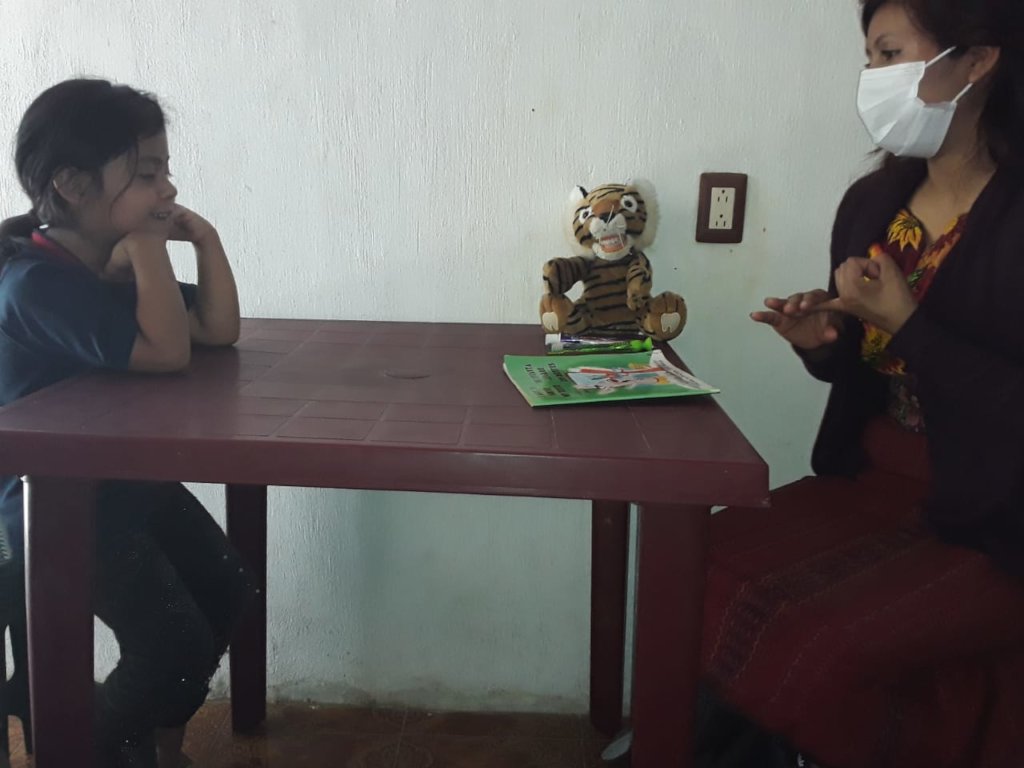 Hello Friends,
It has been a few months since our last update and we wanted to check in with you and let you know what's new. Although the COVID case rates continue to be high in Guatemala, there is some semblance of a return to a new normal and Mayanza is working hard to adapt to the overwhelming needs of the community of Santiago Atitlan and the restrictions put in place by the Guatemalan government. A few highlights from the last few months include hiring a new teacher for our team, returning to work in the schools, starting a new project in Tzachaj and creative fundraising efforts.
A New Teacher for Our Team
We are happy to announce the newest member of our team, health educator Juan Elías Esquina Damián. Elias grew up in Tzanchaj with a large family speaking both Spanish and Tzutujil, the local Maya language, completed his teacher training and is excited to be working with Mayanza to improve the health of his community. He will be working with our current educator, Lola Ajtujal Chiviliu in the schools to reinforce important health topics of nutrition, hygiene, exercise and disease prevention.
Back to School
And speaking of schools, our program has shifted to adapt to the Guatemalan government's restrictions in schools. Every school has needed protective equipemnt and cleaning supplies to protect the children and teachers. We are now focusing on the pre-school, kindergarten and first grade aged children in an attempt to impact their behavior from a young age. Our time in the schools is limited compared to the past, but the educators make the most of it. Sometimes, they even visit the children at home and bring their lessons and Andrés our traveling tiger who helps our team to teach toothbrushing.
Health Women Tzanchaj
After collecting data for a needs assessment in March, we have begun a new program with 18 women in the community of Tzanchaj. We are focusing on health education in the areas of nutrition, exercise, hygiene and disease prevention. We are partnering with local organizations and planning to have guest speakers from the community to talk about menstrual health and reproduction, growing herbs and plants for health, stress management and implementing ventilated cookstoves and water filters as part of our programming. Stay tuned for updates on the outcomes of this exciting new project!
Creative Fundraising
Over the past few months, we launched a series of webinars to showcase the beautiful craftsmanship of Guatemalan artisans and create awareness for Mayanza. We demonstrated Mayan tortilla making, artisanal chocolate and backstrap weaving. These events were a success and helped create revenue for small business owners in Guatemala.
These projects could not happen without your support! Thank you for all of support in the past and please consider helping us to continue our work. There are lots of ways to support the work that we do.
Consider making a tax-deductible donation to Mayanza today. Your donation will support the projects that were mentioned above.
Purchase Mayanza merchandise - there are lots of designs and colors to fit every style!
Choose Mayanza as your non-profit to support when using Amazon Smile.
Thanks again!