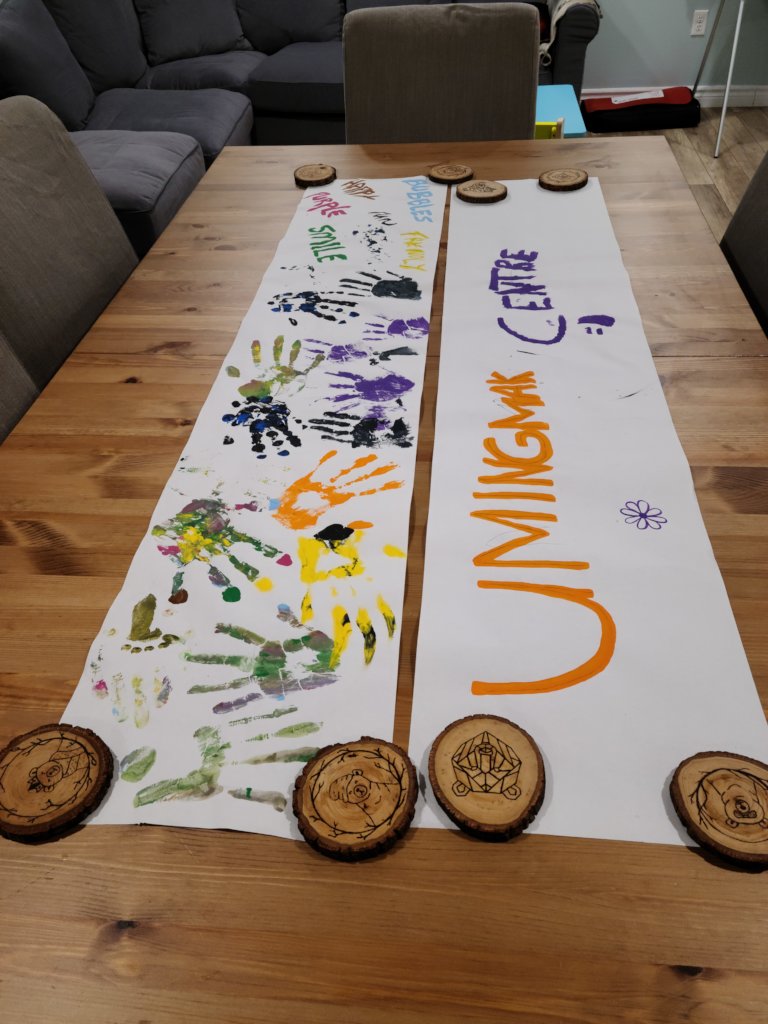 The Umingmak Centre has been open since October 2019. We have increased the community's capacity to support the healing of children who have experience abuse through the following activities:
Client Activities
1. Child and Family Advocate activities
2 Inuit advocates support children and families through all stages of disclosure, interview, investigation, and healing. Both of our advocates are bilingual (English-Inuktitut, and English- American Sign Language). 84 clients were supported by the child and family advocates. This does not include the caregivers involved in these files.
2. Coordination of services around clients and caregivers
There a number of services coordinated out of the Umingmak Centre that are performed by members of other departments and agencies.
Interviews: Child and youth interviews after abuse allegations are conducted in the Centre's soft-interview room. Total interviews conducted were 48 and 46 were monitored by CFS. 6 interviews needed interpretation between English and Inuktitut, and 4 of these interviews were interpreted by an advocate.
Pediatric clinic: Pediatricians provide forensic exams, initial assessments and follow-up appointments for clients at the Umingmak Centre. Clinics began regularly at the Umingmak Centre in June, 2020, with 55 client appointments recorded in this reporting period.
Other appointments are made at the Centre for our clients. This year, we had dieticians, rehabilitation therapists, neuropsychologists, occupational therapists, physiotherapists, and mental health workers use the Centre location for their appointments. In this reporting period, there were 15 of these appointments.
3. Therapeutic Services
We hired an additional child and youth therapist on June 11, 2020. From October 2019 to October 16, 2020 the Umingmak Centre has had 84 client referrals for the following presentations: sexual and physical abuse, exposure to violence and neglect. As per trauma phases, each child and adolescent received a comprehensive assessment and treatment relating to their overall presentation.
Group Programs: We had the intention to run group programs with clients this year, one for male clients exhibiting inappropriate sexualized behaviour and the other for female clients who had experienced sexual abuse. Unfortunately, COVID restrictions caused these groups to be postponed.
Case Reviews: We had 129 case reviews with Subject Matter Experts for clients with the following partners (see appendix for more information on these partners):
Inuusilirijiit: Inuit counsellor services were offered to Inuit caregivers who expressed difficulty. We offered this service 26 times; 18 times a caregiver accepted the service and showed up for the appointment.
4. Operating the centre
We have 3 full-time staff members: one clinical director, 2 child and family advocates; 2 part-time staff members: child and youth therapist and program director; and 3 contracted Inuusilirijiit.
Outdoor cabin space: The outdoor shed was renovated into a cabin. The primary intent is to use this as a space for Inuusilirijiit to connect with caregivers for programming.
Activities with Service Providers
1. Professional Development
Training for staff and community
The Umingmak Centre developed and delivered Nunavut-centred child and youth specific trauma training. So far, we have delivered over 100 hours of this training to 130 people across 50 organizations in Nunavut. We have also established a community of practice with mental health workers who work with children and youth and wish to be in an environment that fosters learning and support to increase their skills to assess and treat children and youth. Our staff participate in many training opportunities, both in clinical counselling and Inuit counselling practices.
2. Promotion of Promising Practices
Over the year, we have worked with a number of local organizations to improve our services to clients.
Inuusilirijit - Inuit trained counsellors
Qaujigiartiit Health Research Centre – Makimautiksat Ujarait
University of Toronto – Caregiver involvement
Anecdotes
From a parent: An emotional and tearful mother upon her first visit with her daughter to the Umingmak Centre said, "I wish this was available for me when I was abused as a child…I am so happy that she will finally get the support that she needs…I am so thankful that this exists."
From a parent "I am so happy this Centre is here, there is so much intergenerational trauma here. I have already seen a difference in my kids."
Links: