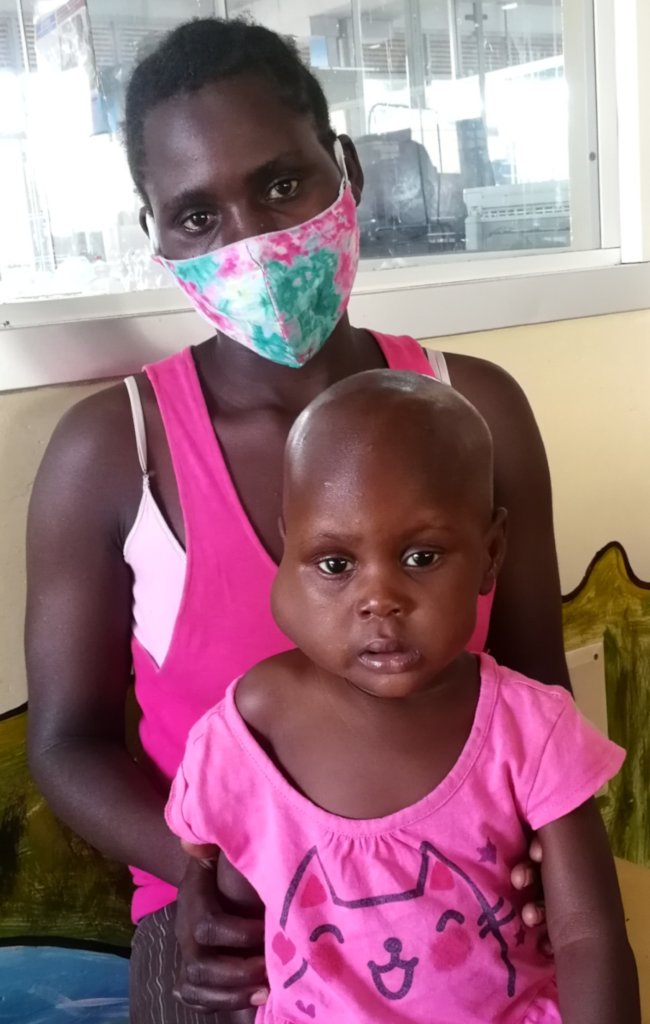 When Immaculate was three months old, she developed a swelling in her right cheek. Her parents sought care at a local hospital where she was admitted and treated for two weeks without improvement. She was then referred to another hospital and was hospitalized for a further three weeks. The doctors at the second hospital suspected that she had cancer and referred Immaculate and her parents to St. Mary's Hospital, Lacor in Gulu - nearly 380 kilometers from her home. She was admitted to St. Mary's in November 2020. She was accompanied only by her mother. Her father had provided financial support for them up until this time.
Upon admission, Immaculate was a healthy five-month-old baby who was being breast-fed by her mother - apart from a large solid mass in her right cheek that was painful to the touch. She underwent routine tests – which were all negative except the ultrasound examination of her cheek that revealed the cheek mass was infiltrating her right salivary gland. The biopsy confirmed that she had rhabdomyosarcoma, a type of cancer that can involve tissues such as this in young children. When her mother telephoned the father to inform him that their daughter had cancer, she said that he never spoke a word. After this call, she tried to contact him again, but he had cut off all his telephone services. She tried to telephone Immaculate's paternal grandfather who stated that his son was not at home whenever she called.
Mother and daughter were alone and without any financial or emotional support from the father. At St. Mary's, they were given free accommodation and food at the hospital's Family Home and provided with much needed psychosocial support. Immaculate began treatment for her cancer in December 2020. We anticipate that she will complete all treatment in early January 2022. Her treatment has been delayed at times due to side effects of chemotherapy and the need to excise the cheek mass. She is presently in complete remission and has a residual cyst. Upon treatment completion, we will perform cosmetic surgery to remove excess tissue that is still visible (including in the photograph of her with her mother).
Immaculate and her mother have not left the hospital - even during breaks between treatment cycles. Her mother wants to ensure that her daughter completes all planned treatment. As a team, we have have watched Immaculate grow and meet normal childhood developmental milestones. She is now able to eat simple table foods, use a potty chair, and able to stand and walk on her own. She can speak a few words and she can interact and play very well with other children. It is hard for us to believe that she will be 18 months old very soon.
After treatment and cosmetic surgery, Immaculate will return to live with her mother's family which is very far away from St. Mary's (near the Ugandan border with Kenya). Her mother hopes to start a small business to financially support herself and her daughter. Our team has plans in place to ensure that Immaculate is followed at regular intervals at the hospital and at home to ensure that she remains cancer free.
Immaculate's mother wishes to thank everyone who has donated to this project because it has meant that her daughter has received free treatment and they have received free accommodation and other services throughout their prolonged stay at St. Mary's. Thank you for your generous donations that provide the necessary support for children like Immaculate to give them the best chance for cure.