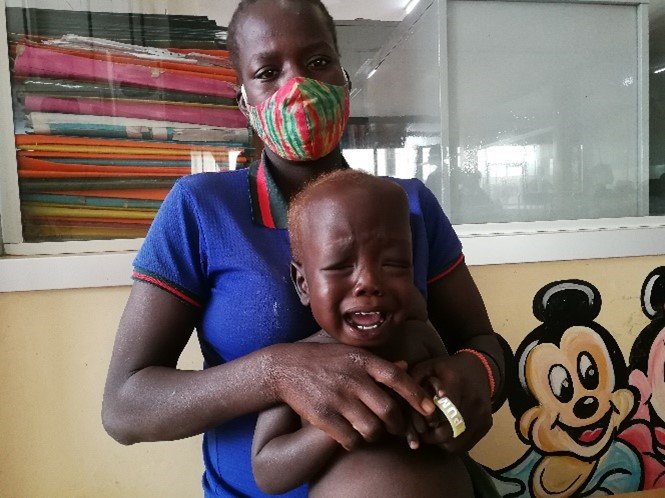 Abraham was admitted to our hospital, St. Mary's Hospital Lacor in Gulu, Uganda in December of 2020. He came to our attention during an outreach session that our hospital held in his local community to raise awareness about childhood cancer. Abraham and his mother were immediately brought to St. Mary's because he was obviously very ill.
At the time of admission, he was only one. His mother reported that Abraham had been ill since he was four months old when she noticed a swelling in his abdomen. The swelling progressed rapidly. His mother further explained that he soon developed multiple swellings on his scalp. About two weeks prior to admission, he had developed protrusion of both of his eyes with loss of vision and cried excessively. Abraham's parents were unable to seek help when he first developed abdominal swelling because their respective families would or could not help them support the costs of seeking and obtaining medical care.
Because of the clinical findings upon examination, we immediately did a work-up and the tests revealed that he had a large mass above the left kidney. A biopsy was performed which confirmed our suspected diagnosis – neuroblastoma- a type of childhood cancer. As Abraham's doctor, it was the first case of this cancer that I had diagnosed at our hospital in a very long time. Because of our own limited resources for managing children with neuroblastoma, we usually refer these patients to the Uganda Cancer Institute in Kampala.
When we counselled the mother about the need to go to Kampala for her son's treatment, she broke down crying because she had no existing means of support. She said that traveling and staying in Kampala was not an option for her. She asked us to do anything that we could for her son. We bit the bullet and started Abraham on an intensive chemotherapy regimen.
We were heartened when he showed a good response to the first cycle of therapy. He has recently completed his third treatment cycle. We faced many challenges in managing the side effects of chemotherapy he has experienced, particularly anemia. Abraham has a rare blood type. The supply for his blood type is normally difficult to obtain, but the situation was made worse because of a general blood supply shortage in our region. But, despite the difficulties, we have been able to manage the treatment-related complications Abraham has experienced so far.
We hope for the best for Abraham and his mother. Family support is an essential part of treatment and we have been able to provide Abraham's mother with the necessary mental, emotional, and spiritual support during his treatment. As his doctor, I remain worried about their future because Abraham's overall prognosis is very poor.
Abraham's story reminds me how necessary it is to inform the public and health care professionals at the community level about the signs and symptoms of childhood cancer so that referrals of children with suspected cancer can be made promptly and prevent children presenting with such advanced cancer as Abraham. It also taught me that families and children with cancer need comprehensive psychosocial support. The support that we have given to Abraham's mother has enabled her to remain at St. Mary's so that Abraham can complete planned treatment. It also made me wonder if Abraham's prognosis would have been better if his parents had the necessary financial support to seek and receive medical help when he first became ill.
We thank everyone who donates to this project because it enables us to deliver the best possible care to unfortunate children who present with very advanced cancer like Abraham. Although Abraham's long-term prognosis is poor, we have been able to offer his mother the support that she needs and give her son a better quality of life. Thank you again for your generous donations!