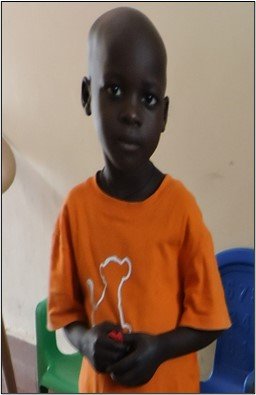 Gillian was five years old when she first came to St. Mary's Hospital Lacor in Gulu, Uganda. Her father, who accompanied her, reported that she had a three-week history of progressive abdominal swelling associated with pain. He also stated that she had a reduced appetite and when she did eat, she felt full and could not complete her meals. When we examined Gillian, she had a grossly distended abdomen and an obvious mass in the right lumbar region. The mass was not tender and had a smooth surface. She did not have pallor, jaundice, or swelling in her lower limbs. Despite her decreased appetite, her nutritional status was good.
Gillian underwent a series of examinations including routine blood work, a chest x-ray, and a scan of her abdomen. The abdominal scan revealed that she had a large mass in her right kidney and multiple masses in her liver. A tru-cut needle biopsy of the mass was performed. The results of the biopsy confirmed that Gillian had Wilms tumor, a type of kidney cancer that occurs in young children. Wilms tumor is the second most common childhood cancer that we see at St. Mary's.
When we examined the tumor cells further, it was determined she had an unfavorable type of Wilms tumor. Because Gillian also had disease that had spread to her liver, her prognosis was considered poor. After counselling about her diagnosis and prognosis, her parents gave their consent to start her on our treatment regimen for Wilms tumor. She began with several cycles of chemotherapy and then underwent the surgical removal of her right kidney. Upon recovery from her surgery, she was re-started on chemotherapy. After her third cycle of post-operative therapy, she was discharged to her home in a rural village in the Amuru district which is a two hour journey – under the best of circumstances – from St. Mary's Hospital to recover from this cycle of chemotherapy.
Unfortunately, while she was home, the Ugandan government instituted a ban on the use of public transportation because of the global pandemic caused by the novel coronavirus, Covid-19. This meant that Gillian did not return to resume her much needed chemotherapy. After many weeks had passed, a local organization found Gillian at home in her village and brought her back to our hospital.
Once she was back at St. Mary's, we undertook studies to ensure that her cancer had not returned. Thankfully, she had no evidence of disease. Gillian went on to complete all planned chemotherapy. Two months after treatment completion, Gillian and her father returned to the hospital and we are pleased to report that she remains free of disease and is doing very well.
We would like to thank the people who support this project. Without your generous donations, children like Gillian would not have access to free treatment and therefore, would have no chance of cure. Thank you again for your support!