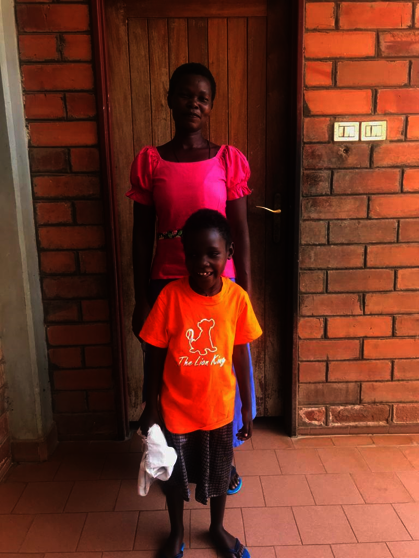 Raphaella came to our hospital, St Mary's Hospital Lacor in Gulu, in November of 2018 when her father decided to bring her to us because she was not improving with treatment given to her by their local health center. The doctors at the health center thought that Raphaella had a hyperactive malaria syndrome and treated her with anti-malarial drugs for many months.
Her father explained that Raphaella had a 7 month history of progressive abdominal distention that was associated with pain, intermittent fevers, and weight loss. Two weeks prior to admission, she developed chest pain associated with a cough. Further complicating her problems was that Raphaella had known epilepsy which was not properly controlled – her parents could not afford the costs of transportation to obtain the necessary drugs to treat this condition.
Upon admission, Raphaella was very sick. She had a grossly distended abdomen and was severely malnourished. We immediately began tests and found that she had an enlarged left kidney and that disease had spread to her spleen, liver, and lungs. A biopsy was performed which confirmed our suspected diagnosis of Wilms tumor – a type of childhood cancer that arises in the kidney. In our setting, Wilms is treated with pre-operative chemotherapy before we surgically remove the affected kidney (nephrectomy). A nephrectomy, which is a necessary part of treatment for Wilms tumor, is followed by post-operative chemotherapy for a period of time. We were heartened that after 8 weeks of pre-operative chemotherapy, the lesions in her liver, spleen and lungs had completely resolved. She, then, underwent a successful removal of her left kidney. Unfortunately, Raphaella developed several post-operative complications and required two more surgeries, including a colostomy. This meant that we had to delay her post-operative chemotherapy for nearly 8 weeks to allow her to recover from these extra surgeries.
Once Raphaella started post-op chemotherapy, she suffered all of the challenges associated with the known side effects of the drugs used. At one point, she developed such a severe infection due to her low levels of infection fighting white blood cells that she nearly lost her life. But, Raphaella was such a fighter and she survived. She stayed at the hospital's Family Home during treatment to ensure that we could deliver chemotherapy on time and monitor her closely so that we could intervene promptly when treatment-related complications arose. Raphaella completed all chemotherapy in October 2019. We are pleased to report that she is free of cancer and that we were able to close her colostomy. With appropriate anti-seizure medications, her epilepsy is now well-controlled. She returns to St Mary's for regular follow-up visits.
Raphaella's story reminds me how necessary it is to improve and intensify public and health workers' awareness about the signs and symptoms of childhood cancer at the community level so that referrals of children with suspected cancers can be made as quickly as possible.
It also taught me that children with cancer - no matter how extensive their disease is at presentation – deserve the opportunity to have the correct treatment and to be given the chance to live. Therefore, I would like to thank everyone who donates to this project because your support makes it possible for St Mary's to accurately diagnose and treat children like Raphaella.