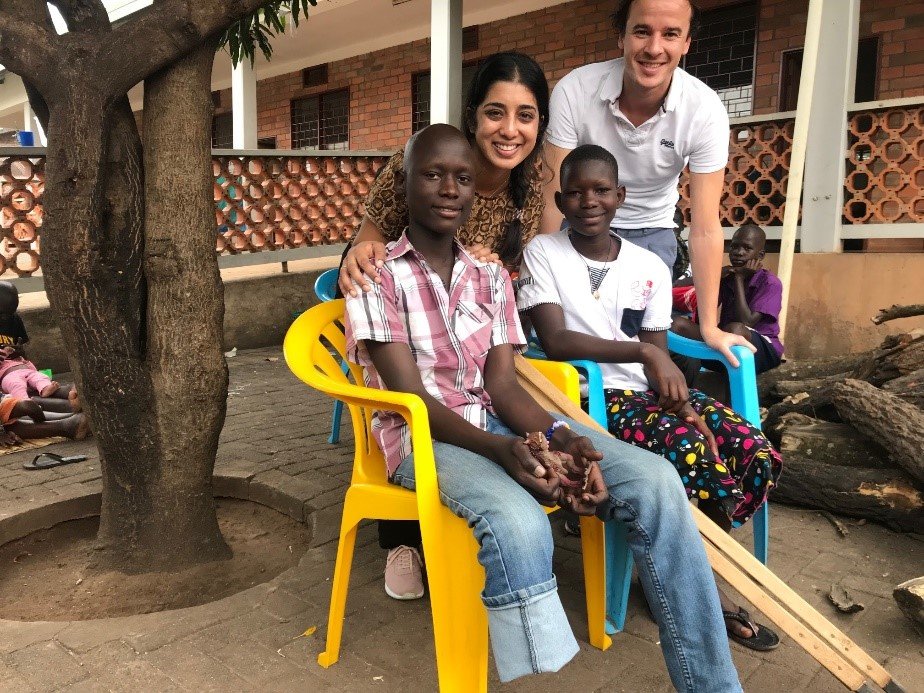 Brian was 15 years old when he was first admitted to the pediatric oncology ward at St Mary's Hospital Lacor in March of 2018. His right foot started swelling in June of 2017 – some 9 months before he came to St Mary's. The swelling was initially small and painless, but then it became progressively larger and increasingly more painful. And, Brian became unable to walk.
Due to the severe damage to his bone caused by this mass, it was not considered possible to save his lower leg. Therefore, Brian underwent a below the knee amputation of his right leg. When the mass was biopsied, it revealed that Brian had rhabdomyosarcoma. He was started on chemotherapy three weeks after his surgery. This therapy consisted of vincristine, actinomycin and cyclophosphamide (VAC) with alternating cycles of vincristine for a total of 40 weeks. He tolerated treatment very well and completed all planned chemotherapy in December, 2018. He is presently in remission.
Because of the great distance between his home and St Mary's and the short intervals between treatment cycles, Brian stayed in the hospital's Family Home for the duration of his chemotherapy. His parents are subsistence farmers. This meant that they had to make a difficult choice – to lose the family's income for nearly a year or to continue to work in order to support their five children. Although his parents chose to return home to work, Brian's little sister stayed with him so that he would not have to be at the hospital without support from a family member. During his stay at St Mary's, Brian was able to continue with school by attending the Rainbow Family Home School. He learned English which he speaks very well, according to his teacher.
Brian returns to the hospital for regular post-treatment check-ups to ensure that he remains in remission. At the time of his most recent follow up visit, he was fitted with a prosthetic leg.
In high income countries such as the USA, it is unlikely that Brian would have come to the hospital with such advanced disease. But, in northern Uganda, there is a lack of specialized hospitals that are capable of diagnosing and treating children with cancer. Brian and his parents had to travel a great distance from their home in order for Brian to receive appropriate care. And, due to his family's financial circumstances, his parents had to leave Brian at the hospital for the majority of his treatment while they returned home to work.
Your donations made it possible for Brian to receive free treatment, including the necessary rehabilitation following the completion of his treatment. Your donations also made it possible for Brian to continue his education while he was away from home for such a long time. Thank you for your generous support for this project which helps children like Brian!