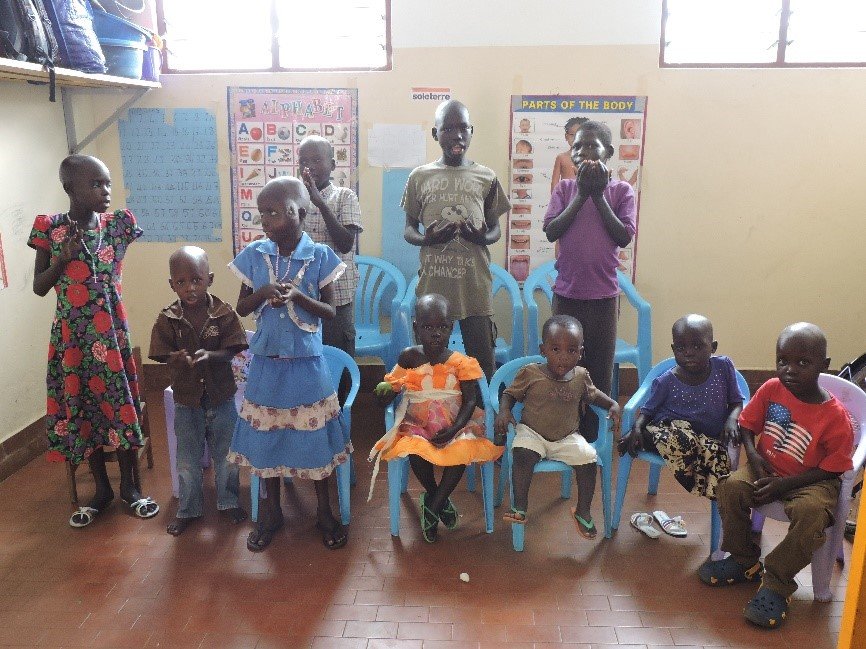 On a visit to St Mary's Hospital Lacor in Gulu, Uganda in 2017, many children with cancer told me how much they missed being away from school and their friends. Their parents said that their children were falling behind due to prolonged and frequent absences from school. Some children were sad because they could not keep up in school with other children their own age when they returned home. Because children should be able to continue with their education while undergoing treatment for cancer when they are well enough, INCTR decided to provide the support for a teacher for these children.
Joyce was appointed as the teacher for the children at St Mary's Hospital in early 2018. She opened the Rainbow Family School Home at the Family Home for children with cancer and their parents which is located on the grounds of St Mary's Hospital. The main goal of the school's educational program is to enable the children to cope with life while undergoing treatment through educational activities. The elements of this program include reading, writing, mathematics, health, social studies and basic English.
An example of how school can help a child with cancer is the story of Emmanuel. He is 12 years old and is undergoing treatment for Burkitt lymphoma. When he initially started at the Rainbow Family Home School, his skills in writing and math had deficiencies. Because he was very shy, he had difficulty asking questions or answering questions asked of him. However, he kept attending classes and gradually built up enough self-confidence so that he is now able to actively participate in classes with the other children. His skills in writing and spelling have improved and he is able to speak and understand simple English. When asked about his dreams for the future, he said that he would like to become a doctor so that he can help children with cancer.
Because of the generous donations you have made to this project, the Rainbow Family Home School can continue to help children with cancer like Emmanuel. The school provides the children with their own community that not only includes learning, but social and recreational activities as well. Thank you for your donations! They help to improve the quality of lives of children with cancer at St Mary's Hospital Lacor!