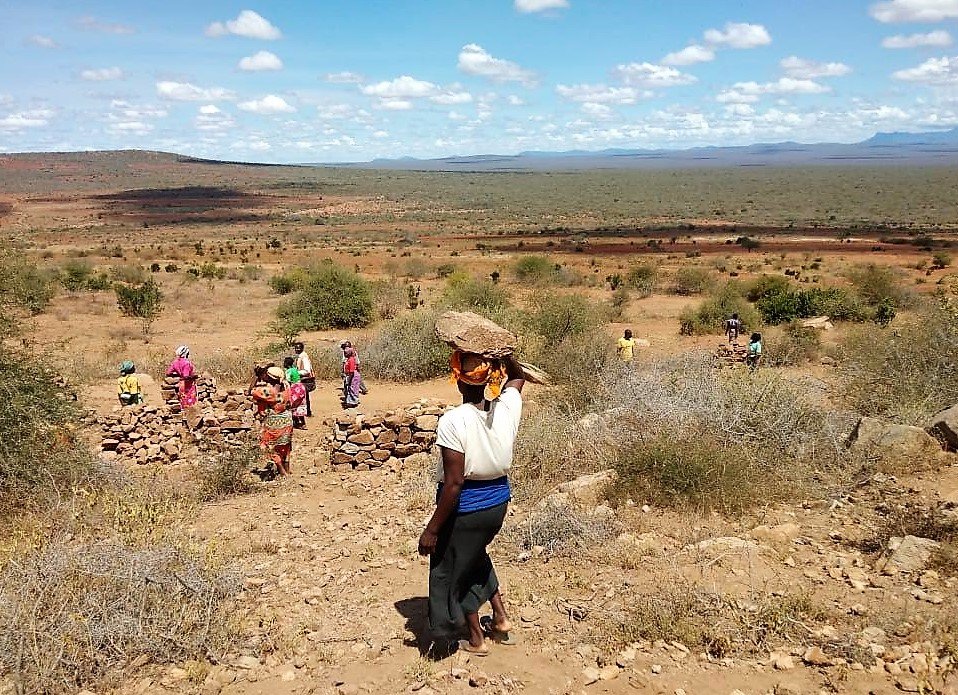 With fundraising for our next school redevelopment at Mkamenyi Primary nearing our initial target of 50%, we have begun initial preparations including clearing of the site and, with the help of the parents, collection of locally available building aggregates, with a view to commencing building work in the next few weeks. As you can imagine, we are very anxious and eager to get started and to begin fulfilling another promise – as too are the parents, teachers and pupils!
To find out more about this ambitious and exciting project and to help make it a reality please visit www.globalgiving.org/projects/rebuild-a-primary-school-in-rural-kenya/
Elsewhere we have been putting to work some of the unrestricted funds that we raised over the final few months of 2018 and the first part of 2019. We have been particularly busy at Kiteghe Primary, one of our original cluster of five partner schools, where we have been continuing a phased remodelling and redevelopment of the school that has been on-going since 2015. Having lagged behind our other partner schools for some time in terms of the quality of its facilities, the school is now very much recognisable as an AP-supported school and the teachers, pupils and parents finally have a school to be proud of.
As funds allow, we will continue to make ad-hoc investments in further improving the quality and breadth of facilities at our existing partner schools, especially to bring the other four schools from our original network up to the same standards as our most recent 'model' schools. We have estimated this could cost as much as £270,000. Broadly, this includes the construction of a dining hall facility at five schools, staff/teacher housing at up to five schools, as well as a number of classrooms, toilets and various landscaping works.
Our 'Feeding Minds' lunch programme is now in its sixth full year and continues to provide a vital lifeline for the 2,300 pupils across our partner schools by ensuring they receive a daily term-time meal at school.
Financing the programme – which we have budgeted at £31,500 for 2019 – has not been without its challenges so far this year but we have recently received grant funding from a number of trusts and foundations that has secured the future of the programme until the end of the year (assuming there is no unexpected increase in the price of food.)
We are investigating the feasibility of establishing school farms to help with the production of pulses, vegetables and fruit that can be used to support the feeding programme. There are significant challenges to successfully implementing such a project in the area where we work, not least unreliable rainfall and crop-destroying wildlife (mainly elephants), but we hope to pilot a project on a small-scale at one of our smaller partner schools in the near future.
We continue to fund the salaries of much-needed extra teachers. This currently numbers 17 at an annual cost of about £1,200 per teacher, with at least two additional teachers employed at each of our partner schools thanks to our funding.
As far as possible we continue to support one-off requests from our partner schools - in recent months this has included the provision of printers/copiers, office furniture, and hosepipes to help with irrigating kitchen gardens. We also continue to provide funds for repairs and maintenance, or carry out such projects on the schools' behalf, where they do not have the means to undertake these important works from their own resources and budgets.
We are pleased that our work is being complemented by other local and international NGOs, community organisations and charities also working in our project area, especially in the areas of health and sexual education and support of girls' hygiene through provision of reusable sanitary pads. We had been in discussions with a Kenya NGO – Start a Library – about working in partnership to deliver a literacy programme across our partner schools (and others nearby) but these discussions are on-hold for the time being.