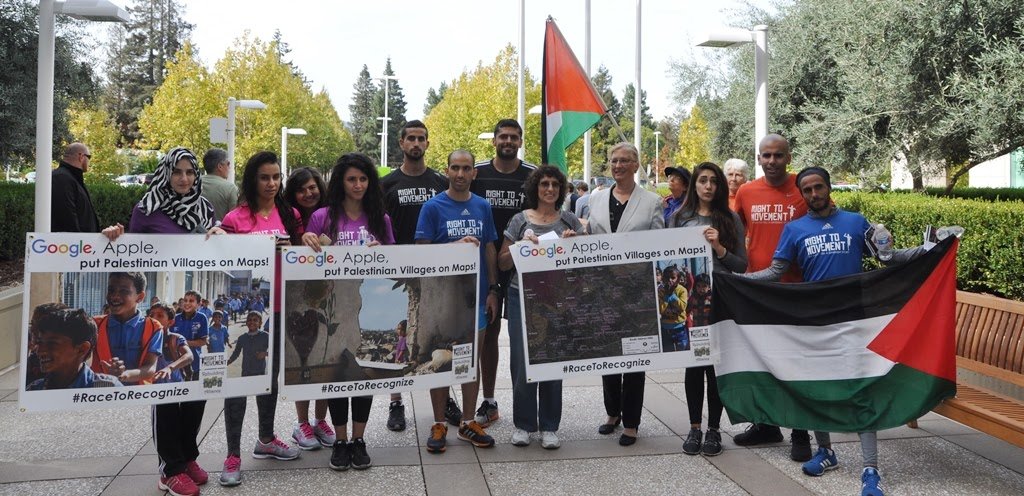 Dear Friend,
This is our second update of three. The highlight: nearly 720,000 people viewed our Race to Recognize Palestinian Villages and now we ask your help to transform this energy into Here's My Village Community Mapathons as we continue to urge Google and Apple to Map Palestinian Villages.
Please give on the GlobalGiving Bonus Day starting tonight at 9:01 Pacific, Tuesday Midnight:01 Eastern, and at Tuesday 7am Jerusalem time.
#HeresMyVillage — what it will mean to see Palestinian Villages on Google, Apple Maps
Last spring, when we brought UN Habitat's expert to walk the halls of Congress, we saw there was something wrong with the base maps. Somehow, Google and Apple had mapped all the Israeli settlements in the West Bank (and even the outposts), which are illegal under international law and violate official US policy, while erroneously depicting an empty Palestinian countryside!
Rebuilding Alliance is in Silicon Valley. We know and work in the villages, we know the mapping experts — if anyone could do this, it must be us. We immediately began work through the summer, partnering with the Israeli human rights group, Bimkom: Planners for Planning Rights, to connect with Google and Apple.
"The challenge for the Silicon Valley mapping community is to step back from mind-numbing politics and just show what is really there," said Alon, the architect and urban planner who leads Bimkom's analysis and assistance to Palestinian communities in the West Bank.
Together, we successfully transferred all the GPS data for the Palestinian villages in Area C to both companies in September including points and polygons in three languages. Strangely, Apple and Google would only communicate through Representative Eshoo and Representative Honda, with no word as to their implementation schedule. So when Palestinian marathoners from the group Right to Movement asked if they could help, we jumped at the chance!

Rebuilding Alliance brought nine Palestinian marathoners on October 13th to run from Google headquarters in Mountain View to Apple headquarters in Cupertino in a "Race to Recognize Palestinian Villages". They delivered letters addressed to the heads of the mapping departments requesting that the villages be added. The event was covered by the SF Chronicle. AJ+ made a short video about the race, which has been viewed over 715,000 times! At our request, hundreds of constituents wrote to their members of Congress to ask for their help in delivering the message to Apple and Google leadership. That prompted the U.S. State Department to get involved.
Good News: the State Department reported, "Both companies said there are no policy impediments to proceeding with adding the villages, only technical impediments. However, we have not received a timeline."
Here's where something remarkable happened: we were able to follow-up constituent messages to schedule meetings with Congress, especially valuable because Congress needs to see these maps too. In a Washington that has changed dramatically since the election, Rebuilding Alliance brought the #HeresMyVillage Contact Congress tour to Washington DC on November 14th and 15th, with mapping experts from Bimkom and an artist advocate from Um Al Kheir, the West Bank village who has experienced repeated demolitions. We meet with 12 Congressional offices, both Senate and House, Democrat and Republican, visited the State Department and joined a mapathon to learn how Open Street Map works. While in DC, we joined in solidarity with the Standing Rock Sioux in their march to press the White House to stop construction of the Dakota Access Pipeline.
"Thousands of children and families in Area C of the West Bank (the territories controlled entirely by Israel) can't locate their homes on Apple or Google maps, or on Waze (Google's subsidiary)," said Nava, a GIS mapping expert at Bimkom: Planners for Planning Rights in her presentation at Congressional offices. "They are real locations – however, in the virtual mapped world of the Web, they simply can't be found. In today's online society, that's as good as saying you don't exist."
When we reached Silicon Valley, Google and Apple declined to meet with us. Again, we delivered letters, this time hand-written by the distinguished artist who lives in the village of Umm al Kheir.
"We may never know why Google and Apple mapped illegal Israeli settlements while leaving off hundreds of Palestinian villages nearby," said Eid, the artist from Umm Al Kheir whose exhibition in Berlin was recently sponsored by Chinese dissident artist, Ai WeiWei. "I hope community mapping will engage the world's attention and help us hold on to our homes and neighborhoods on the land we own."
And from this long path we found our next steps when we held our first #HeresMyVillage mapathon, working with the Students for Justice in Palestine @SJState to add five Palestinian villages to Open Street Maps, and put key points of interest in Eid's village of Umm Al Kheir on the map. Especially moving was putting the Community Center of Umm Al Kheir back on the map — it had been demolished, along with the home of a family of five, on Tuesday while Eid was with us in DC. Just before their flights home, we held our second Here's My Village mapathon with the Palestinian American Coalition of the Bay Area and mapped six more villages!
Now, we ask your help to bring #HeresMyVillage Community Mapathons to your community and also to do mapping with the Palestinian villages themselves as we teach everyone how to call Congress and continue to press Google and Apple to correct their maps.

On Giving Tuesday starting at midnight, Eastern time for as long as bonus funds last, GlobalGiving is providing a bonus of 50% for each donation up to $1000 — This time GG is giving away a half a million dollars in Bonus matches! Please give generously. Thank you for all that you do.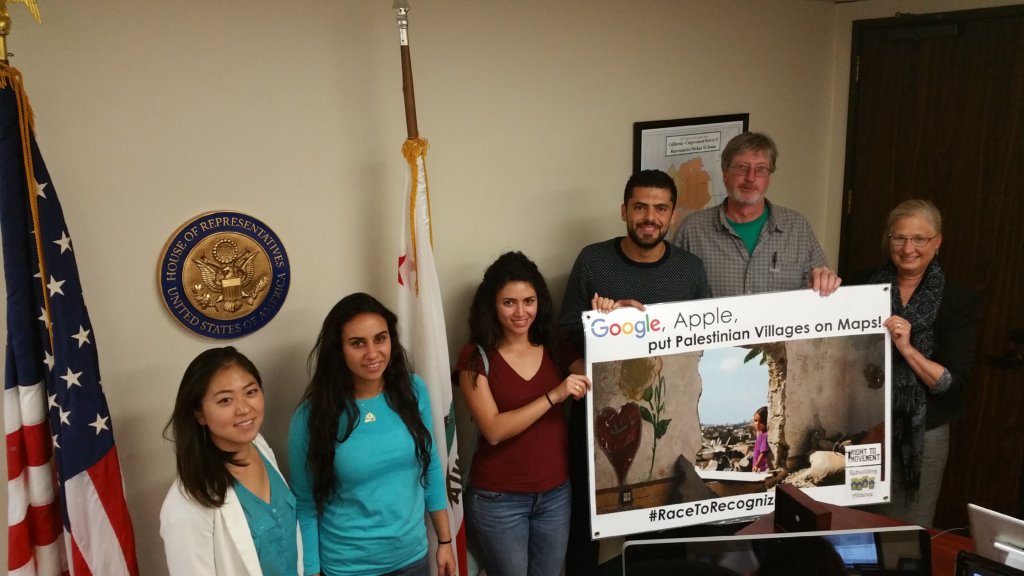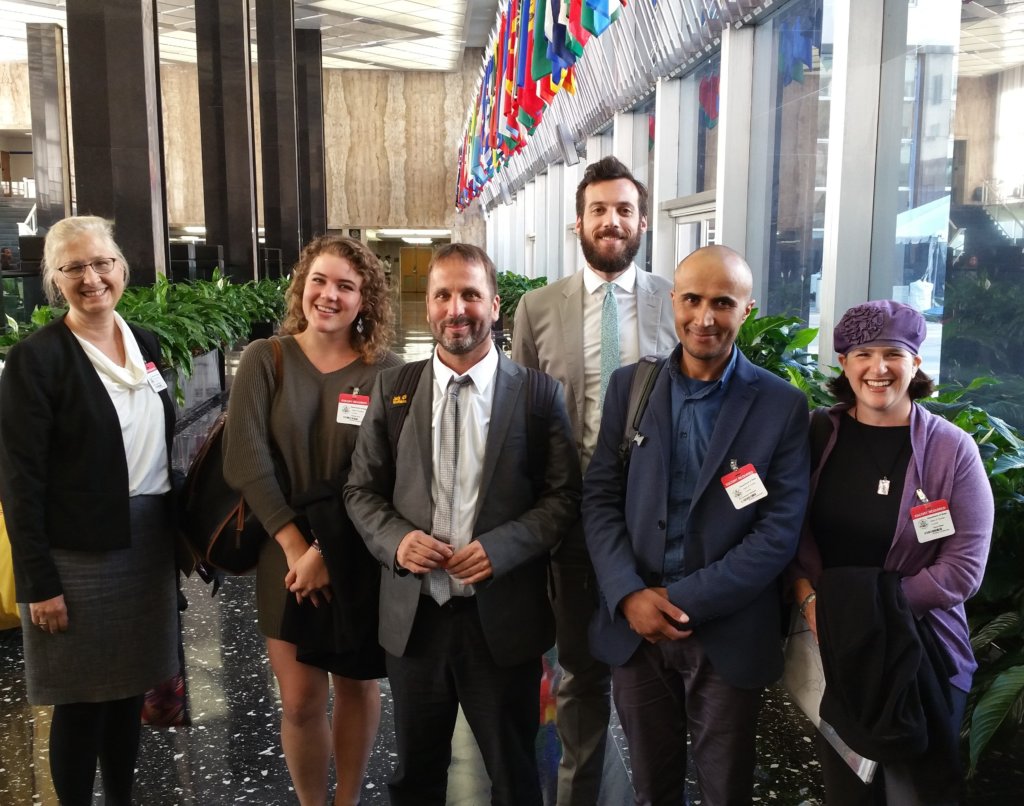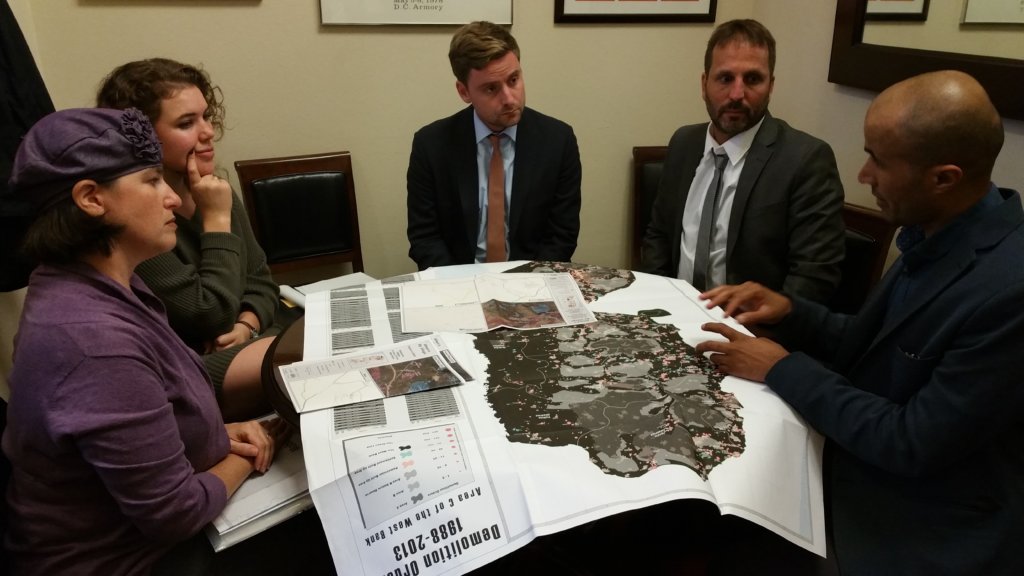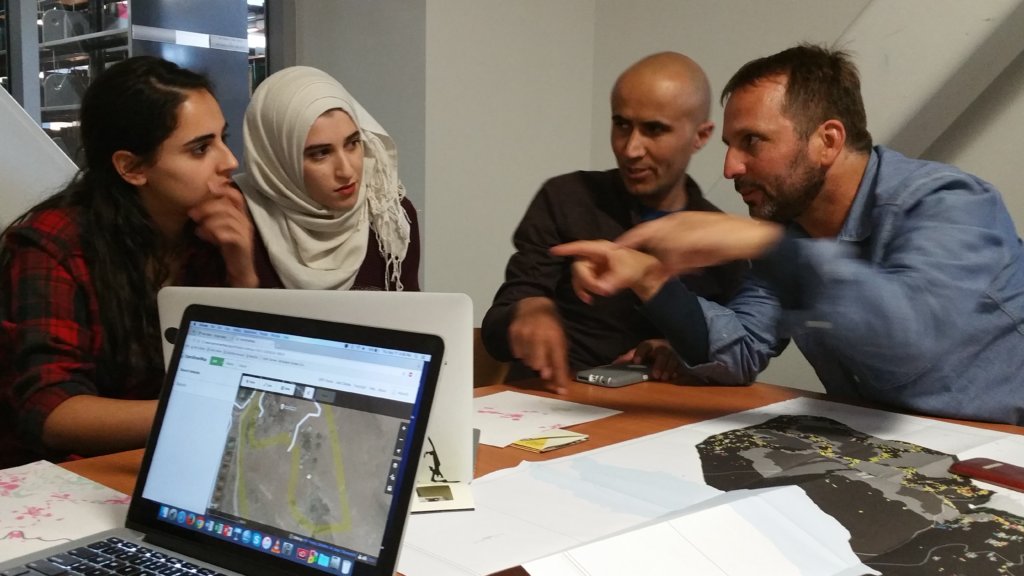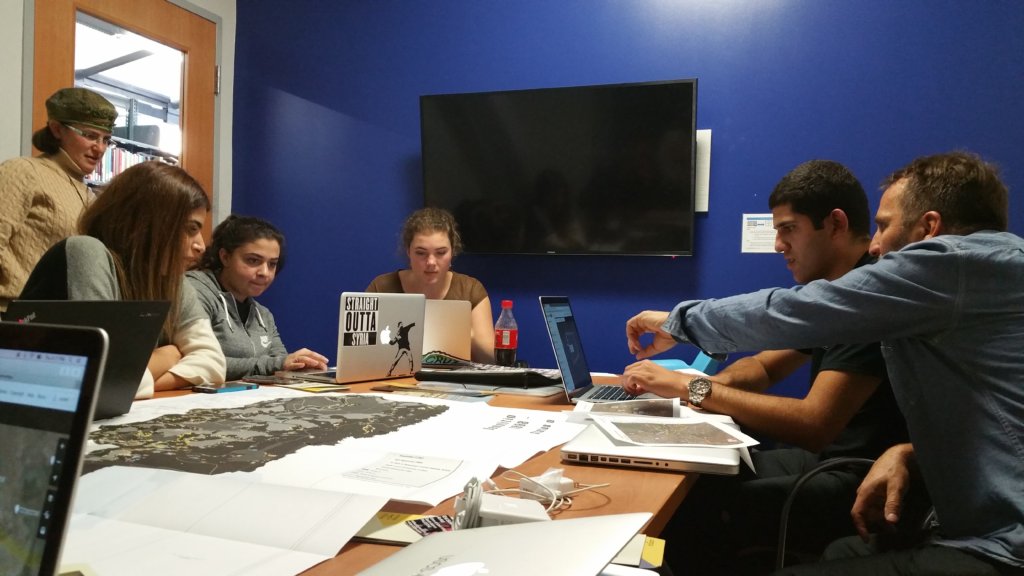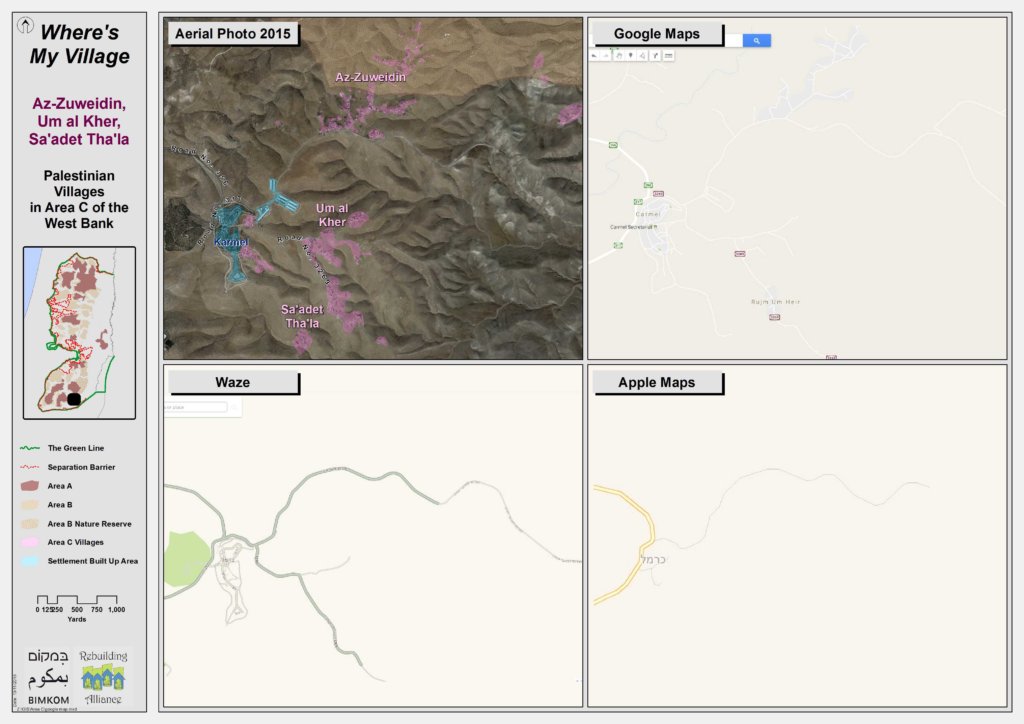 Links: