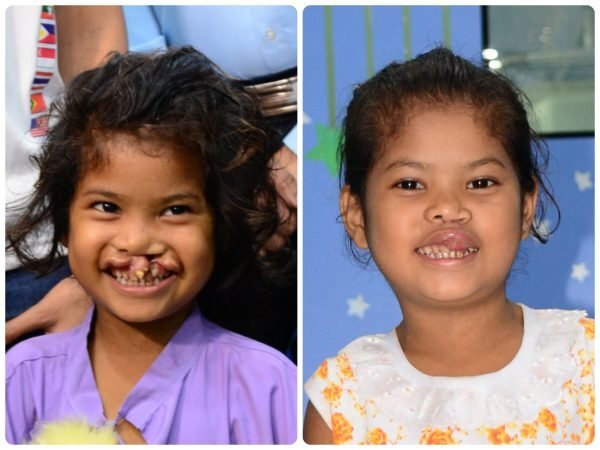 At Mission Smile's Guwahati Comprehensive Cleft Care Centre (GC4) were regularly visited by parents who accompany their kids born with cleft lip and/or palate deformities. We offer free medical evaluation, advice treatment, guide needy beneficiaries through our nutrition program and conduct free cleft rectification surgeries to the selected candidates. Moreover, we conduct follow-up (review) camps to track the progress of the surgery recipients. In a word, at GC4 we provide Comprehensive Cleft Care to patients from Assam and other adjoining North Eastern states.
Emma (name changed), a 5-year-old baby girl from Sonapur in Assam, who was born with a cleft lip. A very cheerful and sweet baby, she is the youngest of her 5 elder siblings. While enquiring about her parent's background we came to know that Emma's mother got married at the age of 14 (an under-age marriage). But that's not all, due to mounting social obligations; she was forced to marry a man who was almost 25 years older to her! Now, in a family of seven members, both the parents had to work hard to earn their daily bread. Emma's father works as a manual labour while her mother is a vegetable vendor.
When Emma was born, her mother was inconsolable after seeing her baby's cleft deformity. She had never seen a cleft child before! Her initial discomfort about Emma's cleft deformity affected the mother-child bond, but gradually love took over fear, and she accepted her baby's condition. Misfortune showed up yet again when the lactating mother was diagnosed with scabies and hence was not allowed to feed her new-born! But like it is said "time heals and makes a person stronger", after her recovery, Emma's mother became determined to get her daughter treated. She brought Emma to Guwahati Medical College and from there she was referred to GC4. Emma was selected for cleft rectification surgery but her surgery date was deferred as she was diagnosed with scabies.
Finally, after recovery from scabies, Emma was successfully operated on our Comprehensive Cleft Care Centre in Guwahati. It was perhaps the brightest day for Emma and her mother. The little angel embraced her 'New Smile'!
We thank our team of doctors and medical/ non-medical volunteers as well as our donors and supporters whose contribution and determination to 'do good' helped us in gifting little Emma with a smile to last for her lifetime!
We want to help more children like Emma through this campaign by making it on-going.
So, we appeal to you to start a recurring donation to help fund ongoing post-surgery treatment for cleft children.
Amount does not matter; your participation does - for these children who need prolonged care and treatment even after their successful cleft surgeries.
Here's the link to our project page: https://www.globalgiving.org/projects/make-a-smile-gift/ to make a recurring investment in the futures of these kids.
Our goal is to raise 50 recurring donations in next 30 days and each one counts..............
Thank you for being there for Emma throughout.
Priyankit Panwar | Manager - Partnerships
M: +91-9953981906 | E: priyankit.panwar@missionsmile.org
Website: www.missionsmile.org