Project Report

| Oct 16, 2023
Humanitarian support for the children of Haiti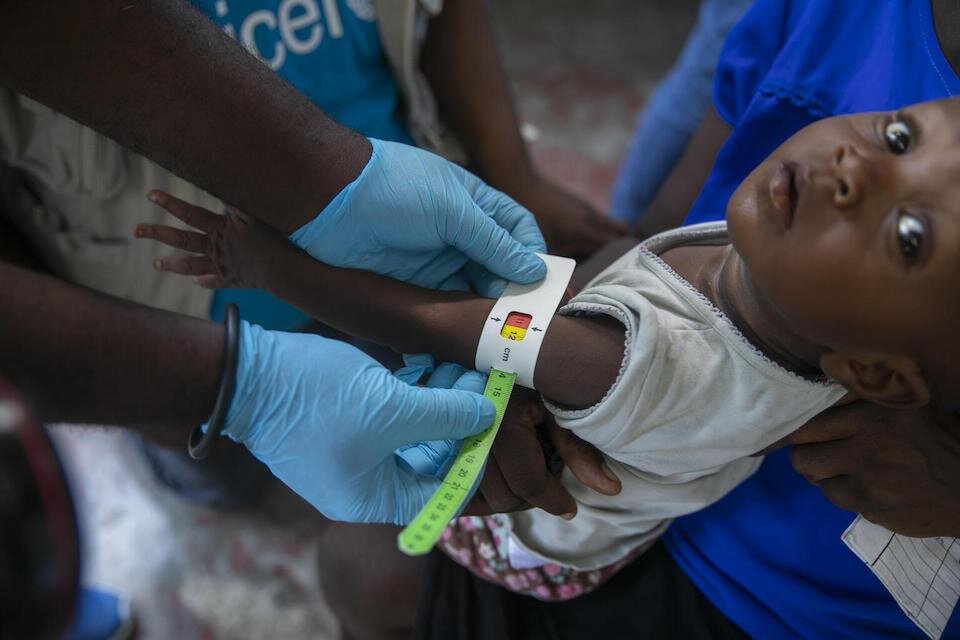 Dear Friend,
Haiti has continued to face increasing humanitarian challenges in 2023, stemming from a complex history of poverty, political instability, natural hazards and violence by armed groups. These compounding crises have had impacts across various populations: urban populations entrapped by armed violence; families displaced by violence; food insecure and marginalized communities outside the capital; and repatriated migrants. The influence of armed groups has increased, coupled with severe human rights violations such as attacks on health centers and schools. The combination of these crises has caused significant internal displacement and migration. According to the International Organization for Migration (IOM), almost 200,000 people are internally displaced. Moreover,the resurgence of cholera continues to affect Haiti. Since October 2022 Cholera has impacted 55,000 people, with over 50 percent of suspected cases foundin children. All of this has resulted inover 5.2 million people, nearly half the population of Haiti, needing humanitarian assistance and protection.
UNICEF has been delivering life-saving support in Haiti since 1963 and has been on the front line of relief efforts from the outset of the current crisis. Since the start of the year, UNICEF has supported the Government in the provision of basic services for over 646,000 people, including water, sanitation, and hygiene (WASH), education, health, nutrition, child protection and social protection services.
With your generous support,UNICEF will continueto respond to the urgent needs of children in Haitiensuring they have access to education, nutrition, water and sanitation, health care and child protection. This year, UNICEF has:
83,504 children and women receiving essential healthcare services in UNICEF supported

facilities
108,432 children under 1 vaccinated against

measles

558,831 people reached with critical WASH supplies (including hygiene items) and

services

30,435 children accessing formal or non-formal education, including early

learning

700,725 people accessing a sufficient quantity of safe water for drinking and domestic

needs

43,977 children, parents, and caregivers accessing mental health and psychosocial

support
Your support has been and will continue to be essential to UNICEF's ability to reach the most vulnerable children, suffering the devastating effects of the crisis in Haiti.
In partnership,
Alia
Photo caption: A child's upper arm circumference measurement lands in the red - indicating a case of severe acute malnutrition.
The compounding crises in Haiti has been intensified, restricting women and children's access to basic health and nutrition services. This has been intensified by a deteriorating food security situation fueled by inflation, soaring food prices, low-purchasing power of households and widespread poverty. As households become poorer and armed violence continues, accessing quality food has become increasingly difficult. UNICEF is supporting communities with nutrition services, including malnutrition treatment, micronutrient supplementation and infant and young child feeding (IYCF) counseling.