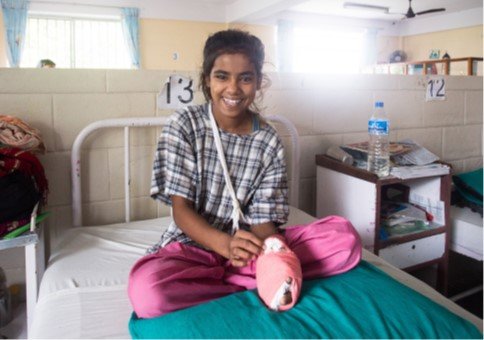 Dr. Ashok Banskota knew he had to do something. It was 1985. He had returned home, a newly minted US-trained surgeon, and was deeply troubled by the extreme lack of orthopedic care for children in Nepal. In this land of few roads and many mountains, an untreated break or burn could easily disable a child and keep them from school and taking part in village life.
He was determined to make good care accessible to all children with physical disabilities regardless of their family's financial situation and, volunteering his skills and time, opened a small clinic. In the years since, his vision propelled the building of a modern orthopedic Center — the Hospital and Rehabilitation Center for Disabled Children (HRDC) near Kathmandu, with a talented medical team to match.
The pandemic is still ravaging Nepal. Lockdowns, travel restrictions, and capacity limits have decreased the number of surgeries and patients overall. Even so, the HRDC medical team has continued to mend the bodies and spirits of Nepal's children with skill and compassion. Here is a look at how they have been on the move in recent months — responding, adapting, innovating, and curing.
They implemented strict Covid-19 protocols immediately after the virus first reached Nepal: patients and visitors screened before entering, all children coming for inpatient treatment tested before admission, a quarantine ward, and the number of patients limited to half capacity. And so, during lockdowns, the hospital has continued to safely care for children in the middle of treatment who couldn't safely be discharged.
Clubfoot is a common condition in Nepal that turns the foot inwards, making it difficult or impossible to walk. Left untreated, the foot stiffens, making it much more difficult to cure. The Ponseti method uses a series of plaster casts to gradually straighten the foot. It's a huge step forward in correcting clubfoot faster and with less trauma. A child with clubfoot typically has their progressive casts applied at the hospital near Kathmandu. In the pandemic, however, HRDC teams decided to take the casts to the kids — via motorbike!
The medical team quickly also embraced telemedicine to provide continued guidance to parents, help children's rehabilitation continue at home, and consult with field workers and staff at the satellite clinics on diagnosis and follow up treatment. Their five satellite clinics, mobile outreach camps, and 75 field workers are even more essential now, giving young patients the care, they so desperately need.
All this means they can reach more children in need and provide better care for their young patients who come to HRDC, broken in different ways, and walk out — yes, walk! — with their heads high into a future full of new possibilities.