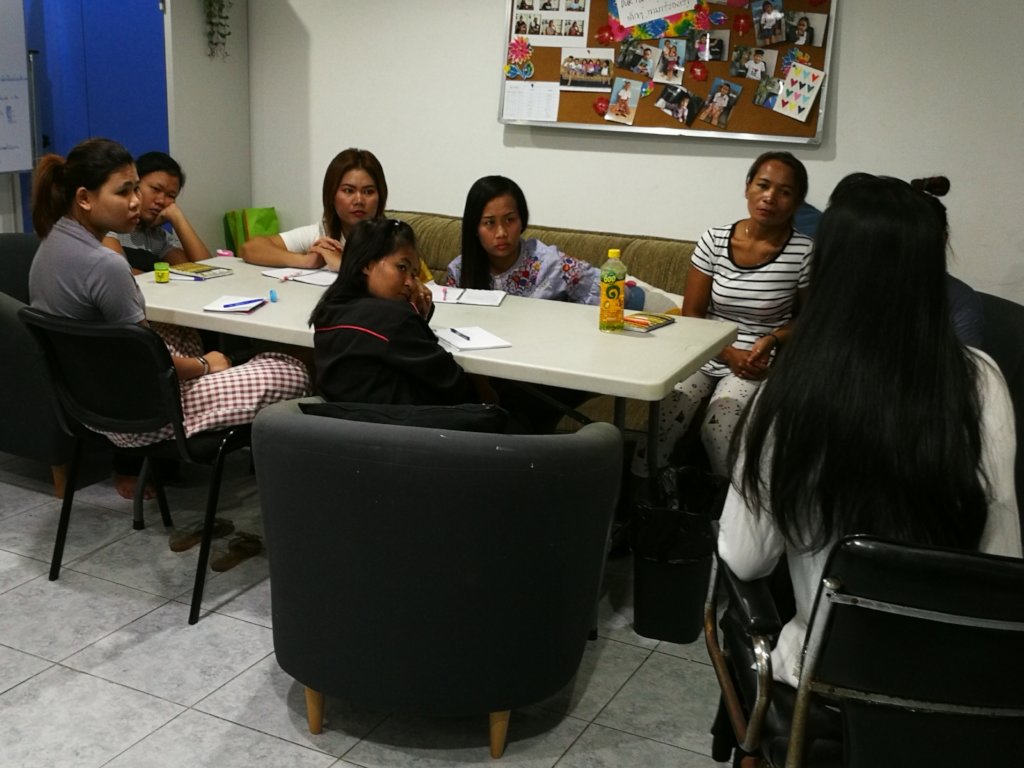 Hello everybody!
On the second of August, a young woman (24 years old) walked into the Tamar Outreach Center in the Red-light District of Pattaya. She came to our Hair Salon to get her hair done, but she got a lot more than just her hair done. Our Staff recognized that she was severely depressed and sad, and they started to talk with her. It turned out, that she had only been working in the bars of Pattaya for six days. She was lured with many promises to come to work in the brothel and it turned out that all of them were lies. The first experiences that she had with customers were traumatizing, she was kept up all night and not allowed to sleep and many other things. She was about to collapse. Our team talked with her, offered her the help of Tamar Center and brought her to our Vocational Center so that she could see, what Tamar could offer her.
In the afternoon of the same day, she decided to leave the Brothel and came with all her belongings to Tamar Center – she had only two very small plastic bags and she has been with us ever since. The first couple of days she just slept. But now she has started to interact with the other women, is asking questions, received her first counseling session and is starting to work through her experiences. Her Traumas did not start in the brothel, she had a very sad and abusive childhood, has four children and a husband who is not taking care of her and more…
Thanks to your generosity, we were able to provide housing for her within an hours' notice and she enjoys her room, the safety it provides and the quietness to sleep. It is very important for our work to always have space available as we never know who and when women are coming in need of shelter.
This month we are also happy to announce that two of our women have moved out from us into their own housing. They are still working with us but are also ready to stand on their own feet - which is the goal that we work towards. One of them has started a small side business where she sells used clothing in the evenings to make extra money and needs some extra space and the other one has three children that are growing up, is now in a relationship and wanted her own space as well. We are very happy that they are making this step.
Also, check out the picture below from our Nursery Building. We had a team come and draw some nice animals on the walls - the children love it! And me too!
Without your help, this would not be possible. So, thank you in the name of our women for providing them shelter and a safe environment to recover!
For the Tamar Family
Daniel Vaupel