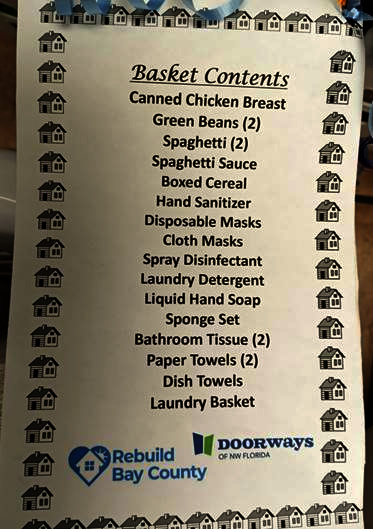 Quarterly Report Activities October – December 2021
By Kristina Reich - Executive Director, Doorways of NWFL


FEMA residents: Great news!

The seven remaining households enrolled in the FEMA program, all of whom have been housed as of October 31, 2021 – the three-year anniversary of Hurricane Michael (Category 5). Doorways, with the assistance of a few non-profit agencies, were able to piece meal funds to get all of those clients housed. One was a family of seven. Each of these clients were assisted with rental and utility deposits, as well as first and last month's rent, which will give them a huge head start to become self-sufficient. 3 of the households were assisted with replacement identification cards and all 7 households received a welcome basket with much needed household items upon move in. Some of the items include pots, pans, sheets, towels, and laundry soap.
Furniture was donated to Doorways for these clients through a partnership with a local thrift store.

The Community Resource Center (CRC) - formerly the Community Recovery Center:

The CRC continues to see a large number of residents. Since Doorways took over operations of the CRC in May 2019, we have assisted 5800 residents, over 89% of whom were impacted by Hurricane Michael; 90% of those survivors resided in Bay County, the hardest hit of the six counties we serve. Affordable housing remains the most highly requested assistance. As of December 2021, utilities and rent assist are about 50% each. In addition, we assisted 12 additional hurricane survivors with ID replacement, food, security deposits and bus tickets to relocate near family outside the area. The CRC moved to a new location in late November 2021. The need in the community is still great and we will continue our efforts to house those experiencing homelessness.
As of October 31, 2021, all funding from GlobalGiving has been expended. I want to take a moment and express our gratitude for the funds and support we have received from GlobalGiving. Doorways is aware that the partnerships we form and continue to form are a very important link to leverage our Stakeholders and awareness to the present issues we face. Covid-19 has brought new challenges to the needs in all communities, and we continue to work with anyone in need. "Thank you" doesn't seem adequate, it is heartfelt. We appreciate all that you have done for us and feel secure in the knowledge that you, GlobalGiving are a resource for Doorways.