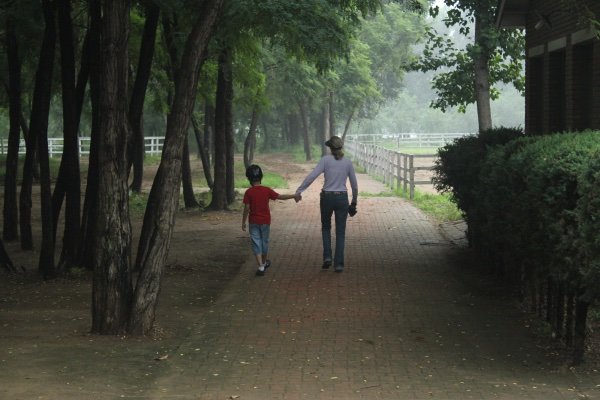 Dear HOPE supporter,
As we commemorate HOPE's 10 Year Anniversary, we're reflecting on how far HOPE has come since the beginning in 2009. We are grateful for all the people, organizations, and staff who have helped us to establish a solid foundation as we begin a new decade of service and education. We want to share some of the feedback we have received so you too can appreciate the impact of HOPE.
A few words from some of our parents:
• I would describe Tom in his lessons with two Chinese characters, ''(zizai), which means 'at ease'. Thanks to HOPE's belief in accepting and respecting children with special needs, the coaches and volunteers slow down their steps and allow the children to learn at their own pace. Tom gets great positive energy from his hippotherapy sessions, taking the initiative to talk with people, enjoying his time riding as well as taking care of the horses. He addresses Ergou (Omid, a coach at HOPE) as ''(ge,ge meaning older brother)', taking him as family - Tom's mom
• My son is now physically more flexible and he is more confident, better at communication, and has greater resilience. The best thing is, thanks to the honest and warm people who befriend him, he finds great role models and cherished memories. HOPE represents the true volunteer spirit, professionalism, devotion, respect and empathy. – Zhuo
Cherished memories from volunteers:
• A boy took my hand and asked me to stay with him on the way to the riding pen. This reminded me of the "bond" in Le Petit Prince – two strangers coming together and creating a connection. The feeling of being needed and being trusted is truly wonderful. – Dan Shu
• On the last day of the summer camp, a child took my hand and put a sticker on it. His big smile and wide eyes showed how much fun he was having. He stayed with me and put more stickers on my arm – these were his gift to me and he wanted me to keep them. I keep them on my refrigerator at home and they remind me of how much I look forward to seeing him next summer. – Wang Mingjia (Nichole)
Words of support from our donors:
• They are a group of ordinary people with big hearts, making great efforts to serve children with autism. They do not seek profit, and their love without strings attached, touches us deeply. They are true ambassadors of love. – Feng Baojing,Owner Oriental Equestrian Club, Beijing
• Anyone who wishes to help people with special needs should not expect immediate results. Long term efforts and persistent investment is the norm. HOPE's founder Priscilla introduced hippotherapy to China under limited circumstances and has persisted over the past 10 years despite many difficulties, helping numerous kids with special needs. – Botong Investment Co.
We hope that you are able to appreciate through the words of others what an impact HOPE has had over the years - and continues to have - in China. Thank you for your continued support of all that we do.
Here's to another 10 years!
Amy Tripson