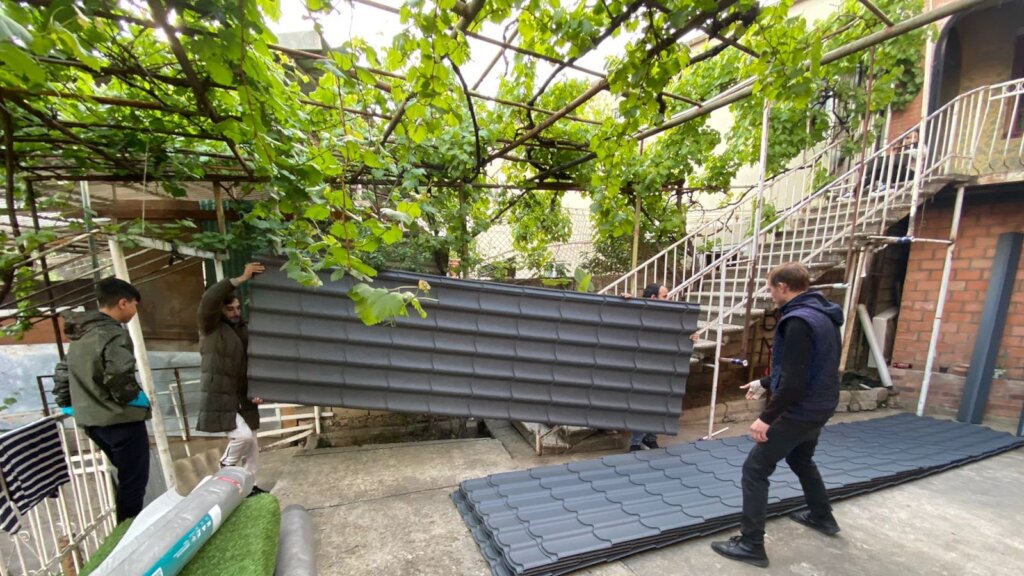 Sadly in the last year our organisation has been hit be a great deal of illness. Nino Chubabria, our director, is currently in treatment for cancer. This has not prevented our shelter from offering a home to young people and families or our outreach to our community. We have been distributing much-needed food parcels to families in Tbilisi and fomer residents now living in nearby villages.
Nino's illness has delayed some work that we have been planning for a while. However, we are now all set to retile the roof of our shelter. Two groups of supporters, one in Britain and one here in Tbilisi, have made these repairs possible, and we are very grateful. We have also replaced our moped, which we use constantly in our outreach work to young people on the streets.
Food parcels are one way that we support some of our residents after they move out. Sometimes, more substantial help is needed.
Keti is a young woman who we helped as a teenager. She had left school at 14 and we helped her get back into education and graduate with a qualification in HR Management. After graduating, she got a good job with a local authority.
In early 2020, the leadership of the municipalisty changed and the new boss asked Keti to resign and be transferred to another post. He wanted Keti's position for a relative, and, to justify himself, he said that he couldn't trust a stranger in that position. Keti refused to resign. After a period of harrassment, auditors found several faults in Keti's work that led to her being fired. She said that she had done nothing illegal and that it was all fabricated.
It was difficult for Keti to find a lawyer willing to defend her against a state institution. Fortunately, we were able to step in. After examining the documents, we found that Keti's allegations were true. A long court battle ensued, but eventually Keti's former boss agreed to testify and the court concluded that Keti was not guilty, and that the conclusion of the audit was based on fabricated facts, was biased and lacked any legal basis.
According to the court decision, Keti was reinstated in the job and the municipality was ordered to reimburse her for loss of earnings, which was a considerable sum (from January 2020 to April 2022).
Keti is someone who has worked incredibly hard to turn her life around and we are glad that we have been able to help her in this way.