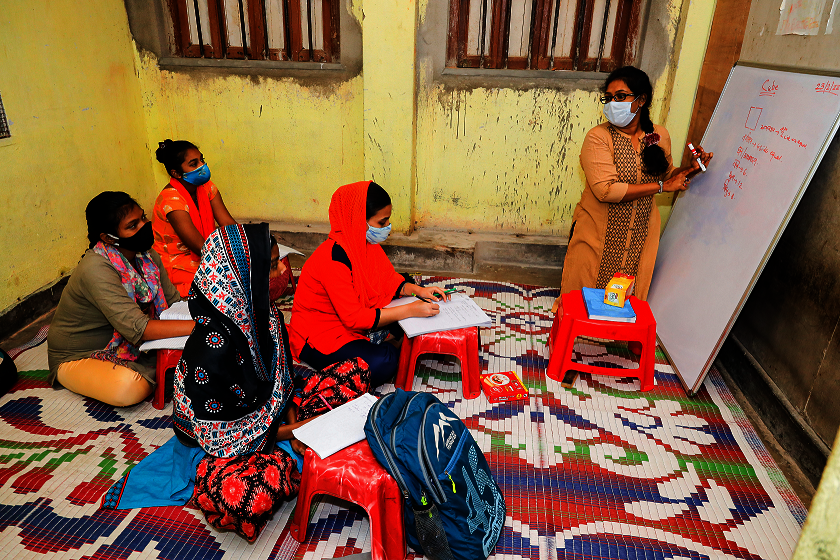 Omicron spread rapidly across India from the start of this year and here at Calcutta Rescue we again prepared for the worst. It wasn't clear what impact the new variant would have here, so we reverted to the robust procedures that we developed during the first two Covid waves to keep staff and patients safe while allowing us to continue to provide the vital services on which so many rely.
We checked our stocks of PPE equipment, oxygen cylinders and drugs and reactivated our quick reaction team to provide round-the-clock assistance to anyone who might fall seriously ill. Our team of community health workers have been going through the slums daily to help identify and support people developing the virus. At our clinics, we have limited the numbers attending to a minimum so they are Covid-safe - with consultations done remotely and drugs delivered directly to patients' homes. We have also been working hard to get all our frontline staff and vulnerable patients to have the booster jab.
A massive project in the planning for the last five months, to deliver 3,750 tons of food to the poorest people in Kolkata began last month, coordinated by Calcutta Rescue. Project Arpan, a Citibank social initiative in collaboration with Give India, was formulated to address the issue of food insecurity across communities in the country. Calcutta Rescue, in association with Give India's implementing partner, will enable the provision of dry food rations to 75,000 households from low-income communities in Kolkata. This will benefit over 300,000 individuals residing in 50 of the city's most impoverished locations. It took several months to devise the delivery system, arrange transport and warehouses, and register all 75,000 households who will benefit from the scheme to ensure the right amount of food goes to the right people.
Senior students from our schools were trained to collect the necessary data on a digital app and then were paid to go into the slums to speak to each household. The arrival of Omicron at the start of the year led to a postponement of the start, which meant new delivery methods had to be devised that were safe during a time of high Covid infections.
As the tight hold of the third wave of the Covid pandemic loosened, schools in Kolkata finally opened fully in February after almost two years. Calcutta Rescue Education Projects opened their physical classroom for all students this month. The younger students entered their classrooms bouncing on their feet, all happy smiles. Both centres have reopened, with students initially coming in three times a week, on alternate days, to reduce the risks of catching Covid-19 in the very limited space available. Handwashing and masks are mandatory.
The Education on Wheels teams are still out visiting preschool children in the slums but they will start coming to the centres from the middle of March. While schools across India now face the massive task of trying to re-engage millions of children who dropped out of education during the pandemic, CR's education team did an incredible job teaching their 650 students online. As a result, the dropout rate in CR over the past two years was zero. In fact, they scored outstanding results in classes 10 and 12. Seven students were awarded The Telegraph School Awards scholarships for outstanding results in academics.
Now, unlike at government schools, learning at Calcutta Rescue is completely blended - a combination of remote, face to face, multimedia, and hands-on activities. This will allow students to have a much richer educational experience, be more involved in the learning process. Providing a lot of the content online will also allow teachers to use class time in a much more stimulating and effective way.