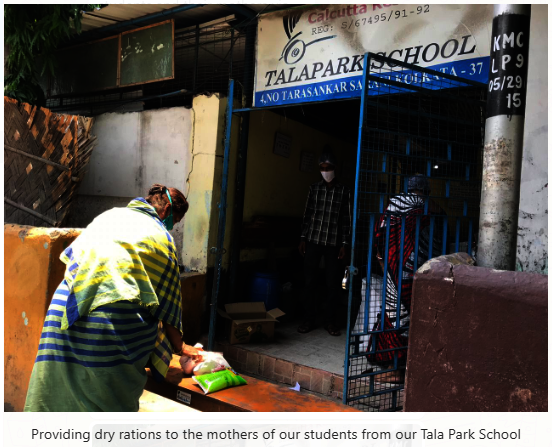 Present status:
Calcutta Rescue is working hard for reaching the poorest of the poor sections of the society with plastic sheets, food packets, medicines, handwash, soaps, sanitizers, masks and proper health education in the wake of the coronavirus pandemic as well as the Amphan super cyclone.
Since the beginning of the unlock period, our 4 fixed clinics have adapted to the 'new normal' and gradually began operations, to provide services to its beneficiaries. The patients are receiving treatment and our staff are educating them on healthy as well as hygienic habits so that they are well aware of the current situation.
Calcutta Rescue has 10 doctors and around 50 medical staff operating in its clinics. All these staff are in direct interaction with the patients. We ran a number of training sessions with staff so they fully understood what they needed to do to keep themselves and their patients safe.
We physically reorganised the clinics into green and red zones and installed perspex shields at key points to provide a physical barrier between patients and staff. To stay safe we needed to reduce the number of people attending the clinics by three quarters. So we retrained all our doctors to do telephone consultations, with only those who had to collect medicine, food or be examined by a doctor being invited to come to the clinic. We also decided to stagger the reopening of the clinics so that we could focus on each in turn to ensure they were operating safely.
Status of Calcutta Rescue clinics:
We started reopening the clinics in June, first Tala Park, then Chitpur and then Nimtala last month. Our DOTS clinic is up and running and our street medicine teams are delivering medicines to patients around the city. Thanks to our new appointment-only system, and the fact that the trains and buses aren't running, we are seeing 23 patients a day at our main clinic Tala Park instead of 80 - which is exactly what we wanted. Since the system started doctors have not had to carry out a single face-to-face examination inside the clinic. Patients remain outside and communication with their doctor is through a plexiglass screen. Patients requiring dressings are being attended to by our wound dresser who sits on the other side of a transparent curtain with cut holes and who wears a full PPE suit, mask, visor, gloves, and shoe coverings. Our schools remain closed but we continue to supply the children's families with food, vitamins and medicines to ensure they remain healthy, and teachers continue to work closely with the pupils using their mobile phones.
Request for more funds:
Buying PPE, installing safety barriers, supplying food and sanitary kits to patients and schoolchildren all costs money - and this is set to continue for an indefinite period. We have also just purchased our first batch of 20 smartphones for pupils who currently have no access to one. Without the interaction with teachers they provide, many of our youngsters are likely to fall further behind in their education and may fall out of the system altogether.