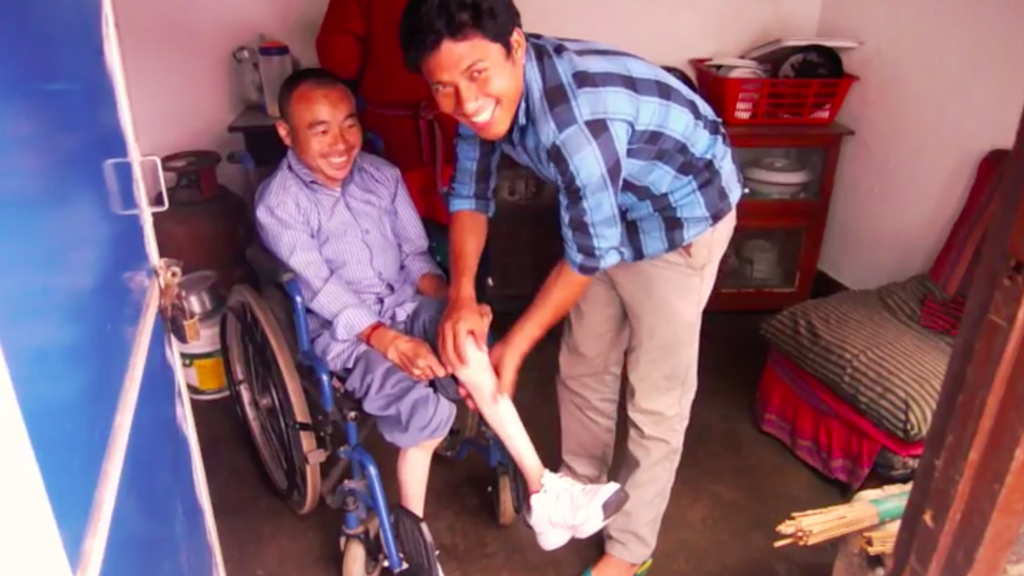 Sixteen years ago, Chitra was brought to Himalayan HealthCare's Mabu Village Medical Camp in Nepal's far-eastern Ilam District, carried in a makeshift stretcher led by his grandmother. He was 13 years old, cadaverous and in agony with every movement. His joints, especially his knees, were inflamed and had ballooned, making walking impossible. He was immediately assessed by the Himalayan HealthCare team, given a provisional diagnosis of juvenile rheumatoid arthritis and put on medications including steroids.
This was before Himalayan HealthCare founded its community hospital in Ilam and the District had only one doctor to serve its entire population of 250,000. The Himalayan HealthCare medical camp was the first chance Chitra had to seek medical care for his condition. Although the medical team believed Chitra probably would not live, given the state he was in, Chitra's condition improved significantly in just a few days after arriving at the Himalayan HealthCare medical camp.
Chitra stayed with the Himalayan HealthCare medical team for the duration of the medical trek in Ilam. He was carried in the stretcher through the Ilam hills and brought to Kathmandu for a better assessment, where a diagnosis of juvenile rheumatoid arthritis was confirmed. Thus began a long and arduous treatment.
Once Chitra was stable and released from the hospital, Himalayan HealthCare was in a quandary. Chitra's mother had passed away and his only remaining family--a frail grandmother and uncle with little means who had looked after him faithfully for years--were in no position to care for someone with his physical needs. Sending Chitra back to Ilam would be sending him back to die.
Himalayan HealthCare made the decision to help look after Chitra long-term. Our founder, Anil, located an orphanage, St. Xavier's Social Service Center, close to the Himalayan HealthCare office in Kathmandu where Chitra could stay and where his progress could be regularly monitored. Chitra continued to live here for the next fifteen years.
During Chitra's first year in Kathmandu, the late Som Raj, Himalayan HealthCare health staff, worked as Chitra's physical therapist and through these long, intense sessions Chitra progressed from being bedridden to being able to sit in a wheelchair. The orphanage, with Himalayan HealthCare's support, then sent Chitra to school.
After a year of attending classes, it became evident that Chitra's condition, which, with his growing body, made for increased joint and postural deformities and discomfort, made it difficult for Chitra to regularly attend classes. The powerful immunosuppressant medications also made him prone to other deadly diseases, not to mention side effects.
As the years progressed, however, both the medications and the medical services in Kathmandu improved. A rheumatologist began helping Himalayan HealthCare with Chitra's care and although he would often be quite ill for extended periods at a time, he managed high spirits and did his best, through vocational training, to become more independent.
Finding a vocational center that could help individuals with debilitating deformaties who needed a regular chaperone and were often ill was not an easy task. Under our own vocational training programs, Himalayan HealthCare tried Chitra at tailoring, which he enjoyed, but his hands and feet were too deformed to operate a sewing machine and he unfortunately had to give this up after a few months. Finally, he began working with Himalayan HealthCare's artisanal crafts line, JeevanKala.
Chitra worked diligently, traveling 15 minutes every working day to the Himalayan HealthCare office to do his utmost, weaving recycled snack wrappers into colorful bowls and baskets. He received a small salary and stipend for his work.
After much research and a visit to a hospital in New Delhi, Himalayan HealthCare's founder, Anil, had the chance to meet with severely physically challenged patients who were helped to walk after decades of incapacity by a local surgeon. This gave Himalayan HealthCare greater hope for Chitra's condition. In 2013, Chitra traveled with his aide to New Delhi and underwent two twelve-hour surgeries. The first replaced his left knee and hip; the next his right knee and hip. The surgeries, totaling $10,000, were funded by a generous donation from the Jean-Abraham Py Memorial Foundation.
Due to his disease and years of disuse, Chitra's bones were brittle and his muscles atrophied, but he was able--for short periods--to stand on his legs and, with continued physical therapy, to move more freely with a walker. Chitra then underwent a third surgery, spinal osteotomy, to straighten his spine so that he could look straight ahead while walking.
After his long struggle with this severely crippling arthritic disease and with Himalayan HealthCare's long-term support, Chitra went from a bed to a wheelchair to now being able to walk on his own using crutches. He restarted school after his multiple surgeries and recovery last year.
This past April, Chitra sat for the national level 10th Grade School Leaving Certificate exams, which he passed with flying colors. He began 11th grade at Patan High School and will be restarting his training in tailoring with Himalayan HealthCare's support. He will continue to live at St. Xavier's at least until he finishes 12th grade.
Stories like Chitra's are only possible with the dedication of Himalayan HealthCare's staff and international medical volunteers, as well as the generous support provided by donors like you. We thank you for your generosity of spirit and for enabling Himalayan HealthCare to continue supporting so many other stories of hope.
Sincerely,
Rob
Dr. Robert McKersie
President, Himalayan HealthCare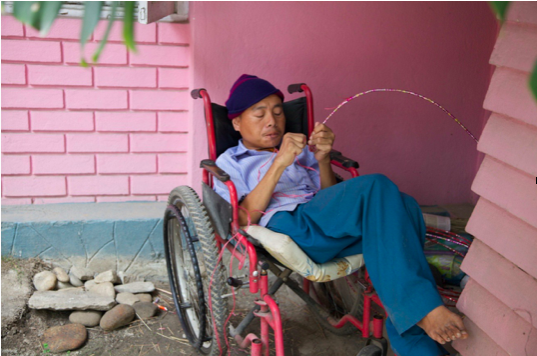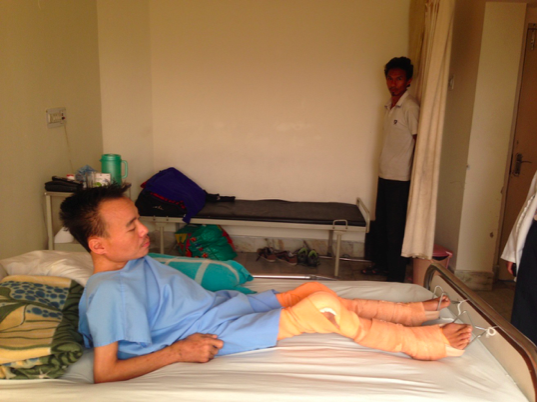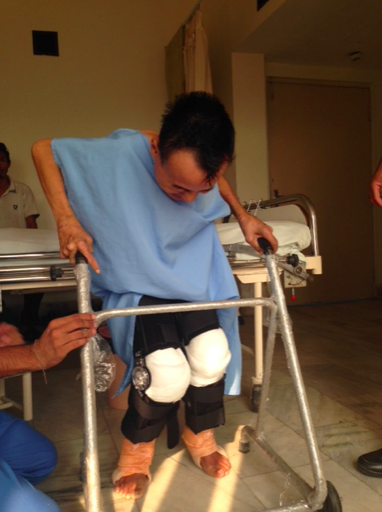 Links: