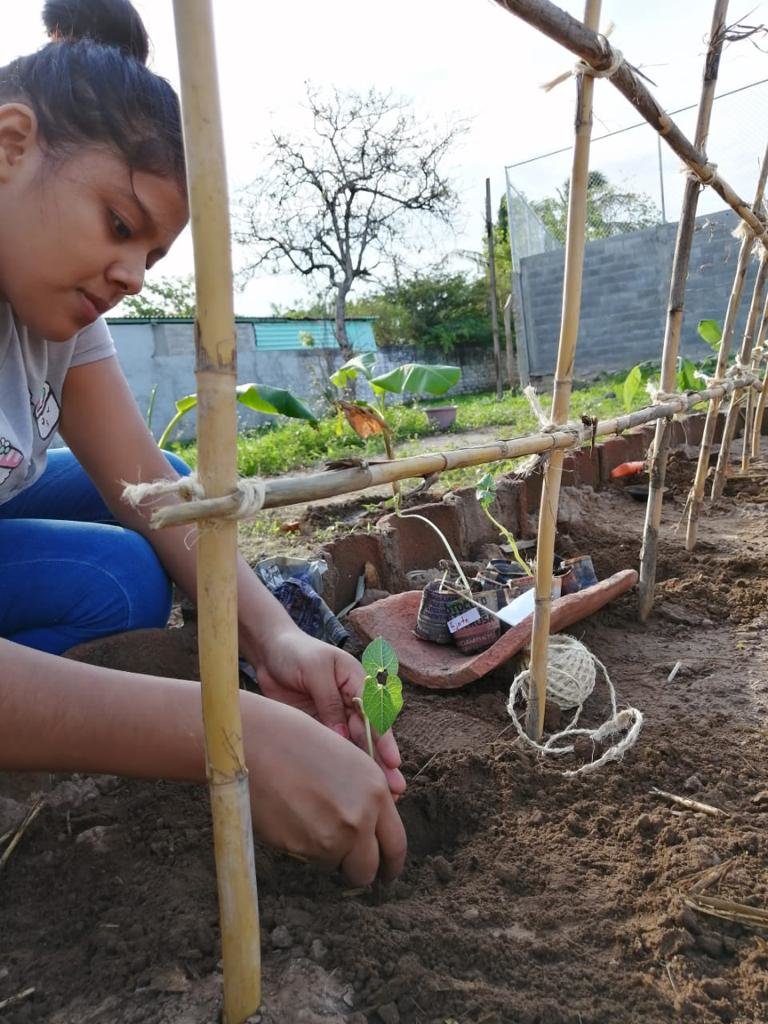 As COVID-19 shut down schools, stores, and all group activities we decided to focus on activities in the home. As a part of our program, our students plan individual service projects to help in the community. Most often the young women decide to tutor grade school students in the community or run reading circles. With the restrictions imposed by the pandemic, this was not possible and we began to look for new ways to help the community. It has long been a dream to create a vegetable garden on our property to reduce costs for food and become more sustainable. In March we got to know a non-profit in a nearby town that was teaching organic home gardening, so we arranged for them to come to teach our students.

We cleared the ground and prepared eight beds for vegetables, flowers, and herbs. Every evening the students spend time in the garden, planting, hoeing, pruning, and this past month harvesting. It has not been easy, some plants sprung up in the prepared beds and prospered, green tomatoes, basil, cucumbers, radishes. Some came up slowly but are finally giving fruit, chiles, corn, and sunflowers. We are still struggling to find the right combination of soil, sun, and fertilizer for onions, greens, and carrots. With organic methods fighting bug and termite infestations take more time but keep the soil safer.

Around the edge of the garden we planted banana plants, and local flowing trees called guiechachi, that produce fragrant flowers used in celebrations here in our region. Many of the plants were donated by members of our women's groups, cuttings from trees, and suckers from banana plants. Once we get the knack of gardening and the COVID levels subside we hope to pass on our new knowlegde to families in the community so that they too may start their own gardens. We hope in time to have a shady quiet place where people can come and relax their spirits.

A few of our students' fathers came and helped create the beds and give advice, many of them work the land, although their climate and soil are very different from ours, we are on a flood plain and they are from a cloud forest. But they had great advice and it was good to see them working with their daughters in the garden.
This month we are back with a full contingency of students. After months in their villages, most decided that their internet service was not adequate to continue with online courses. So they have returned at the expense perhaps of not being able to return to their villages for vacation times. It was a hard decision, but they consider that continuing their education is worth the sacrifice. Ximena, one of the few students with no internet in her village, stayed in town with us the entire school year and tried to go home for summer vacation, but due to the fears of COVID, she was not allowed in her village and returned to spend her weeks of vacation time with us.
Their fears are not baseless as the pandemic has ravaged our region, Our official infection rate and death toll are not high, but in July there were almost seven times as many deaths in the city than normally expected. Mexico is using "excess death" as a measure of the impact of COVID due to a lack of testing and low trust in health services.

With the ongoing support of donors like you, we can provide an isolated space for the students to live and study during the pandemic. We have new rules and the students do not leave the property much at all, our staff takes care of shopping for food. We are faced with new challenges, the saturated internet system in town is overwhelmed with online learning and meetings, we are looking at getting a second internet service to provide more bandwidth to our students. At a max of 20 Mbps, we can only connect a limited number of computers. We also are using our multi-purpose room as a computer lab as we ran out of study space at the dining room tables, with all the students in class at the same time.
Thank you again for your ongoing support.