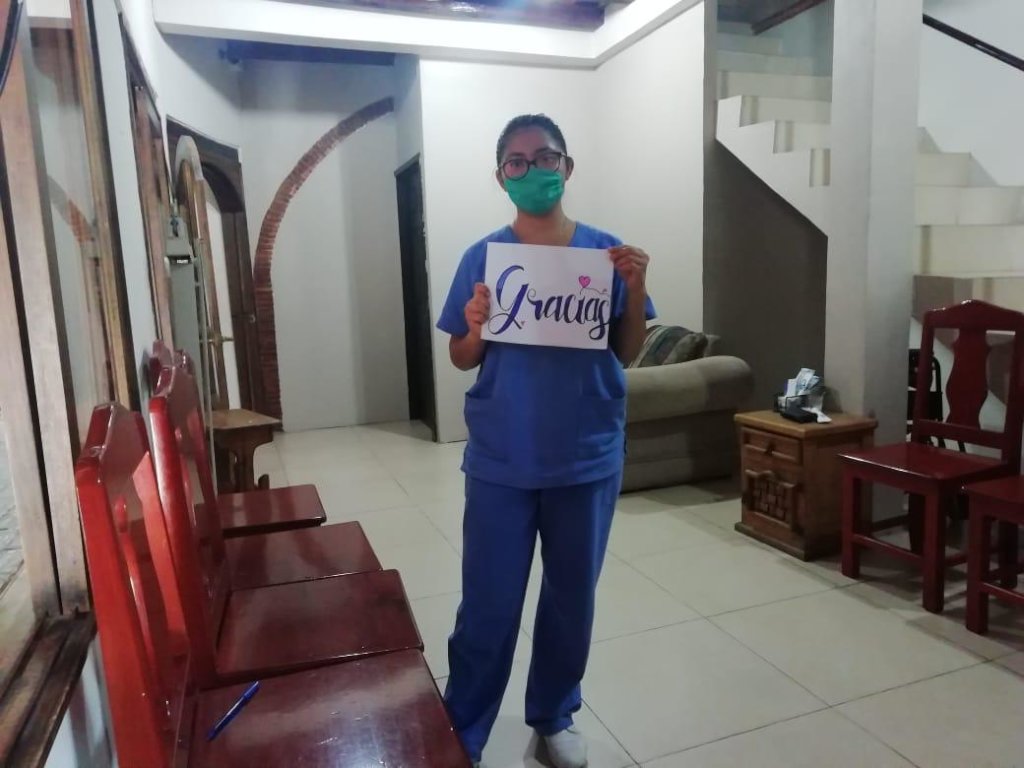 On June first this year we Centro de Compartimiento will be celebrating fifteen years of service in our community. Here in Mexico, a fifteenth birthday is special, like Sweet Sixteen in the United States. We had planned a big event, but with the arrival of COVID - 19 in our region those plans had to be canceled.
Once more in crisis, we as an organization are evaluating our work in the community. Just as after the massive earthquake in 2017 we are in new territory. In March the federal government closed all the schools and told them to transition to online classes. As this was two weeks before Easter break everything just shut down. Our students were no longer in classes and their families feared for their health, the felt it would be safer for them to quarantine in their small villages. So in less than a week, the student house was closed, we canceled all our adult learning classes and workshops and the staff went home to shelter in place.
After Easter break, the schools announced online classes and we had to face the challenge of how to reopen. All the central work of Centro de Compartimiento, working in our community to help lift spirits and face the challenges and trauma in life, did not disappear during quarantine, rather it became essential, but with all essential work, carried the danger of the virus. Even more today, as only now, after two months of quarantine is the virus spreading in our community and local authorities are saying that our peak will be in the third week of June.
We stayed in contact with our scholarship students and at the end of April we asked if any of our students needed to return. Ximena was the first to say, yes. She told us she could not do her school work from her village, She did not have her own computer and the internet cafe in her town was expensive and slow. She also told us that her family members who usually support her education were currently out of work due to the quarantine. Half of our students were in the same situation and so we reopened the student house, adjusted the rules for quarantine, purchased new computers, and got back to work. They would quarantine at the student house, with only our staff leaving to shop for supplies.
Our courses and women's groups were moved online. A subscription to Zoom made contact easier. In this time of stress, sadness, and pressure we need groups that we trust to tell our stories, release stress, and be present for one another.
On June first, we will have a small meal and some cake with the residential students to celebrate our quinceñera. We have been posting memories, stories, and pictures on our social media. You can find us by typing Centro de Compartimiento, A.C. on many of the major platforms. We ask you, our friends, to celebrate with us through a donation to help us continue our work. Your donation will go to provide room, board, internet, supervision, and support services to our residential students. In addition to our regular program services, we will be supporting our students with anything that their families normally supply but cannot due to lack of employment, personal hygiene supplies, transportation, school supplies, and medical needs.
We are suggesting multiples of fifteen as donation amounts, ideally $225, which is fifteen dollars for each of our fifteen years of service, but if that is not within your means then $15, $30, $45, $150... you get the idea. If your means are greater please consider a donation of $1,500 or as they say in the US fifteen hundred dollars.
We thank you for your generosity in walking with us and our students in this time of need. As the whole world is changed by this pandemic we are also praying for you and your families, that you may be safe and healthy during this time.