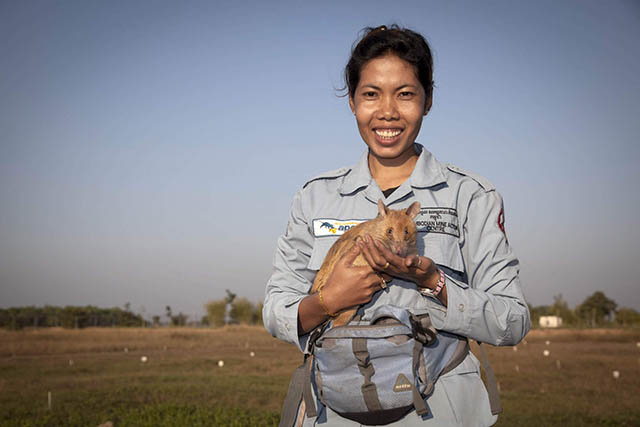 For the first time since the end of the civil war, the Cambodian Mine Action Authority (CMAA) recorded no casualties in Cambodia for a whole month. The first half of this year has also shown a drop in 40% of deaths and injuries from old landmines and unexploded ordnance (UXO) compared to the same period last year.
It is unheard of that since CMAA began recording incidents in 1979, that there has been a whole month free from casualties. This is a very encouraging sign and APOPO and partner CMAC are thrilled that the impact of our work in Cambodia becomes evident in ways like this.
"Seeing the rats finding the landmines so quickly is amazing! We work on zones the size of a tennis court, and they take about 30 minutes to check it. This could take me up to four days with a metal detector because of all the false alarms from scrap metal, which of course we have to check in case they are actually landmines." says Sophea, one of the APOPO Rat handlers.
HeroRATs Saving Lives
Used as a unique add-on to conventional detection methods, APOPOs Mine Detection Rats are proven to significantly speed up conventional landmine detection methods and return safe land to vulnerable communities as quickly and cost-effectively as possible.
This life-saving work must continue
Cambodia is one of the most landmine-affected countries in the world, the result of 3 decades of conflict which persisted until the late 1990's. The impact of these weapons is long lasting and devastating. Landmines keep people poor and their presence stands in the way of socio-economic growth for communities living in contaminated environments. Mines prevent access to land for agriculture, resettlement and other infrastructure developments such as roads, schools and water catchment ponds.
Removing mines is therefore essential for the lives and livelihoods of the Cambodian population.
You're Saving Lives
Your donation has led to this amazing accomplishment and we are incredibly appreciative. Of course, there is a lot more work to be done to rid the country of landmines completely, but together with our HeroRATs and your support, we will get there faster!
Thank you.