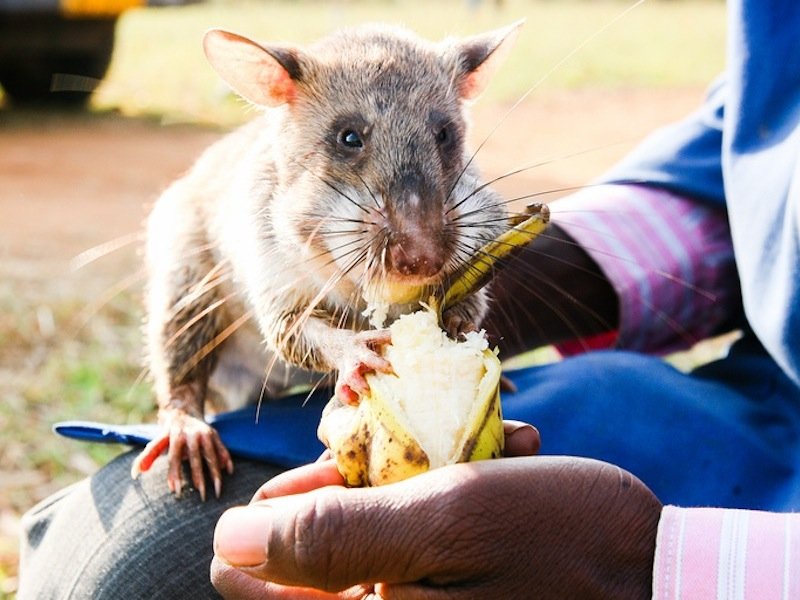 In this issue:
26 HeroRATs deployed to support mine clearance in Mozambique
TB testing for HIV sufferers
Germany continues to support APOPO in Thailand
Swimming for the HeroRATs: Ironman Ethan
TB lab in Mozambique inaugurated
Training HeroRATs; Training staff
26 HeroRATs deployed to support mine clearance in Mozambique
Last week 26 Mine Detection Rats (MDR's) were deployed to Mozambique. These rats will go through a period of acclimatization and training in order to pass an official external accreditation test according to International Mine Action Standards (IMAS). Once passed the rats and their trainers will be officially licensed for operational work and can begin to work with their HeroRAT comrades in the minefields. So far, a total of 2,546 landmines have been found and neutralized, and a total of 7,850,234m2 of land returned to the population, safe to be used for agriculture and grazing.
TB testing for HIV sufferers
The 19th International Union Against Tuberculosis and Lung Disease Conference was held in Kigali, Rwanda on the 20 - 22 of June, 2013. Dr. Negussie Beyene, APOPO's Program Manager for the TB program made an oral presentation about rat TB detection and working with local NGO's to track down TB sufferers diagnosed by the rats after having being missed by the microscopy labs.
In order to track these patients APOPO partners with one Tanzanian NGO MKUTA, composed of former TB patients and has managed to establish yet another partnership with PASADA who target HIV sufferers for TB testing by the rats.
Germany continues to support APOPO in Thailand
His Excellency Ambassador Rolf Schulze and APOPO Program Manager for Thailand Kim Warren, recently signed an agreement granting 281,550 EURO from Germany to support APOPO's efforts to improve security in mine affected communities in Thailand.
"German foreign policy traditionally attaches great importance to humanitarian demining worldwide", said the ambassador. " I am happy to continue our successful cooperation with APOPO and its partners, the Thai Mine Action Committee and Peace Roads Organization. It is a modest contribution to making people's lives safer and return land to the use of local communities along the border."
Germany, has been supporting APOPO in Thailand since 2012 along with Liechtenstein, Germany and Stichting Doen.
Swimming for the HeroRATs: Ironman Ethan
On Sunday 18th August, long-term APOPO and HeroRAT supporter Ethan Herschenfeld competed in the Mont Tremblant Ironman contest in Canada for which he's been training like mad, closely watched by APOPO. Here's his story: "The day began at 5 a.m. with the walk from my hotel to the start line where it turned out I was the only athlete of around 3,000 competitors not wearing a wetsuit. I'm accustomed to outdoor swimming from my dips in the Hudson with New York City swim (NYC Swim). That, along with the word 'APOPO' which I'd scrawled all over my body, got a lot of attention before I even jumped into the water and the voice of Mike Reilly, the official 'Voice of the Ironman' screamed out over the loudspeaker: "Hey! There's one guy without a wetsuit!! What does it say on his chest? APOPO?"... Read more about Ironman Ethan's Big Day here.
TB lab in Mozambique inaugurated
The first APOPO TB research lab was established in Morogoro, Tanzania in 2005, and since 2008, the HeroRATs have delivered very promising results, with a reported increase of 43% in the tuberculosis detection rates in the samples evaluated. There are now a total of 17 collaborating clinics in Dar es Salaam, 182,742 sputum samples screened since 2007, and 3,862 additional TB patients identified by rats.
With the aim of replicating the results obtained in Tanzania, APOPO opened its operations in the Republic of Mozambique earlier this year, thus contributing to the Ministry of Health efforts to control tuberculosis in the country. A laboratory opening was held on June 28th, 2013 and APOPO will now evaluate the samples coming from patients with suspected tuberculosis. The host was University Eduardo Mondlane, with the University's Chancellor presiding over the ceremony.
Training HeroRATs; Training staff
In Mozambique, APOPO recently carried out a manual deminer training session for 26 trainees. In order to support local employment, candidates of trainings are recruited from communities where APOPO is working. All candidates scored well enough to be hired by APOPO.
Read more about our mine action activities.